In the Small Kitchen
(article, Cara Eisenpress & Phoebe Lapine)
[%pageBreakSettings nobreak=true][%adInjectionSettings noInject=true]

h3. From the section titled "How to Host Brunch (And Still Sleep 'Til Noon)"

If you take some rules into account, you can turn out a great brunch and still get the weekend beauty rest you deserve. Here are a few good calls and bad calls with regard to popular brunch choices, and our best calls for keeping weekend mornings friend-filled, delicious, and stress-free.

 Don't give yourself more than an hour of prep work the morning of. 
 Only attempt to cook one item on the stove. That's it. Dealing with sautéing hash browns and scrambling eggs, all the while entertaining the first few arrivals, is just a disaster waiting to happen. 
 Choose one item that requires attention the day of (scrambled eggs or hash browns), one that requires assembly (salad or sandwiches), and another that can be made start to finish the night before (quick breads or coffee cake), and brunch will be a breeze.

h3. Eggs

Good call: Eggs are cheap, traditional, and tasty, and they are easy to double and triple according to your party size. If you are scrambling a large pan of eggs, you can do all the cracking and beating the night before, and then slowly scramble them just before your guests arrive. This isn't stressful like frying, and can be done painlessly right before the meal.

Bad call: They are also perhaps the trickiest and most time-sensitive thing to cook. This means lots of stress if the right menu choice isn't made. Don't attempt omelets for 10 people. That's just crazy talk.

[[block(sidebar).

h1. About the book and authors

When Cara Eisenpress and Phoebe Lapine met in middle school, they bonded over their mutual love of oatmeal chocolate chip cookies. More than a decade later, realizing that their love of cooking was becoming a calling, they started a blog titled Big Girls, Small Kitchen. 

In the Small Kitchen is a chronicle both of their lives and their efforts in their small New York City kitchens to feed themselves and their friends and family well. With practical tips both for novice and experienced cooks, the book is refreshingly simple and straightforward.

Reprinted with permission from William Morrow (2011).

]]

The best call: If you don't go for a simple scramble, choose an egg dish that only requires baking in the oven. Frittatas, savory puddings, and stratas are great choices. In the case of the last two, they can be completely assembled the night before and baked off the morning of.

h3. Hash browns

Good call: Potatoes are probably more comforting for a hangover than either Advil or hair of the dog (booze). If you can whip up a decent batch of hash browns in large quantities, you might become the most popular person ever.

Bad call: Hash browns take a long time to cook and are traditionally done in a large skillet on the stove, meaning they require attention and have the potential to become a huge pain.

The best call: Parboil your potatoes the night before and they will take no time at all the day of. They don't need to be straight out of the skillet like eggs, so feel free to keep them warm in the oven while waiting for your guests to arrive. Also, roasted potatoes, instead of hash browns, are easy and equally delicious. Simply halve baby Yukon Gold or red potatoes, toss with salt and olive oil, and roast at 425 degrees for 50 minutes.

h3. Breakfast meats

Good call: A little sausage and bacon never disappoints.

Bad call: Again, the skillet issue.

The best call: Bake your bacon and sausage in the oven. Most recipes will advise using a draining rack, but who actually owns one of those? You'll be fine using a regular rimmed baking sheet lined with foil. Make sure to drain the bacon afterwards on paper towels, as you would if you fried it in a pan.

h3. Bread

Good call: A loaf of crusty artisan bread is a great cheap way to bulk up a meal and to keep people occupied, restaurant-style, while you finish cooking. Understandably, at 1 p.m. your guests may be a little hungover and ornery, so this gives them something to nosh on right when they walk in the door.

Bad call: If you buy your bread the day before, with the rest of the ingredients, it could be a little stale by brunch time — especially if you buy a baguette, which always tastes best freshly baked.

The best call: Buy bread in advance, then toast the whole loaf in a preheated 350-degree oven for 10 or 15 minutes before slicing and serving it. Rubbing a little water on the crust with your hands will help crisp it up if it has gotten rubbery and soft.

h3. Sandwiches

Good call: Any type of sandwich that doesn't require too many made-to-order hot ingredients is a good option. They can be assembled in advance, and it doesn't take much more effort to make 14 than four. 

Bad call: Some people may feel cheated out of standard breakfast fare if you just serve sandwiches.

The best call: Pair sandwiches with something more traditional, like an eggy savory bread pudding or muffins, or choose a more breakfast-oriented sandwich (see below for eggy ideas).

h3. Egg sandwiches

Good call: There's a good reason every corner deli in the world sells some variation of an egg sandwich. They taste good if you use humble ingredients, but they can also be gussied up with a few simple embellishments.

Bad call: You don't want to have to fry a billion individual eggs.

The best call: Allow people to make their own egg sandwiches buffet-style. Other easier egg preparations are frittata sandwiches, egg-salad sandwiches, and egg pizzas, which are cooked directly in the oven and then cut into slices.

[%image feature-image float=right width=400 caption="Sausages and baked French toast with berry compote make an easy breakfast for a crowd."]

h3. French toast

Good call: French toast can be an incredibly easy, cheap brunch option.

Bad call: Frying up individual slices of French toast is a huge pain.

The best call: Try baked French toast. It can soak as long as it needs to, so you can make it the night before if your schedule allows. Tweak it with cinnamon, nuts, and berry compotes to make it special.

h3. Pancakes

Good call: Take your friends back to childhood with every bite. It's easy to create variety with these — just add some chocolate chips or fresh fruit and you can have pancakes two ways. 

Bad call: Messy messy messy, and a pain.

The best call: Make pancakes only if you have four or fewer guests. If serving a crowd, go with baked French toast instead.

h3. Fruit

Good call: Fruit satisfies light eaters, and it can brighten up an otherwise monochromatic brunch plate. Fruit salads are easy and can be made in advance.

Bad call: Be careful, as these can get pricey if you are serving a lot of people.

[[block(sidebar).

h1.Featured recipes

The best call: If you want to offer fresh fruit, cut up one large melon or pineapple and serve it on a big platter in the middle of the table. Compotes for pancakes and baked French toast are a great way to make your dish more elegant and special without spending too much. They can be made the night before and reheated the morning of. Better yet, you can use frozen berries if the fruit is not in season, or just as an inexpensive alternative. Because the flavor is concentrated, a little compote goes a long way. 

h3. Baked goods

Good call: Quick breads, coffee cake, and muffins are a great addition to any brunch, and can be made in advance. They are also fairly inexpensive, as long as they don't involve too many nuts.

Bad call: Crumbs! Make sure to provide proper napkins. Also, if the treat must be baked the morning of (scones taste best this way), make sure to plan the rest of your meal accordingly. If your bread needs to be toasted and your frittata cooked, there may not be room for a muffin pan in the oven.

The best call: Try a fruity quick bread baked as muffins, or a loaf of Banana Chocolate Chip Bread, both made the night before. 

h3. Caffeine

Good call: If you own a coffee maker, great. Buy an inexpensive roast and whip up a pot. Have milk and sugar readily available.

Bad call: How many of your friends actually do own a coffee maker?

The best call: If you're short a coffee pot, don't bother with the powdered stuff — it's nasty. Some people will grab a coffee on their way over. For those really in need of caffeine, make sure you have some tea on hand and offer them that instead. You will be surprised at how many closeted tea drinkers there are.

h3. Booze

Good call: Mimosas, Bloody Marys, and Bellinis are what make brunch worth believing in. Especially when you're at someone's home and they don't cost $10 a glass.

Bad call: Champagne is the most popular breakfast alcohol, and that can get expensive.

The best call:* Try to get your friends to chip in by bringing a bottle; you can supply orange juice or other mixers, or ask someone to get that too. Otherwise, there are some other fun brunch-friendly cocktails that are cheaper for large parties, such as spiked hot chocolate.

reference-image, l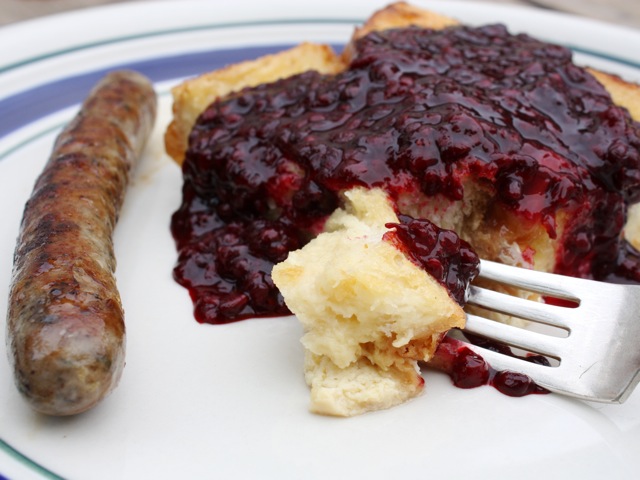 feature-image, l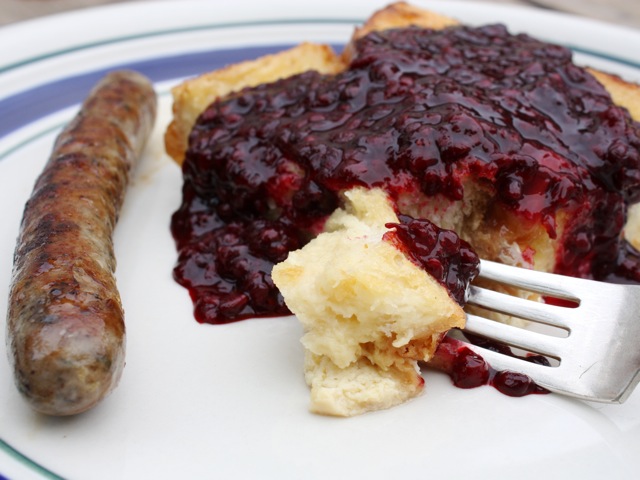 featurette-image, l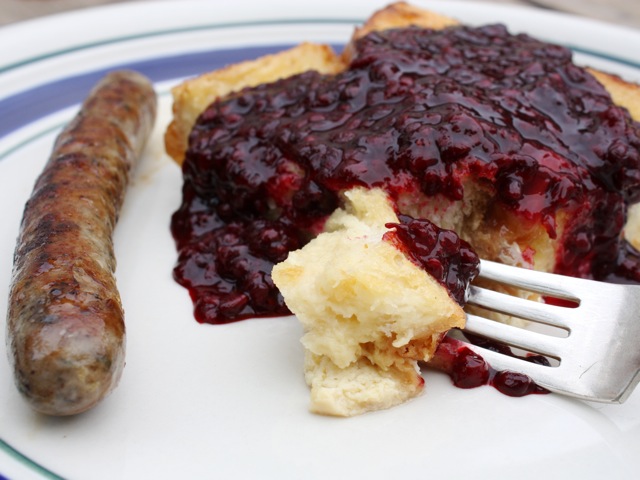 promo-image, l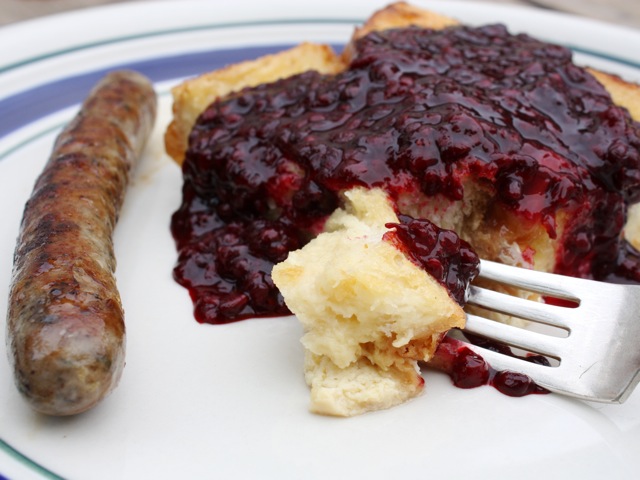 newsletter-image, l