A gluten-free Thanksgiving
(post, Wendy Cohan)
Thanksgiving is my all-time favorite holiday, and I'm not alone. Many people appreciate it for the genuine feelings of thankfulness and generosity the day inspires, and for its relative lack of commercialism. And the food — it's nearly everyone's favorite meal, classically American, carbohydrate-rich, and satisfying on so many levels. 

The Thanksgiving meal is also a kaleidoscope of color, with the bright orange of yams or winter squashes, the crimson of cranberries, the bright green of asparagus or green beans, and the rich earthy colors of roasted turkey, stuffing, and gravy.  

[[block(sidebar).

h1. Be a good gluten-free guest

If you're on a gluten-free diet, don't be afraid to ask your host about ingredients. It's best to do this beforehand rather than at the dinner table. Think how relaxed you'll be if, when the meal is served, you already know exactly which dishes you'll choose to eat and which dishes you'll need to politely pass on to the next guest.  

]]

I grew up in a Finnish-American multi-generational family, with a powerful matriarch. There was no question of who would be stuffing and tending the bird, although all the women in my family — and I use that term loosely to include close friends who were always part of our celebrations — were great cooks. They shared their kitchen wisdom, the men watched football, and the kids played dress-up and had the responsibility of setting the table with the good china. 

After dinner, my uncle would fire up the stove in the sauna, and we'd all troop down to the basement for a good long sauna, the kids lined up on the bottom bench where it wasn't too hot. Grandma would come by and splash us down with water and chase us out for a cold shower when we started looking flushed. It was a great end to a wonderful day.  

h4. Thanksgiving today

Things are different now; my family is scattered. (The power of strong matriarchs to hold families together is not to be underestimated.) Although we visit my husband's family sometimes at Christmas, gradually we've developed our own community of like-minded souls with which to share holidays and other memorable moments.

With my gluten-intolerance and multiple food sensitivities, and because I love to cook for a crowd, I prefer to host Thanksgiving in my own home. Yes, it's a challenge to pull together, but planning helps. Last year I cooked for 17; after the turkey went into the oven, I left the house to go horseback riding for a few hours on a spectacularly bright, sunny day. One year we went cross-country skiing while the turkey cooked. 

[%image reference-image float=right width=400 caption="Dinner after Wendy Cohan's recent gluten-free Thanksgiving prep class."] 

So I'm not a slave to the kitchen — besides, if I were, I'd have no time to spend with my guests. My trick is to use lots of fresh ingredients, simple preparation methods, and pre-planning. 

h4. How to prepare a gluten-free Thanksgiving dinner

Order an organic turkey from your local natural-foods grocer in plenty of time, or choose a less expensive option such as Honeysuckle White (my favorite). Some commercially produced turkeys may contain gluten in the broth used to inject them full of flavorings, salt, and fat. It's important for you to start with a gluten-free turkey as the centerpiece of your conscientiously prepared meal. The labeling on the turkey package should state no MSG and no gluten on the front or under the nutrition label on the back. Also, remember that many turkeys are only available frozen and require thawing time. (Honeysuckle White is available fresh.) 

Season your turkey with high-quality herbs like sage, thyme, and rosemary, or go Latin with cumin, chiles, and lime, but forgo additional salt. Most turkeys are pre-salted, some excessively so. The turkeys I surveyed at my discount grocer ranged in sodium content from 160 to 325 milligrams per serving. Honeysuckle White, which I cooked at my recent Thanksgiving prep class, had 200 milligrams per serving, and I did not need to add any salt when cooking. It was moist, flavorful, and delicious. Turkeys have a flavor all their own, and salt can obscure the natural flavor.  

[[block(sidebar).

h1. Beware cranberries

Folks with gluten-related bladder problems (unfortunately quite common) should take it easy on the cranberry sauce. Cranberries are recommended for preventing bladder problems, but they're quite harsh on those with pre-existing problems. 

You may be able to tolerate a little apple cider, though, and herb tea is a good option, especially a steaming cup of nettle-leaf tea before dinner. Nettle leaf can help minimize any food-sensitivity reactions you may have, although it can't prevent a reaction to gluten.

]]

Gluten-free stuffing is easy: Just buy or make the best gluten-free bread, cube it, and dry it in a low-temperature oven. Gluten-free bread from Angeline's Bakery, available locally here in the Pacific Northwest, makes excellent stuffing (it does contain milk powder). You can also make a wild rice/brown rice and dried cranberry pilaf-style stuffing, which can be cooked separately or used to stuff the bird. And you can make terrific stuffing using my recipe for focaccia bread.

Use sweet rice flour to replace the traditional wheat flour in thickening gravy. If it's not quite thick enough, you can add a little tapioca starch.

For pumpkin pie, all you really need to do is make a killer pie crust and make sure your filling is dairy-free if necessary. You can substitute Earth Balance vegan baking sticks for regular margarine — they're gluten-free and dairy-free — or, if you tolerate dairy products, use butter. You can even use oil to make pie crust. 

Poached pears or other fruit make a lovely alternative to pie, especially when prepared with the finest ingredients like vanilla beans and star anise and served in an attractive dessert bowl. I use my mom's retro-1940s curvy glass bowl, which always brings back happy memories.  

h4. Gluten-free Thanksgiving menu

A Thanksgiving Planner and Recipe Guide, containing 12 gluten-free, cane-sugar free, and dairy-free recipes, is available for purchase on my website (scroll to the bottom of the page for the menu and other specifics about the spiral-bound book). 

Happy Thanksgiving!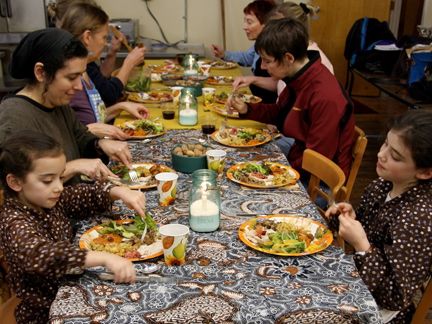 reference-image, l