Easter treats
(article, Culinate staff)
Thanks to our pals at Charles Chocolates, we're giving away four special chocolate treats for Easter: two 4-piece sets of chocolate Easter eggs and two 4-piece sets of fleur de sel caramels.

[%image reference-image width=240 caption="Chocolate eggs from Charles Chocolates" float=left]

To enter, just subscribe to our weekly e-newsletter. Or, if you already receive our newsletter, go to one of Chuck Siegel's three hot-chocolate recipes on Culinate — Hot Chocolate with a Milk Base, Hot Chocolate with a Water Base, or Hot Chocolate with Caramel and Cinnamon — and leave us a comment about one of your favorite hot-chocolate memories.

*The drawing was held on Tuesday, March 17 — Congratulations to the winners:  Betty, Sherry, Alexa, and Sylvia.  Thanks for joining in the chocolatey fun... and don't forget to take advantage of Chuck's special offer below before the March 31 deadline.

[%image fleurdesel width=150 caption="Spring Fleur de Sel caramels from Charles Chocolates" float=right]

If you just can't wait, Charles Chocolates is also offering a 15-percent discount on orders made via their online store before March 31, 2008. Just enter the discount code "CULINATE" when ordering.

reference-image, l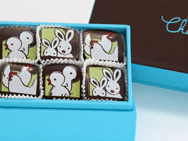 fleurdesel, l