Stirred, not shaken
(article, Emily Stone)
[%pageBreakSettings nobreak=true][%adInjectionSettings noInject=true]

The best martini is the one that comes at the end of a long, dreary week, garnished with an olive and a good book. To suit the top-shelf gin and accent of French or Italian vermouth, the story must be riveting. And since this moment at the bar will delay a meal, the language must be extraordinarily filling. Two recent anthologies of literary food writing fit the bill quite well: Secret Ingredients (from the New Yorker) and Food and Booze (from Tin House).

Like martinis, anthologies are best digested in small sips. As editor David Remnick writes in the introduction to Secret Ingredients, New Yorker founding editor Harold Ross was a man with a delicate stomach who eschewed martinis (and many other gustatory delights) in favor of warm milk and hot broth. Still, Ross and his equally abstemious successor, William Shawn, elicited food and drink writing from some of the best American writers of the 20th century, including A.J. Liebling, Dorothy Parker, M.F.K. Fisher, and John Cheever, all of whom make appearances in Secret Ingredients. With Remnick at the helm, the New Yorker today is home to Heat's Bill Buford (who harvested oysters for a piece in the collection) and the prolific John McPhee (whose classic profile of Stalking the Wild Asparagus author Euell Gibbons made the cut).

Other treats in Secret Ingredients include a 1939 Joseph Mitchell piece on clamming that feels as immediate as Buford's 2006 oyster hunt; dispatches from coveted tables at Restaurant de la Pyramide near Lyon in 1949 and New York's Masa in 2005; and a subtly hilarious article on the "Soup Nazi" that predates the "Seinfeld" episode. 

But at times, the New Yorker's 80-year heritage can feel like one martini too many. Adam Gopnik's lament about the fading star of French cuisine is nine years old, and so is the complaint. You can't help but chuckle when Anthony Bourdain describes vegans as a "Hezbollah-like splinter faction" of vegetarians, but this writing too is from another century, before Bourdain's raw first-person account of the Israeli attack on Lebanon aired on the Travel Channel. And a few articles include awkwardly dated comments about women and people of non-Anglo-Saxon origin.

Literary magazine and book publisher Tin House, on the other hand, is a mere 10 years old. Its short stories, poetry, and essays have been anthologized in various books in the "Best American" series. Food and Booze, a compact volume of writing and recipes, includes 25 pieces from such writers as Steve Almond (on the creative process behind a chicken salad) and Francine Prose (on lifelong commitment to the Czech liqueur Becherovka). The collection opens with a frank poem by the late Grace Paley about the pleasures of food at life's final moment. References to Hemingway, Stein and Toklas, and Chandler and Hammett abound. The anthology even takes on a mythic dimension with an essay dedicated to the lotus-eaters of The Odyssey.

Secret Ingredients and Food and Booze often chew the same themes. In a fable-like short story from the New Yorker titled "Taste," Roald Dahl invents a man (whose face "was all mouth — mouth and lips — the full, wet lips of the professional gourmet, the lower lip hanging downward in the center, a pendulous, permanently open taster's lip, shaped open to receive the rim of a glass or a morsel of food") who proposes a sinister May-December marriage with his dinner host's daughter. In Food and Booze, Lan Samantha Chang (currently the director of the Iowa Writers' Workshop) chronicles a similar romantic arrangement in reverse, in an essay called "The End of Laughter." She writes that "You were beautiful and I was old, and we were both with other people. We were not allowed to touch. We never held hands. We never made love and so, instead, we ate." 

[%image reference-image float=left width=400 credit="Photo: iStockphoto/edelmar" caption="Musing on the martini."]

In a Secret Ingredients essay called "The Homesick Restaurant," Susan Orlean sets out for Cuba, asking, "What kind of a place was it, that it could persist so long in memory, make people murderous, make them hungry, make them cry?" But despite layers of intricate detail and quirky story arcs, Orlean can't measure up to the kind of gentle truthfulness that Stuart Dybek achieves while conjuring the voice of Fidel Castro on a dive trip in the Florida Keys. In his Food and Booze piece, "Yellowtail," Dybek ponders, "A last glint of yellow tail, and the flag disappears into the depths and the voice fades on 'coconut water, regime change, guanabana, war criminals, flambé in rum . . .'"

Both volumes practically drown in martinis. New Yorker senior editor Roger Angell (who candidly acknowledges that the concoction has rotted many a mind in addition to a gut) follows the martini from the eve of the Second World War to the 21st century, approving of "a slosh of gin, a little vermouth, and a gentle stirring in the pitcher before the pouring and the first sips." Tin House's editor at large, Elissa Schappell, traces the provenance of the "Tin House Martini" back to the magazine's 1999 launch party: "First we dashed four ounces of ice-cold Bombay Sapphire Gin into a martini shaker piled high with ice, then tipped in a thimbleful of Noilly Prat, and began to shake our darling in a syncopated fashion — as though we were marathon-dance partners — until we were ready to drop. Once the room stopped spinning, we poured and garnished our baby with a blackberry." Which recipe is better? Ultimately, it's a matter of taste.

[[block(sidebar).

h1. Featured recipe

New Yorker and Tin House play similar roles. Secret Ingredients, with its classic cartoons and nods to high living in New York and Western Europe, plays to a posher audience, while Food and Booze, with its fresh illustrations and confessions of just scraping by in New York and Eastern Europe, entertains the indie crowd. Together, they're a full meal. But if I had to nibble on just one, I'd pick Food and Booze; it trades the heavy clichés of traditional food writing for prose that is enviably contemporary, passionate, and honest.

p(bio). Emily Stone's writing has appeared in the magazines Budget Travel and Time Out New York_, and on the websites World Hum, Blue Egg, and Serious Eats. She lives in Pittsburgh, where she maintains the food blog Chocolate in Context.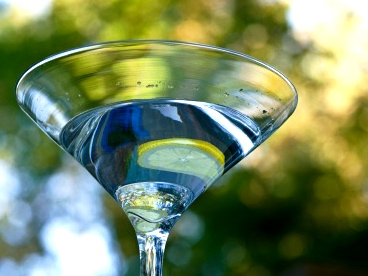 reference-image, l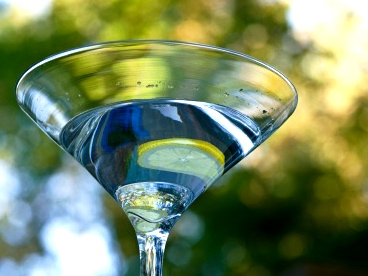 feature-image, l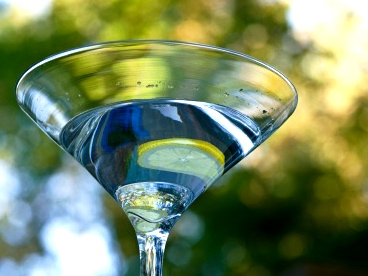 promo-image, l