Tuna and White Bean Salad
(recipe, Carrie Floyd)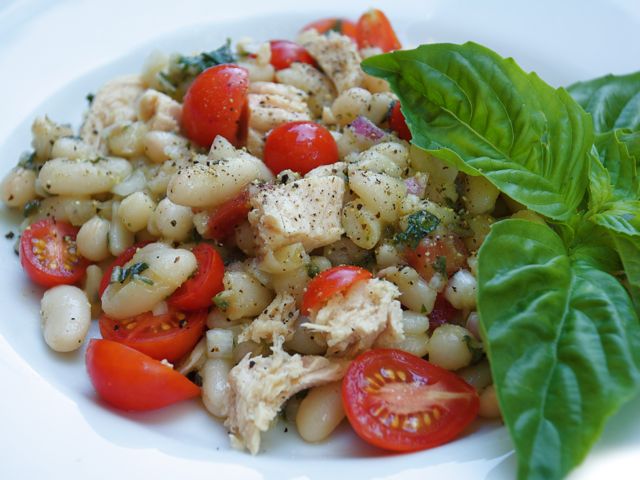 primary-image, l
Introduction
This is a very adaptable salad that you can make as fussy or easy as you choose. If I have time, I cook dried white beans and grill fresh tuna, but in a pinch (or when it's too hot to cook), I use canned beans and tuna packed in olive oil. Adjust the recipe to your taste (adding more or less tuna, using all basil or parsley) but use the best ripe and juicy tomatoes you can get your hands on.
Ingredients
5 cups cooked white beans (if using canned, thoroughly rinse, drain, and dry)
½ cup House Vinaigrette, made with red-wine vinegar instead of rice vinegar
½ cup fresh basil, finely chopped
½ cup fresh parsley, finely chopped
¾ cup red onion, finely chopped
Salt and freshly ground black pepper to taste
6 to 12 oz. tuna, freshly grilled or canned (packed in olive oil)
1 pt. ripe cherry tomatoes, sliced in half, or 3 medium-large tomatoes, cut into wedges
Sprigs of fresh basil and/or parsley for garnish
Steps
In a large bowl, toss the white beans with the vinaigrette, basil, parsley, and red onion. Season to taste with salt and pepper. With your hands or a fork, break up the tuna and scatter it over the beans. Top with chopped tomatoes and a generous grinding of fresh black pepper. Garnish with sprigs of basil or parsley, and serve.