House Vinaigrette
(recipe, Carrie Floyd)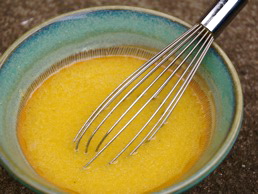 primary-image, l
Introduction
This is the vinaigrette I like best for green salads; the tang from the lemon juice is balanced by the sweetness of the vinegar. It's also a good dressing with steamed asparagus and potato or grain salads. I like to make this in a suribachi, but it can also be assembled by placing all the ingredients (with the garlic minced first) in a large jar, sealing the lid tightly, and giving the jar a good shake.
Ingredients
2 cloves garlic, peeled
Freshly ground black pepper
Pinch of coarse salt
1 tsp. Dijon mustard
2 Tbsp. freshly squeezed lemon juice
2 Tbsp. rice-wine vinegar
¾ cup extra-virgin olive oil
Steps
In a suribachi (or large mortar bowl), place the garlic cloves, a large pinch of salt, and a couple turns of freshly ground black pepper; pound with a pestle into a paste. Add the mustard, lemon juice, and vinegar, and whisk until smooth.
Continue to whisk while adding the olive oil in a slow stream, allowing the vinegar and oil to emulsify. Season to taste with salt and pepper. (This makes a fairly tangy dressing, which I like, but feel free to add more olive oil if it's too tangy for you.)
Pour vinaigrette into a large empty mustard or jam jar, top with a lid, and store in the refrigerator until ready to use. Before serving, give the jar a good shake to mix.