Mixed Greens with Blue Cheese, Walnuts, and Apples
(recipe, Carrie Floyd)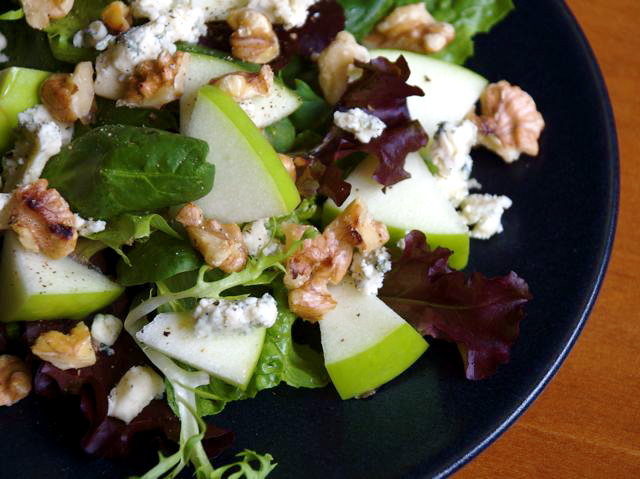 primary-image, l
Introduction
Think of this salad as a blueprint for other salads: mixed greens tossed with a zesty dressing, toasted nuts (pecans, walnuts, hazelnuts, almonds), a sweet or tangy fruit (apples, pears, dried cranberries), and a flavorful cheese (blue cheese, goat cheese, Parmesan). With fresh ingredients and the right balance of textures and flavors — tangy, sweet, nutty, salty — you can't go wrong. Feel free to substitute apple-cider vinegar in the vinaigrette for a little more punch.
Ingredients
8 to 10 cups salad greens, washed and dried
⅓ cup House Vinaigrette
1 cup toasted walnuts or Spiced Pecans
1 crisp green apple, such as a Granny Smith, cored and cut into bite-size chunks
½ cup crumbled blue cheese, such as Rogue Creamery Oregon Blue, Roquefort, or Bleu d'Auvergne
Salt and freshly ground black pepper
Steps
In a large salad bowl, toss together the salad greens with the vinaigrette, nuts, chopped apples, and crumbled blue cheese. Season to taste with freshly ground pepper and salt.