Coarse-Ground Hummus with Thyme and Sesame
(recipe, Matthew Card)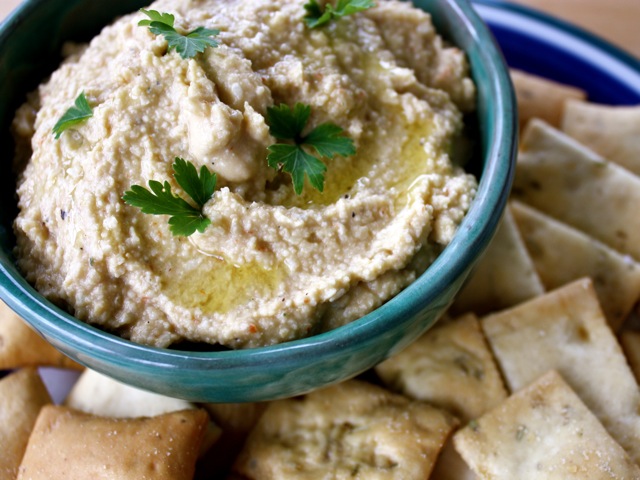 primary-image, l
Introduction
The chickpea cooking liquid adds valuable flavor and a smooth texture here, so I strongly encourage making the dip with home-cooked beans. Serve this hummus as part of a mezze spread or spooned into pita bread with greens and sliced cucumbers for an easy sandwich.
Ingredients
¼ cup sesame seeds (unhulled brown are fine)
3 garlic cloves, coarsely chopped
2 Tbsp. vegetable oil
2 tsp. fresh thyme, destemmed and minced
¼ cup cooking liquid from chickpeas
2 cups cooked chickpeas (see Note)
2 to 3 Tbsp. freshly squeezed lemon juice
1 tsp. Aleppo pepper, or cayenne pepper to taste (see Note)
Pinch of sugar
2 Tbsp. extra-virgin olive oil
Salt and pepper
Steps
Mix together the sesame seeds, garlic, and oil in a small skillet, and cook over medium heat, stirring frequently, until the garlic is just beginning to color, 3 to 5 minutes.
Transfer the sesame-seed mixture to a food processor; add thyme and chickpea cooking liquid. Process until homogenized and thick, about 1½ minutes, scraping down the sides of the processor bowl as necessary to evenly blend.
Add the chickpeas, lemon juice, Aleppo pepper (or cayenne), and sugar, and process until blended and semi-smooth, about 1½ minutes, scraping down sides of bowl as necessary. Add olive oil and pulse 2 to 3 times to combine. Adjust seasoning to taste with salt and pepper and serve.
Note
Aleppo pepper is a slightly smoky, fruity-tasting, coarse-ground dried pepper found at many Middle Eastern stores and spice purveyors like Penzeys that pairs exceptionally well with beans, hearty greens, and chicken. Culinate editor's note: No time to cook your own chickpeas? Use a 15-ounce can of garbanzos instead. Drain and rinse the beans before adding them to the food processor. Use 1/4 cup water in place of the bean-cooking liquid. Read more about garbanzos in Matthew Card's feature on chickpeas.