Chickpea Dal with Mustard Greens and Tomato
(recipe, Matthew Card)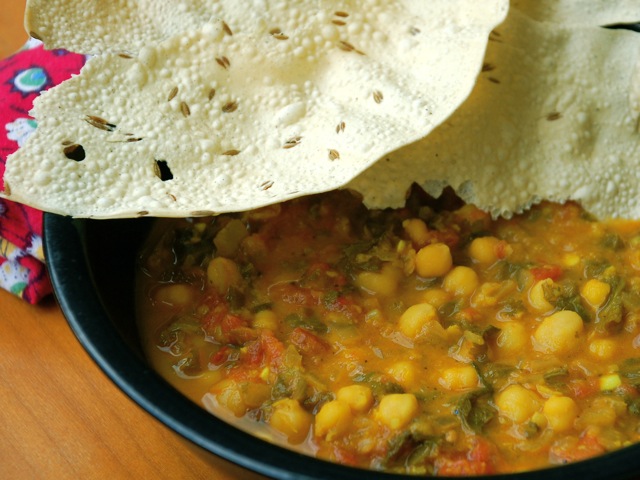 primary-image, l
Introduction
Ladle this dal over brown or basmati rice, or serve it with poppadums. While you can deep-fry or toast poppadums, the easiest way to prepare them is to pop them into the microwave for 30 seconds to 1 minute.
Ingredients
3 cups cooked chickpeas, plus 2 cups cooking liquid (if reserved, otherwise plain water)
2 Tbsp. vegetable oil
2 Tbsp. minced ginger
1 jalapeño pepper, seeded and minced
4 garlic cloves, minced
1 small onion, minced
Salt
1 tsp. garam masala
½ tsp. turmeric
1 bunch mustard greens, stemmed, blanched, and coarsely chopped (see Note)
1 can diced tomatoes (14 ounces), well drained
¾ cup coconut milk
Cayenne pepper to taste
Steps
Combine 1 cup of the chickpeas and 1 cup cooking liquid in blender and purée until smooth; set aside.
Heat oil in a large saucepan over medium-high heat until shimmering; add the ginger, jalapeño, garlic, onion, and large pinch salt, and cook, stirring frequently, until softened and just beginning to brown, about 6 minutes. Add the garam masala and turmeric, and stirring constantly, cook until the spices are fragrant and darkened, 30 seconds.
Add the puréed chickpeas, whole chickpeas, and remaining cup of cooking liquid from chickpeas, plus 1 cup water (or 2 cups water); bring to a simmer, reduce the heat to medium low, and cook 10 minutes. Add the tomatoes and coconut milk; simmer another 10 minutes. Stir in the greens, adjust seasoning with salt and cayenne, and serve.
Note
To blanch the greens, cook them in a large pot of boiling, well-salted water until just tender, about 5 minutes. Immediately drain and shock with cold water before squeezing dry and chopping. Read more about garbanzos in Matthew Card's feature on chickpeas.