Creamy Garlic-Almond Soup with Smoked Paprika and Shrimp
(recipe, Adam Ried)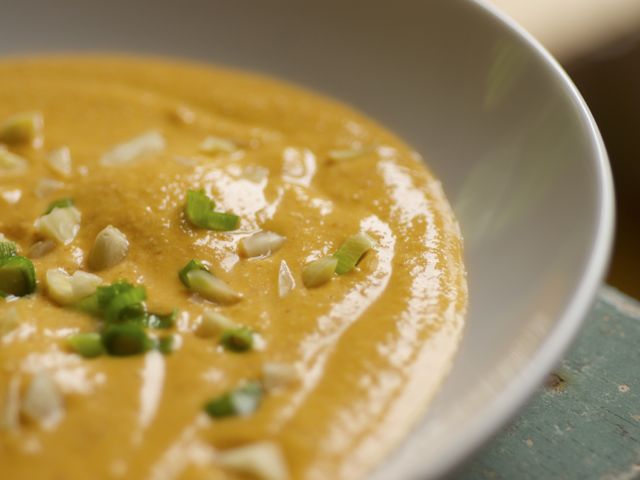 primary-image, l
Introduction
As with the Spanish Garlic and Almond Soup with Grapes, either fresh or stale bread is fine here. A small serving of this thick, rich soup makes a nice first course for a special dinner, or with a salad alongside it can be dinner (or lunch) itself.
Ingredients
1 Tbsp. neutral oil
1 lb. medium (41 to 50 per pound) shrimp, shelled and deveined, shells reserved
1 small onion, roughly chopped
1 celery rib, roughly chopped
7 medium garlic cloves, chopped
1 bay leaf
10 oz. French, Italian, or sturdy country white bread, crust trimmed, torn or cut into roughly 1-inch pieces (about 6 cups/7 ounces lightly packed)
⅓ cup extra-virgin olive oil
1½ Tbsp. smoked bittersweet paprika
2 cups skinless blanched whole, slivered, or sliced almonds, toasted; reserve 2 tablespoons for garnish (chopped if whole)
Salt
3 Tbsp. dry sherry
1 Tbsp. sherry vinegar
3 scallions, white and light green parts, thinly sliced (about ⅓ cup), for garnish
Steps
Heat the neutral oil until shimmering in a large saucepan over medium-high heat. Add the shrimp shells, onion, celery, and bay leaf, and cook, stirring frequently, until the shells are pink and the vegetables have softened, about 5 minutes. Add about half the garlic and cook, stirring, until fragrant, about 40 seconds.
Add 9 cups water, bring to boil, adjust the heat to medium-low, partially cover the pot, and simmer until the stock is fragrant and strongly flavored, about 40 minutes. Strain the stock into a large bowl, pressing the solids to release as much liquid as possible (you should have about 7½ cups); discard the solids. Add the bread to the stock, submerge it, and soak until softened, about 10 minutes.
Meanwhile, heat the olive oil and smoked paprika in a small skillet over medium-low heat, stirring occasionally, until fragrant, about 3 minutes. Set the skillet aside off heat to infuse the oil, about 15 minutes.
Purée half the soaked bread and its liquid, half the almonds, and half the remaining garlic in a blender (do not fill the jar more than halfway; purée in additional batches if necessary) until very smooth. Remove the center cap from the blender-jar lid and, with the motor running, add half the olive-oil mixture in a slow, steady stream, and purée until the mixture is very smooth and emulsified. Pour into a large saucepan; repeat blending (in 2 batches if necessary) with remaining soaked bread and liquid, almonds, garlic, and olive oil mixture, and add to the first batch.
Add 2½ teaspoons salt, pepper to taste, and the shrimp; set the pan over medium heat, and gently heat the soup, stirring occasionally, until the shrimp is cooked through and the soup is hot and steamy, about 7 minutes (do not boil). Add the sherry and sherry vinegar and stir to mix. Taste and adjust the seasoning with additional salt and pepper, and consistency with a little water (up to ½ cup) if necessary.
Ladle the soup into warm serving bowls, garnish each bowl with some scallions and a few of the reserved toasted almonds, and serve immediately.