Citrus celebration
(post, Megan Scott)
Citrus is a consolation prize for those of us who make our lives in temperate climes. Of course, all plants have their fruiting season, and there is perhaps very little romance about the whys and wherefores of plant reproduction. But to me, it always seemed merciful that citrus season should fall in the middle of winter, sending its tart-sweet orbs of condensed sunlight into my kitchen.

We buy lemons year-round. Lemon juice is nearly as instrumental as salt and pepper to our cooking, balancing and calibrating dishes that would otherwise taste flat at best, insipid at worst. A juicy lemon can be the bridge from middling to electric, sparkling on the taste buds before cleanly giving way to more subtle flavors.

Lemons aren't terribly variable in quality. Of course, some will be larger and juicier and others smaller and less yielding, and perhaps the acidity will vary slightly. Mostly, though, lemons are dependable kitchen foot soldiers.

Other citrus fruits? Not so much. I wish I could tell you that I had not been seduced time and time again by the curvature of out-of-season oranges and grapefruits. What's more, I wish I could give you a foolproof method for choosing flavorful out-of-season fruit. 

Unfortunately, I have known far too many watery or dry fruits to profess a breakthrough on the subject. The best course of action, I have found, is to simply bide your time until about November, and then feast upon citrus while you can. 

[%image reference-image float=right width=400 caption="Prepping ramekins with slices of Meyer lemons for the custard."]

I pay close attention to the procession of citrus fruits, and my excitement builds as the variety increases. 

Kumquats are some of the first to catch my eye, diminutive as they are. They usually arrive just in time for my annual fruitcake bake-off at the end of November, and are lovely cut into tiny rounds, candied, and arranged across the tops of the highly spiced, liquor-soaked cakes. 

Then come netted plastic sacks of flamingo-pink grapefruits. And then the vast array of oranges with exotic and beautiful names: Cara Cara, Valencia, Tangelo, Clementine. I try not to make a scene when the blood oranges show up.

Perhaps my enthusiasm puzzles you. You may think me a marmalade fiend or a grapefruit dieter or perhaps even a hot-water-and-lemon guru, sipping between yoga poses. 

While I do have an affection for marmalades (and I confess to owning a grapefruit spoon and a yoga mat), citrus is something of an invaluable tool in the kitchen, prized for both its zest and juice. It is equally at home in sweet and savory preparations, and if all else fails, you can always eat most citrus fruits out of hand.

While eating an orange is something of an elementary skill, there are tricks to getting more out of citrus. To make the most of zest, invest in a rasp grater, most famously known as a Microplane zester. The tiny sharpened scales of this grater turn the outermost peel of citrus fruits into a fine, oily fluff, leaving behind the bitter white rind. The resulting zest is incredibly aromatic, infusing anything it touches with bright flavor. (And when you're not using the rasp grater on your favorite citrus fruits, it does wonders with garlic cloves, fresh ginger, and Parmesan cheese.) Be sure to store any zested citrus fruits in a sealed bag or container in the refrigerator to prevent them drying out.

My favorite tool for extracting citrus juice is the simple handheld citrus reamer. Unless I'm after a half-cup or more of juice, this method is fast and easy to clean up after. If you don't have a reamer or juicer, you can still optimize your juicing experience by pressing and rolling the fruit beneath the palm of your hand before squeezing out the juice. You can even microwave citrus for 20 seconds before juicing to get the most juice. 

If you want to invest in your juicing habit (that is, you really like fresh-squeezed orange juice), you may want to look into the fabulous and simple attachments made for stand mixers. Generally, though, I find that a citrus reamer is perfectly adequate for most of my juicing needs.

One citrus technique worth mastering is supreming. A supremed citrus is one that has had its peel and pith cut away and the segments cut out from between the inner membranes. It sounds a lot more complicated than it actually is. See the beet recipe, below, to get an idea of how to cut rings of partly supremed citrus.

If your fruit bowl is well-stocked, keep in mind that citrus is a remarkably good partner to green vegetables, fish and shellfish, mild soft cheeses, berries, and woody herbs such as rosemary and thyme. Otherwise, look to the recipes below for inspiration and proceed accordingly.

Meyer Lemon and Earl Grey Sponge Custards
Serves 6

[%image custards float=right width=400 caption="Meyer Lemon and Earl Grey Sponge Custards"]

The Earl Grey tea in this custard is very subtle, but it marries nicely with the fragrant Meyer lemon. Initially, I had hoped that the lemon slices placed in the bottom of the ramekins would stay in place for a stunning presentation, but even embedded in the dessert, they make a lovely contrast to the creamy, mild custard.

This recipe is adapted from the 2006 edition of the Joy of Cooking.

1 cup milk
2 Tbsp. Earl Grey tea
⅔ cup plus 2 tablespoons sugar, separated
1 Meyer lemon, sliced into ¼-inch-thick rounds
2 Tbsp. butter, softened
Pinch of salt
4 eggs, separated
3 Tbsp. all-purpose flour
1 Tbsp. Meyer lemon zest (from about 2 lemons)
¼ cup strained Meyer lemon juice
Whipped cream and/or fresh raspberries, for serving (optional)

Steep the tea: In a small saucepan, bring the milk and tea to just below a simmer. Remove from the heat, cover, and let steep until the milk cools to room temperature, about 1 hour. 

Prep the custard equipment: Preheat the oven to 325 degrees. Line the bottom of a roasting pan with a kitchen towel. Lightly butter six 6-ounce ramekins and dust the bottoms with 1 teaspoon sugar per ramekin (I used vanilla sugar because I had some, but regular granulated sugar is fine). Place one Meyer lemon round on the bottom of each ramekin, and place the ramekins in the roasting pan. 

Make the custards: Combine the remaining 2/3 cup sugar, the butter, and salt in a medium bowl and knead in the butter until the mixture is homogenous and no large chunks of butter remain. Add the egg yolks, flour, lemon zest, and juice, and whisk until smooth. 

Strain the milk, pressing the tea leaves to extract all the milk, and add to the yolk mixture.

In the bowl of a stand mixer fitted with the whisk attachment, beat the egg whites until stiff but not dry. Whisk the whites into the egg-yolk mixture until no clumps of whites remain. Ladle the mixture (do not pour) into the ramekins; it may reach the tops. 

Bake the custards: Place the roasting pan in the oven and pour enough scalding hot water into the pan to come two-thirds of the way up the sides of the ramekins. Bake until the custards are puffed and golden brown and spring back when pressed lightly with a finger, about 25 to 30 minutes. Allow the custards to cool for 10 minutes in the water bath. 

Serve the custards: Serve warm, at room temperature, or chilled, in the molds or turned out. To turn out the custards, run a thin knife around the insides of the ramekins. Place a serving plate upside down over each ramekin and swiftly flip the whole affair. Remove the ramekin to reveal the custard. Serve with whipped cream and/or fresh raspberries.

Roasted Beets and Carrots with Blood Oranges and Feta

[%image beets float=right width=400 caption="Roasted Beets and Carrots with Blood Oranges and Feta"]

This recipe is flexible, serving as many as you'd like. Just prepare enough vegetables and citrus to feed everyone at the table.

Beets (red and/or golden)
Carrots
Vegetable oil
Blood oranges (estimate 1 orange per 2 people)
Feta cheese
Maldon salt and freshly ground pepper, to taste

Cook the vegetables: Preheat the oven to 400 degrees. Scrub the beets and carrots well. Cut the beets into ½- to ¾-inch-thick wedges (there's no need to be exacting here, but keep in mind that the larger the beet wedges, the more time they will take to cook). If the carrots are small, cut them in half lengthwise. If large, quarter them. Toss the beets and carrots with just enough vegetable oil to coat and arrange them in a single layer in a roasting pan. Roast until tender, about 25 to 45 minutes, depending on the size of the veggies.

Prep the oranges: While the beets and carrots are roasting, remove the peel and pith of the blood oranges. Cut off both ends of the orange so it will sit upright on your cutting board. Using a sharp knife and following the contours of the orange, cut away the peel and white pith without removing too much of the flesh below. Cut the peeled orange into rounds and set aside.

Assemble the dish: Arrange the roasted vegetables on a plate and top with the orange rounds, feta cheese, and salt and pepper. Serve warm.

Quinoa and Pomelo Salad with Toasted Coconut
Serves 2 as a main course or 4 as a side dish

[%image pomelo float=right width=400 caption="Quinoa and Pomelo Salad with Toasted Coconut"]

1 cup quinoa, rinsed
2 Tbsp. lime juice
2 Tbsp. fish sauce
4 garlic cloves
1 piece (2 inches long) fresh ginger root, cut into rounds
1 jalapeño chile, seeded
1 lemongrass stalk, tender parts only, cut into rounds
1 Tbsp. vegetable oil
¼ cup chopped cilantro
¼ cup chopped fresh mint
1 pomelo, peeled and separated into segments
½ cup toasted flaked coconut

Cook the quinoa: In a medium saucepan, bring 2 cups water to a boil. Stir in the quinoa, cover, reduce the heat, and simmer until the quinoa is tender, about 15 minutes.

Prepare the dressing: While the quinoa is cooking, combine the lime juice, fish sauce, garlic, ginger, jalapeño, lemongrass, and oil in a blender and purée.

Assemble the salad: Combine the quinoa, dressing, cilantro, and mint in a serving bowl. Serve with the pomelo and garnish with the coconut.

reference-image, l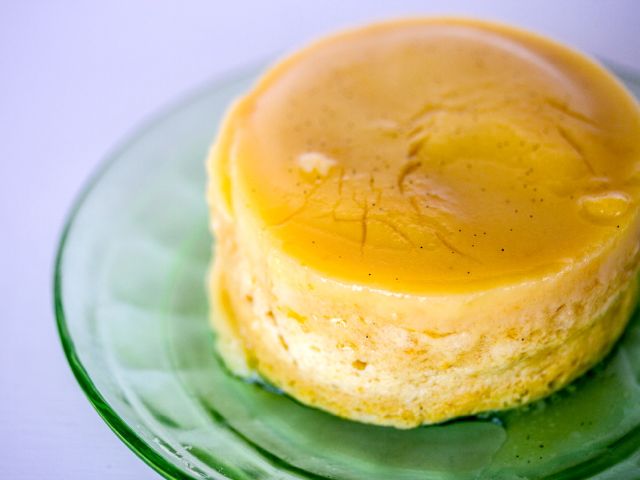 custards, l

beets, l

pomelo, l