Fresh Orange-Smoked Paprika Vinaigrette
(recipe, Martha Holmberg)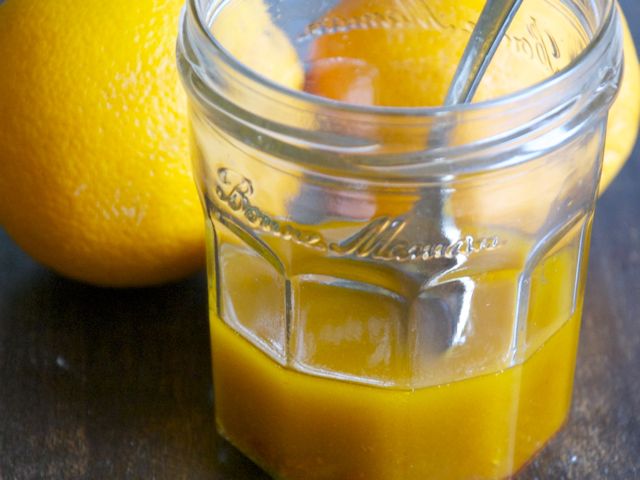 primary-image, l
Introduction
I'm addicted to this flavor combination. It tastes like the exotic vacation that I never quite manage to take! Once you start cooking with smoked paprika, you'll find a million uses for it (see note below), so don't hesitate to invest in a small can. It won't go to waste. For a quick change, add 2 tablespoons of finely diced roasted red bell pepper before adding the oil. Store vinaigrette in refrigerator in an air-tight container for up to a week.
Ingredients
3 Tbsp. fresh orange juice
½ tsp. lightly packed finely grated orange zest
2 Tbsp. sherry vinegar
1 tsp. Spanish sweet smoked paprika (see note below)
½ tsp. granulated sugar
2 drops hot-peppper sauce, such as Sriracha
Kosher salt
½ cup extra-virgin olive oil
Steps
In a small bowl, whisk together the orange juice, orange zest, vinegar, paprika, sugar, hot-pepper sauce, and ¼ tsp. salt, until the sugar and salt are dissolved. Gradually whisk in the oil, a little at a time, until the dressing is creamy and blended. Taste and adjust the flavor balance and seasoning. Whisk again to blend just before using.
Note
Smoked Spanish paprika, also known as pimenton de la Vera, comes in three types: sweet (dulce), medium-hot (agridulce), and hot (picante). Look for it in stores that specialize in Spanish foods or carry a wide selection of gourmet foods, or online. Delicious possibilities for using Spanish smoked paprika: shrimp marinade, gazpacho, hummus, steak rub, rice pilaf, seasoning for sautéed red bell peppers, chicken (fajitas or burritos) or fried potatoes, sprinkled on deviled eggs or juicy mango chunks. Recipes on Culinate: Smashed Potatoes, Home Fries, Crispy Potatoes with Paprika, Halibut with Smoked Paprika and Roasted Peppers, Vegetarian Borscht, Golden Gazpacho, and Paella on the Grill.