Amanda Hesser and Merrill Stubbs
(article, Lynne Curry)
[%pageBreakSettings nobreak=true]

p(blue). Every week in a Brooklyn brownstone apartment, a team of cooks, editors, and photographers orchestrate and chronicle an international online cooking competition. The contestants and judges are home cooks who make up the impassioned community of the website called Food52. 

p(blue). Since the start-up's founding in 2009, co-creators Amanda Hesser and Merrill Stubbs have curated Food52 into a spirited social-media mecca for cooks. To date, each of the site's 52 weeks of cooking contests have culminated in The Food52 Cookbook: 140 Winning Recipes from Exceptional Home Cooks (2011) and The Food52 Cookbook, Volume 2: Seasonal Recipes from Our Kitchens to Yours (2012). The books constitute a new take on the classic tradition of the community cookbook. 

p(blue). The apartment's owner, Hesser, is a former food columnist and editor at the New York Times and the author of the award-winning memoirs Cooking for Mr. Latte and The Cook and the Gardener. She teamed up with the professionally trained Stubbs to test more than 1,000 recipes for 2010's bestselling The Essential New York Times Cookbook. 

[%image reference-image float=right width=400 caption="Merrill Stubbs (left) and Amanda Hesser spend lots of time in the kitchen together."]

p(blue). Raised in food-loving households, the pair have since cultivated a public friendship (they are known to go by "A&M") and successful partnership that has inspired more than 900,000 monthly visits to their Food52 online community. 

p(blue). A visual feast of food photographs, featured recipes, how-to videos, and recommended products and tools — along with the crowd-sourced recipe contests — the site was the first digital media to win the James Beard Foundation's Publication of the Year Award in 2012. 

We've never met before, but I feel like I know you through your work. I'm assuming everyone feels that way, so I wonder: What that's like for both of you?
Merrill: It's really nice to hear you say that. One of the goals that we had in creating Food52 was to create a place that didn't feel impersonal, that really felt like a community we were a part of just as much as everyone else. We feel really grateful that people feel that way. It means that one of our main goals of creating the site is being achieved — a place that has a voice and a personality. 

[[block(sidebar).

h1.Featured recipe

Amanda: We made a point to be present. We wanted people to feel like they were in the kitchen with us. That's the thing about cooking. Food is inherently social, but a lot of the time you're in the kitchen alone. The beauty of technology is that you can change that experience and bring people into the kitchen with you. 

Amanda, you were certainly very well-known through your writing at the Times and your books. Has your identity shifted with Food52?
Amanda: Definitely, and I feel in a very positive way. I certainly loved working at the New York Times. \[But\] one of the things I didn't savor was, "We are the New York Times, we are the authority telling you what you should be thinking about or paying attention to." 

I much prefer the conversation, getting to know people and learning from others. Merrill and I obviously do have strong opinions about eating and cooking. We have a specific style that we want to share. But it's more of a relationship-building. 

Also, the nature of the newspaper when I was there was less digitally oriented. You wrote and published on paper, and you were already onto the next thing. There was no feedback loop. There was no —

Merrill: Although you had people calling you all the time. 

Amanda: Yeah, there was that. There were some angry folks who were determined enough to track down my phone number \[laughs\]. And, people would write letters. It just didn't have that fluid feeling. We put things up on the site now and people respond immediately. 

Can you describe the Food52 aesthetic that distinguishes it from other online communities?
Amanda: We feel strongly that what you see on the site should be inspiring and beautiful. It should be sophisticated without seeming daunting or exclusive. 

I think that somebody who we feel did a great job of this during our formative years of cooking was Martha Stewart, who had a strong visual point of view. She was an extreme example, and she did things that you were like, "I could never possibly do that!" But you wanted the notion that your life could have all these crafts and beautiful cooking. 

Ours is more accessible and more doable because we're doing everything — our community and us. This isn't imaginary food or food that we fantasize about. This is real stuff that real cooks make. We bring the style into it. We do these cooking days and photo shoots. We take these people's recipes, and we make them visually arresting. We want you to stop on that page and just gaze at the photo.

Merrill: In terms of the aesthetic of our photography in particular, we've worked very hard to develop that over time and find our own way. We try to keep things clean — a clean aesthetic that focuses on the food itself. 

[%image savouries float=right width=400 caption="Fig and Blue Cheese Savouries, from the most recent Food52 cookbook."]

You may have noticed that our serving plates and platters and utensils are very simple. We are very picky about them, but they're always understated. We don't throw a lot of extra stuff in the photo. We want to focus on the food. The food is the food. It comes out of the oven, it comes off the stove. We arrange it in a way we think looks beautiful, but we don't have any tricks.

Amanda: Yeah, all the tabletop stuff you see is stuff we have in my kitchen. This is all of the stuff we have collected over the years. It is personal and gets reused again and again. It's not this staged photo. These are the plates if, like, I have a dinner party, this is what I serve on. We want that authenticity throughout everything we do.

Since it is so personal and integrated with your lives, how do you feel when people characterize your site as being too gourmet?
Merrill: Some people say that they sometimes feel intimidated by some of the recipes. The truth is, we don't actually see that as a bad thing. We wanted to set the bar pretty high because we knew that there were people out there who could live up to that expectation. There were home cooks who were doing really wonderful, not always complicated, but sophisticated things in their homes. 

We firmly believe that it's a good thing to be inspirational rather than trying to serve everyone all at once or serve the lowest common denominator. That wasn't the business that we set out to pursue. We heard that more in the beginning than we hear now. 

A lot of that has to do with choices we've made along the way to expand the range of things we do on the site. We do the Food52 Hotline, which is a Q&A platform. That serves a universal need. Everyone, no matter their level of cooking, has food questions at some point. No one should feel excluded from something like that. But, at the same time, the recipes we put up are at a certain level.

Amanda: As people who love food and are constantly looking around at sites and magazines and blogs, there is a very troubling effort to dumb down cooking. Think of all the press releases you get that say, "Quick, easy, healthy!" To us, that's a negative way to approach something that's so pleasurable. You're defensively cooking: "I'm only going to do things that are easy because everything else is hard." 

When you're an experienced cook, you know that once you get down a couple of basic techniques, most things are actually quite easy. Things like stews, yes, they don't take 30 minutes, but they take very little prep time and you get them on the stove, and they do their own thing while you do other stuff.

We felt that this dumbing-down was pervading the whole food world, and we didn't want to participate in that, because we felt like if you made it feel inspiring, enjoyable, and an important part of your life, that the message that things can be easy that would eventually get across without having to be blatantly screaming, "Our recipes are easy!" 

Because, actually, most of our recipes are easy, because they're made by home cooks, and most home cooks are practical and don't want to spend eight hours in the kitchen working on something that's going to serve four.

Before Food52, you worked together on The Essential New York Times Cookbook, testing thousands of recipes. How is creating a Food52 book better or worse than producing the Big Red Book, as you call it?
Amanda: Food52 is partly inspired by our work on that book. One of the things we found that surprised us was how many of the most popular recipes from the New York Times came from home cooks. In other words, they were published by the New York Times, but they originated from home cooks. Those were the recipes that readers wrote in about decades after they had been published. Their families had been making them for generations. 

To us, that was the signal that there was something interesting about home cooks' recipes versus, say, a chef's recipes. In the 19th century, food archives of the Times were almost entirely crowd-sourced. We snagged this 19th-century concept and put it online. We have a fondness for community cookbooks and that tradition of sharing recipes. 

It was a lot of different pieces, but I think the work that we did on that book got the wheels turning for Food52. To us, they are both really fun and gratifying and interesting projects. We don't really think of them that they are so different.

The thing that's nice about the Food52 cookbooks is that they're a really great snapshot of what home cooks were thinking about and the kinds of recipes they were wanting to cook in that particular year.

If I had been a Food52 recipe-contest winner, what would the process be like for me to have a recipe end up in the book?
Merrill: Our process is pretty much the same as when we started, with a couple of minor tweaks. The very first year, we did two recipe contests every week. We just can't believe we did that, because that was totally crazy. 

We are very structured about these contests. Each one has a theme, whether it's something very straightforward like Your Best Roast Chicken or something a little bit more nebulous. We did a recipe: "What's your best recipe using lemon, thyme, and a grill?" The idea was that we were targeting certain types of recipes, so that we could build a nice, balanced cookbook. 

So, if you submitted your recipe to Your Best Roast Chicken contest, you would upload it to the site and it would be public for everyone to see and be gathered on a page with all the other submissions. When they're all in, we as editors read through them all. We still do this; our editorial team reads through every submission. We winnow it down to what sound like the most promising recipes. We have a lot of experience reading recipes, so that we can make those deductions. 

This is where it's slightly different now from what it was initially. The next step used to just be us testing that list. But now we have the community do a round of testing for us, because we've amassed all these experienced cooks who have built these great reputations on the site. They report back and we do a little bit of testing using their feedback, and we narrow it down to two finalists. 

Amanda: On Tuesdays, we cook them and we do an ingredients shot, all the process shots, and a final shot so that we have a beautiful presentation.

Merrill: Then, we post with the two recipes and slideshows for our members to vote on and they ultimately choose the winner. It's a mix of us and our community all the way through. There's a little bit of editing, but we keep those headnotes written by community members as intact as we can, because we believe in personal voice being a huge value in those recipes, including the steps themselves and how they're written. 

So, if I was the winner for week 34, it's ready to go into the book once the contest is over and I rest on my laurels until the book comes out?
Merrill: You'd get a prize in time, some cookware, and of course, fame and glory.

Amanda: There's a winner Q&A on the site.

Merrill: The production of the book is kind of standard time, so people are waiting. We hope waiting with baited breath!

What does the Food52 iPad app offer that your website and books do not?
Merrill: We released it last year as a holiday app that ranged from Thanksgiving to New Year's. We re-released it this fall as a year-round holiday survival guide. 

Our goal is not just to support \[users\] from a recipes perspective, but to give them a 360-degree support system for not getting stressed out. So it really covers everything, from menu strategies to product links to recipes to videos about techniques. What else am I missing?

Amanda: Etiquette. 

Merrill: A lot of this entertaining-slash-menu planning information is crowd-sourced from our Food52 Hotline.

Amanda: Things like, if you have relatives from two sides of the family, how to ease everyone into a good time.
 
In your onsite videos and on programs like "The Today Show," you two seem to have a natural rapport. Can you describe your division of labor?
Amanda: Yeah, we sort of do \[laughs\]. It's hard to describe, because we've worked together for so many years now. We find ourselves thinking the exact same thing a lot. We're like twins who have a secret language, which is very helpful but also freaks some people out. 

[%image book1 float=left width=300]

Merrill: Weird for our husbands.

Amanda: In terms of the breakdown of our business, Merrill is editor-in-chief, so she runs all the editorial on the site, and I tend to do more publicity kind of stuff. I work a little more closely with our investors, but we also have a president, so the three of us work on business-y stuff together. There is some formal breakdown, but we are a start-up, so everyone's involved in everything. I mean, we were both styling earlier today. We made everything for today's shoot. We did a tweet-up together.

Merrill: We like it that way. First of all, there's a ton of variety to your day. When we need to separate roles, when that's necessary, we do that. But there's a lot of collaboration — not just between us, but between our entire team.

It always appears that you are simply two great friends cooking together and having fun. Is that how it really is?
Amanda: Totally. We cook really well together. We, like everyone on our team, are seamless in the kitchen together. It takes a certain kind of cook. We run our kitchen a bit like a professional kitchen, but it's a bit like a home kitchen. It's hyper-organized. We get a ton of stuff, but at the same time it's friendly and no one is sharpening their knives.

Merrill: Figuratively or literally.

Amanda, what would you describe as Merrill's greatest strength in the kitchen?
Amanda: I feel like Merrill is so good at understanding — this is going to sound so general — good flavor and those flavors that are going to speak to everyone. Everything she makes is, like, super-delicious.

Merrill: So nice!

Amanda: And that's such a great talent that I don't naturally have \[laughs\].

Merrill: I totally disagree, but I will say something different about Amanda. I am so envious of her pastry and baking skills. I am in awe, always. She stays so calm. I just get really stressed out by dough, and she is like, "I'm going to be the master of this, I'm the boss of this." It's always beautiful.

Merrill, has Amanda had any Julia Child moments?
Merrill: I'm assuming you mean like the dropping-of-the-chicken moment.

Well, maybe, subject to your interpretation.
\[Pause, laughter.\]
Amanda: This is such a bad one.

Merrill: We were filming a video for the site. We were making pesto, right? 

Amanda: Yeah.

Merrill: Something with a lot of oil. It had to have been pesto. We were using the food processor and drizzling in oil. And somehow, an entire cup of olive oil ended up all over me \[laughs\].

Amanda: Merrill had a meeting or a really important thing. She had a shirt she had just dry-cleaned and really nice dress pants and I just — like, the whole cup of oil just down her entire front. She had to go home and get changed. \[Hysterical laughter.\]

Just to be fair: Amanda, does Merrill have a Julia Child moment you can tell us about?
Amanda: Not really. I can't think of any.

Merrill: Well, maybe not in front of you, but . . .

Amanda: I will tell you one that happened. I don't know how directly Merrill was involved. Do you remember the cake that fell on the floor? 

[%image book2 float=right width=300]

Merrill: Yes.

Amanda: So, we shoot in my bedroom, which is a little weird, but that's where we do all our photographs, so we're constantly carrying things from the kitchen to the bedroom. There was a loaf cake that we were ready to shoot. Somehow, it got upended and did a couple of somersaults. And, we just picked it up and shot it \[laughter\].

In a recent profile in the New York Times, Christopher Kimball, publisher of Cook's Illustrated, is quoted as saying, "I hate the idea that cooking should be a celebration or a party." What is cooking for you?
Amanda: I don't know that I can distill it into one thing, because I feel like you cook for so many reasons. I would not put joylessness into it. 

Merrill: It can be cathartic, for example, when you're in a bad place.

Amanda: I find after a stressful day at work, it's a good way to turn off and focus on something. But I also think it's a really fun way to hang out with friends. If you like to challenge yourself, if you are naturally a doer or a maker, it's a visceral pleasure that's hard to describe. It's like every day you can actually make something.

Merrill: I think it can be an extension and reflection of everything else that is going on in your life. It almost necessarily is that way. For me at least, whenever I'm cooking, whatever mood I'm in is going to definitely come out in whatever I'm making. Not in a bad way.

Amanda: I love the blend of the nostalgia and pushing forward. You're constantly doing both of those things in the kitchen. You're trying new things and at the same time returning to the things that tie you to your past.

Merrill: We are into celebration. Sorry, Chris!

p(bio). Lynne Curry is a writer based in Joseph, Oregon. She is the author of Pure Beef: An Essential Guide to Artisan Meat with Recipes for Every Cut, and she blogs at Rural Eating.

reference-image, l

savouries, l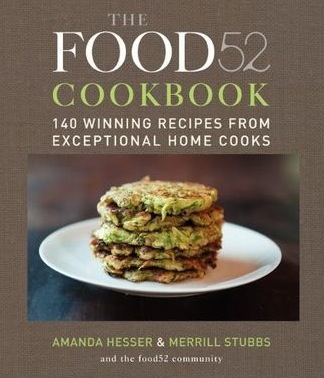 book1, l

book2, l