Goat-cheese tart
(article, Deborah Madison)
This is the moment for contrasts. It's cold in the morning, warmer during the day. Not quite summer, but not quite winter, either. There are still a few tomatoes and peppers on the vine, but their flavor lessens while their skins toughen daily. Summer clothes are put away, but the winter ones are too warm. It's fall, a transitional season with some of this and some of that. 

Which makes me think of a tart that reflects this moment — a goat-cheese tart in a nut crust with dried fruits. The goat cheese is tangy, but honey (or the dried fruits in wine syrup) sweeten that edge. 

[%image reference-image float=left width=400 caption="Deborah Madison's Ricotta and Goat Cheese Tart in a Nut Crust."]

Our new ease with salt pairing with sugar, savory spices in fruit desserts, and other combos we didn't necessarily grow up with means that goat cheese as dessert fits right in. I love its slight oddity — the way it twists your senses, not too much, but just enough that you know they're there. A handful of raspberries or sliced figs would be perfect here, or wild huckleberries, for that matter. 

But as fresh fruit has already finished, consider a little compote of dried fruits, glistening in a wine syrup, a spoonful with each slice to give you a cheese, wine, and fruit course in one. 

As for the proportion of goat cheese to ricotta, using half as much goat cheese as ricotta is probably a good one if you're not sure about the impact such a singular cheese will make. But play with it. If you know you like the tang of goat cheese, use more, or use it entirely.

Ricotta and Goat Cheese Tart in a Nut Crust

Crust
½ cup walnuts
¼ cup white whole-wheat pastry flour
½ cup all-purpose flour
¼ teaspoon salt
3 tablespoons light brown sugar
4 tablespoons cold butter, cut in small pieces
1 tablespoon walnut oil (or butter, if not available)
½ teaspoon vanilla extract mixed with 3 tablespoons cold water

Filling
8 ounces ricotta or cream cheese (about 1 cup) 
4 ounces mild goat cheese (about ½ cup)
¼ cup honey, plus extra for the top
A good pinch of salt
½ cup sour cream or crème fraîche 
2 eggs

Put the nuts, flours, salt, and sugar in the work bowl of the food processor, then pulse several times to break up the nuts. Add the butter and oil, if using, and pulse until crumbly. Add the vanilla water and pulse until it looks moist. When gathered in your hand, the crumbs should adhere; if it seems way too dry, add more cold water drop by drop. Wipe out the work bowl and return it to the food processor.

Press the dough into a 9-inch tart shell, building it evenly up the sides. Refrigerate until firm.

Preheat the oven to 375 degrees. Place the tart crust on a sheet pan and line the crust with foil and pie weights. Bake for 20 minutes, or until the foil comes cleanly away from the crust. Remove the foil and weights. Reduce the oven temperature to 350 degrees and return the shell to the oven to brown lightly, another 10 minutes or so.

While the tart is blind-baking, combine the filling ingredients and purée until smooth. Pour the filling into the pre-baked tart shell and bake until set, 25 to 30 minutes. The filling may swell as it bakes, but it will collapse and even out as it cools to room temperature.  

Serve each slice with a spoonful of Small Dried Fruits Simmered in Pedro Ximinez and a drizzle of the syrup. Or drizzle honey over the surface, or serve with fresh fruit.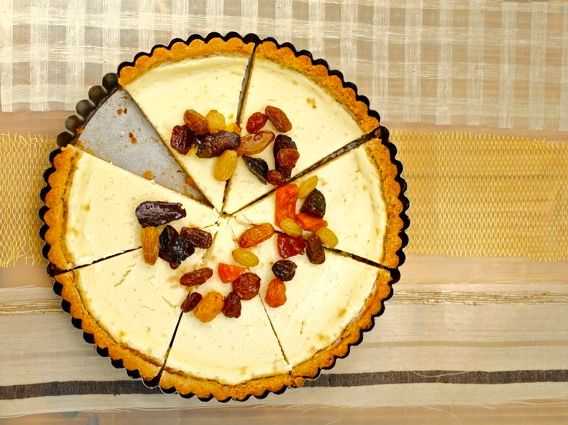 reference-image, l

newsletter-image, l