Top | The River Cafe Cook Book
Ribollita
(recipe, Ruth Rogers & Rose Gray)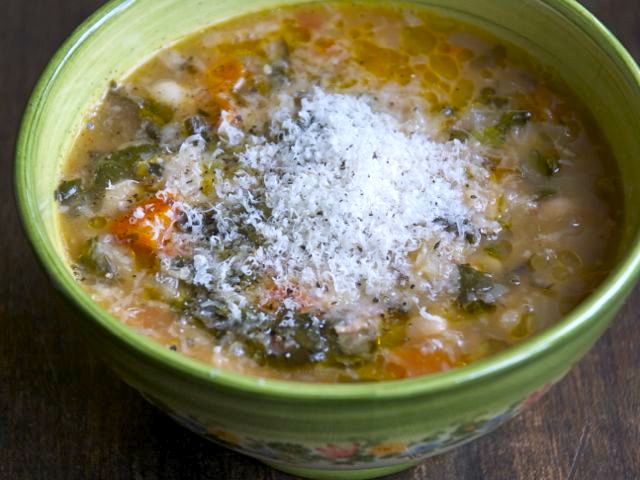 primary-image, l
Introduction
Cavolo nero (see Note, below) is essential for an authentic ribollita. Robust greens such as Swiss chard, the dark green outer leaves of Savoy cabbage, kale, broccoli, or broccoli raab can be substituted.
Ingredients
1 large bunch fresh flat-leaf parsley, chopped
4 garlic cloves, peeled and chopped
2 bunches of celery, chopped
1 lb. carrots, peeled and chopped
4 medium red onions, peeled and chopped
4 Tbsp. olive oil
1 can (28 ounces) peeled plum tomatoes, drained of their juices
4½ lb. cavolo nero or Swiss chard, stems removed, leaves coarsely chopped
1¼ cups dried cannellini or borlotti beans, cooked
2 loaves stale ciabatta bread, crusts removed and sliced or torn
Extra-virgin olive oil
Sea salt and freshly ground black pepper
Steps
In a large saucepan, sauté the parsley leaves, garlic, celery, carrots, and onions in the oil for about 30 minutes, until the flavors combine. Add the tomatoes and continue to cook on gentle heat for a further 30 minutes, then add the cavolo nero and half the cannellini beans with enough of their cooking liquid to cover. Simmer for 30 minutes.
In a food processor, purée the remaining beans and add to the soup with just enough boiling water to make the soup liquid. Add the bread and a generous amount of the extra-virgin olive oil, and season with salt and pepper. As exact amounts are not possible, you must balance the amount of liquid to bread so that the soup is very thick.
Note
Cavolo nero, a Tuscan kale, is often sold Stateside as lacinato or dinosaur kale.