Orange-Chocolate Chip Pound Cake with Sour Cream Glaze
(recipe, Lauren Chattman)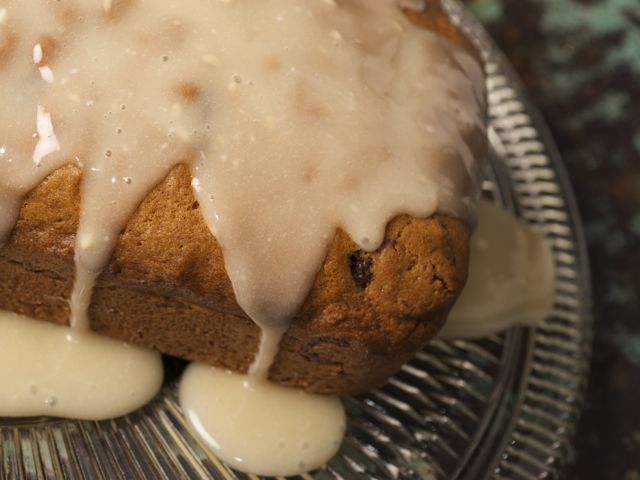 primary-image, l
Introduction
I love the combination of orange and chocolate in this cake, which gets tenderness and a little more tang from the sour cream. Don't skip the sour cream glaze; it adds an interesting layer of creaminess, making this simple cake a surprisingly complex combination of flavors and textures.
Ingredients
Cake
1½ cups unbleached all-purpose flour
½ tsp. baking powder
1 tsp. baking soda
¼ tsp. salt
½ cup (1 stick) unsalted butter, softened
¾ cup firmly packed brown sugar
2 large brown eggs
½ cup sour cream
1 Tbsp. grated orange peel
1 tsp. pure vanilla extract
1 cup semisweet chocolate chips
Glaze
2 Tbsp. sour cream
¾ cup confectioners' sugar
½ tsp. pure vanilla extract
Steps
Make the cake: Preheat the oven to 325 degrees. Grease the inside of a 9-by-5-inch loaf pan and dust with flour. Combine the flour, baking powder, baking soda, and salt in a medium bowl.
Combine the butter and brown sugar in a large mixing bowl and cream with an electric mixer on medium-high speed until fluffy, about 3 minutes, scraping down the sides of the bowl once or twice as necessary. Beat in the eggs, one at a time, scraping down the sides of the bowl after each addition. Beat in the sour cream. Stir in the orange zest and vanilla.
With the mixer on low, add the flour mixture ½ cup at a time, scraping down the sides of the bowl a few times as necessary. After the last addition, mix for 30 seconds on medium speed. Stir in the chocolate chips.
Scrape the batter into the prepared pan and smooth the top with a rubber spatula. Bake until the cake is golden brown and a toothpick inserted into the center comes out clean, 50 to 55 minutes. Let the cake cool in the pan for about 10 minutes, invert it onto a wire rack, and then turn it right side up on the rack to cool completely.
Make the glaze: Whisk together the sour cream, confectioners' sugar, and vanilla. Spread the glaze over the top of the cake with an offset spatula, letting it drip down the sides. Let stand until the glaze is set, about 1 hour. Slice and serve.
Store uneaten cake in a cake keeper, or wrap loosely in plastic and store at room temperature for up to 3 days.