Steamed Mussels or Clams with Chorizo
(recipe, Carrie Floyd)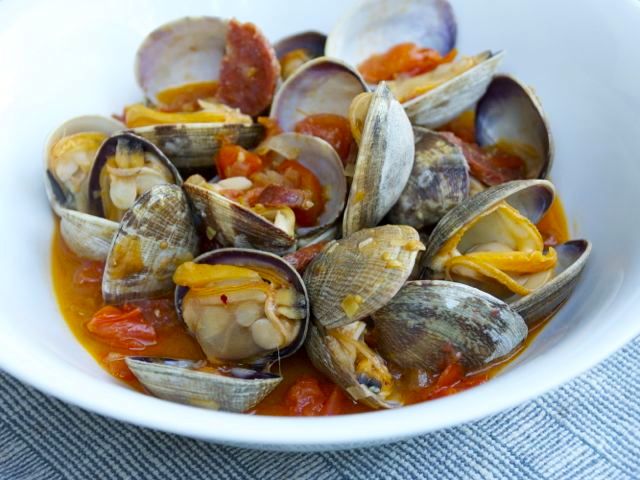 primary-image, l
Introduction
This Iberian classic is a favorite among my friends, and is equally good prepared with either mussels or clams. Serve with lots of good bread to sop up the broth.
Ingredients
1 Tbsp. good-quality olive oil
1 large shallot, finely chopped
1 pinch of red pepper flakes
Spanish chorizo, about a 3-inch length, thinly sliced into half moons (to equal about 1 cup)
2 cups chopped ripe tomatoes (use cherry or grape tomatoes once tomatoes are out of season)
2 cups fairly dry white wine (whatever you've opened to drink while preparing the mussels)
2 lb. fresh mussels or clams, rinsed and debearded
3 Tbsp. unsalted butter
Sea salt to taste
Rustic bread or sliced baguette, for serving
Steps
In a large sauté pan, heat the olive oil. Add the shallot and red pepper flakes and sauté until the shallot is softened; add the chorizo and continue to cook for several minutes. Add the tomatoes and cook until the tomatoes begin to break down. Add the white wine and bring to a simmer.
Add the mussels or clams, and cover the pan with a lid. Cook until the shells begin to open. Do not overcook; if necessary, remove open-shelled mollusks with a slotted spoon to a plate and continue to steam the remaining shellfish. Discard any mussels or clams that do not open.
Stir butter into the sauce and season to taste with salt. Spoon the mussels into a shallow bowl and top with the tomato-chorizo sauce.
Serve immediately, with lots of good bread to dunk into the broth.