Café Central's Two-Tomato Pasta Sauce
(recipe, Carrie Floyd)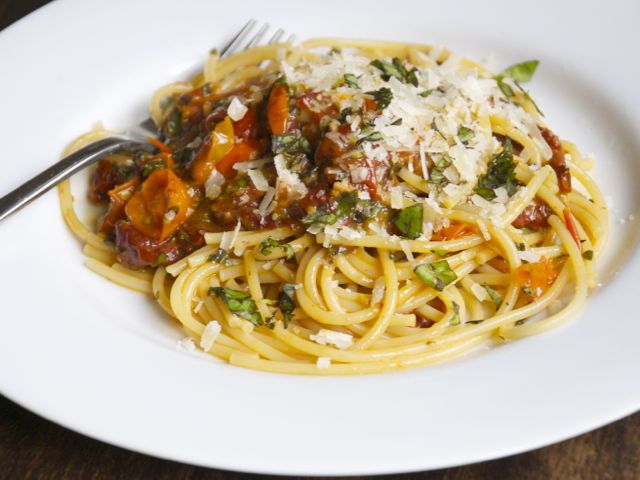 primary-image, l
Introduction
Here's a recipe for a pasta sauce that I gleaned from the now-defunct Café Central in Eugene, Oregon. Make the sauce while the water is coming to a boil, throw together a simple salad, and voilà! Dinner.
Ingredients
2 garlic cloves, chopped
Olive oil
1 pt. cherry tomatoes, halved
½ cup sun-dried tomatoes, packed in oil, chopped
1 cup medium-dry white wine
Salt and pepper
¾ lb. dried spaghetti, linguine, or fettucine
4 Tbsp. unsalted butter
Fresh basil, chopped
Freshly grated Parmesan cheese
Steps
Bring a large pot of water to a boil and cook the pasta until al dente.
Meanwhile, in a medium-sized skillet, pour enough oil to just cover the bottom. Sauté the garlic over low heat until fragrant. Add the tomatoes, wine, a big pinch of salt, and a few grinds of freshly ground black pepper. Bring to a boil, then simmer and reduce until no longer sloshy. At this point, if the rest of dinner is still in production, turn off the heat.
Once you are ready to serve the pasta, bring the heat back up under the tomato sauce to a simmer. Whisk in the butter and a handful of chopped basil (reserve a little for garnish if you like). Season to taste with salt and pepper. Toss drained pasta with sauce, top with freshly grated Parmesan cheese (and reserved chopped basil) and serve hot.
Note
Read about Carrie Floyd's war with picky eaters in Kitchen Limbo.