Salad lesson
(article, Deborah Madison)
[%adInjectionSettings noInject=true][%pageBreakSettings nobreak=true] This summer I've devoted my garden to amaranths and goosefoots, but I've never had any success with growing quinoa. So when I saw quinoa greens at my co-op, I couldn't resist buying some — and pairing them with quinoa itself, which I did, in a salad. 

I wilted the greens, chopped them finely, and then tossed them with the cooked seeds. Not surprisingly but perhaps a little disappointingly, they tasted pretty much like the other leafy green members of the Chenopodium genus and its close relatives — spinach, chard, beet greens, Good King Henry, wild spinach, and huauzontle. But I liked the pairing of the two parts of the same plant.

I did not, however, like the drab look of the beige quinoa. It somehow belied all the flavors and textures that were present in the salad. So I made it again with black quinoa. I admit that I did it for looks, for what could be more visually stunning than a field of black punctuated with shades of green and gold? 

I like the taste as well as the looks of black quinoa, too. I find it more robust than the beige, more savory in a way. It takes a little longer to cook, and it needs some extra water, but all in all, it couldn't be a more efficient grain — or pseudo-grain, actually, since it's not a grass.

[%image quinoasalad float=right width=400 caption="Deborah's quinoa salad, made with sunflower sprouts."]

The cooked greens don't appear in the photo — I had run out by the second round. But if you want to include any of the greens mentioned above, use about a pound, wilt them in a covered pan, then drain and finely chop them. Toss them with the grains, then go on to add what you will.

There are so many vegetable (and fruit) goodies that can find a way to work in this salad — diced cucumbers, finely diced beets cooked in water and vinegar, pickled chard stems, sunflower sprouts, and in fall, pomegranates and sliced Fuyu persimmons. This is the kind of salad you can take through the year.

Black Quinoa Salad with Avocado, Red Onion, and Tomato

Serves 4 or more

Sea salt
1 cup black quinoa, rinsed 
1 small red onion, sliced in thin rounds 
1/4 cup or more rice vinegar
Grated zest of 1 lemon plus 1 1/2 tablespoons fresh lemon juice
1/4 cup olive oil
1 teaspoon toasted cumin seeds, ground
Finely sliced chives or scallions, about 2 tablespoons
Chopped fresh oregano and/or mint, about 1 tablespoon
Freshly ground pepper
1 large and ripe but firm avocado, halved and sliced
Crumbled feta cheese
10 cherry tomatoes, Sun Gold or other type, halved
Sunflower sprouts

Add 1/4 teaspoon salt to 2 1/2 cups water; bring to a boil. Stir in the rinsed quinoa; return to a boil, then reduce to a simmer. When the white germ is visible and the grains are slightly crunchy but done, remove and drain in a strainer to wick off any excess liquid. Place the quinoa in a medium mixing bowl.

Meanwhile, toss the sliced onion in the rice vinegar to soften its flavor and bring out its color.

Whisk the lemon zest and lemon juice with the olive oil, 1/2 teaspoon salt, and cumin. Pour it over the warm quinoa and toss with the chives and oregano. Let it cool, then taste it for salt and season with pepper.

Tip the quinoa onto a platter, then cover the surface with the now-pickled onion, avocado slices, crumbled cheese, and tomato halves; sprinkle sunflower sprouts over all. Pepper well, and serve.

p(bio). Deborah Madison is the author of numerous award-winning cookbooks, including Local Flavors. She lives in New Mexico.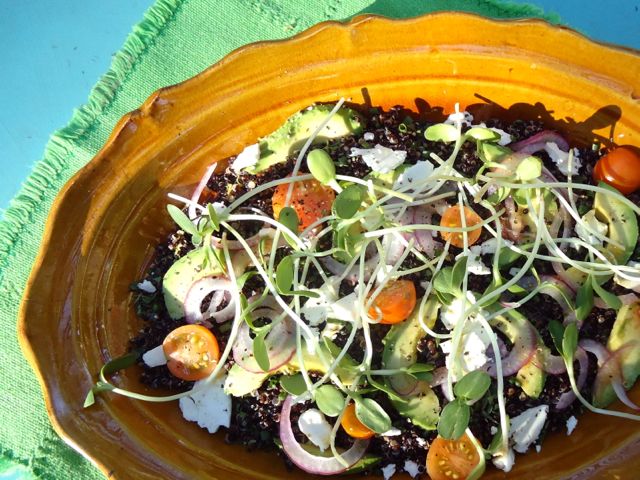 quinoasalad, l

reference-image, l