Peter Menzel
(article, Twilight Greenaway)
[%pageBreakSettings nobreak=true]

p(blue). Peter Menzel and Faith D'Aluisio's books pose more questions than they answer. The husband-and-wife team behind such epic works as [%bookLink code=0871564300 "Material World"] and [%bookLink code=0871569841 "Women in the Material World"] have long been combining exquisitely constructed photographs with insightful text to provide detailed examinations of inequality on a global level. 

p(blue). In their most recent effort, Hungry Planet: What the World Eats, the pair trained their lenses on the planet's food habits. Menzel and D'Aluisio bought a week's worth of food for 30 families in 24 countries, then took portraits of each family, posing them with their groceries. The result is a captivating look at a rapidly changing global pantry. 

p(blue). Menzel and D'Aluisio are currently at work on another book about global food traditions. Next up is the children's version of Hungry Planet, due out in 2008 under the simple title What the World Eats. The original Hungry Planet will be released in paperback in November.

[%image menzel float=left width=250 caption="Peter Menzel" credit="Photo courtesy Peter Menzel"]

Hungry Planet vividly documents the difference between eating habits in the developed world, where many of the groceries are processed and packaged, and developing nations, where much of the food you photographed shows fresh vegetables, grains, and other whole foods.
What we found in the difference between people who are eating a lot of processed food and \[people who are eating\] only some processed food is that it really does correlate to income. But there's also a geographical correlation; \[in\] places where tradition is much stronger — in parts of Europe, such as Italy or France — you'll see that people are still pretty much eating traditional diets. They're not seduced so much by the processed food. But we think that's changing.

If you look at families in Africa — where there's not a supermarket around the corner — they're eating a lot of unprocessed food, or they're processing it themselves by pounding grain or drying fruits and vegetables. But the people with disposable incomes will eat more things that appeal to the basic wants of the human taste buds — things that are fatty and sweet. If you can afford them, almost any human being will gravitate towards \[processed foods\]. 

The book reflects a shift away from food diversity. If you look closely at the photos, you can see many of the same kinds of foods showing up in households around the globe.
It's a phenomenon that happens everywhere. Even the family in Guatemala, for instance, where they ate mostly whole foods, had a favorite breakfast food that was a kind of Quaker oatmeal product.

It's been almost two years since Hungry Planet was first published. What kind of response has it gotten?
We get emails from people all over the world who are using it as a catalyst for change in their own diets. And that really makes us feel good. But we're not proselytizing or trying to change people's diets; we're presenting information and letting them draw their own conclusions. 

You talk about the huge distinction between those who are underfed and those who are overfed. When you hear from people making changes in their lives based on your books, is it about the search for something in between?
One of the catalysts behind this project was a report by the Worldwatch Institute saying that there are now more people overfed than underfed. Famine is still a big problem, but if you really study famine, you'll see that the vast majority is induced by human activity; it's mostly armies and political actions that trigger it. But malnutrition has always been something that humankind has been trying to overcome. 

Malnutrition is just imbalance, and the imbalance now is on the surfeit. It's not just too much, it's too much of the wrong thing. The center of the supermarket should be considered like a minefield. Because those shelves and freezers and display cases in the center are full of stuff that \[we\] really should stay away from. And \[we\] really should only shop on the edges, where the fruits and vegetables and the breads and the dairy are. 
 
Why did you choose to photograph more than one family in the U.S.?
Well, we're a melting pot, and we all come from everywhere else. It's almost impossible to take one family and say, "This is an American family." So we chose a black family, a Hispanic family, and a white family. In China there's even more variance, but we just chose to do an urban family and a rural family. In Australia, I thought it was interesting to show an aboriginal family and a family that's been there for generations but has no aboriginal roots. 

[%image cover float=left width=350]

When we see how many of the families in poorer nations are eating closer to nature, do you think there's a tendency to romanticize their lives?
Absolutely. The people in Africa would trade with you in a minute. They would love to be able to get in a car and drive to the supermarket instead of going to the weekly market in the next village on the back of a donkey. 

The Bhutanese family in our book was a re-visit. I'd photographed them in 1993 for Material World, and the life expectancy in Bhutan \[then\] was 42 years; going back less than a decade later, it had gone up more than 10 years. The health improvements were really apparent, but they were very simple. The king decreed that animals shouldn't live under people's homes anymore. He also mandated that people had to have latrines, and he made it easier for people to get clean water. 

People do romanticize. The \[Bhutanese people\] live up in the Himalayas and they plow with oxen and the air is clean, but they're succumbing to all these health problems that can be circumvented. 

What's your take on the continuing growth of the planet's population?
First of all, you have to consider the population of the world; it's over six billion. I don't think that the upward curve is going to continue very long. Once the population is educated and women have a choice for education and birth control, and can make decisions, the decision is universally for smaller families. 

So it's a matter of getting to a point globally where people are healthy and have options, but also where we recognize the value of original food systems.
Exactly. There's so much to learn from other people around the world. And sometimes we learn more from mistakes than from good examples. This book is full of both, and we should be able to recognize them and pick and choose and change ourselves just a little bit, in order to make our lives better. 

p(bio). Twilight Greenaway is a writer and editor living in the Bay Area.

Editor's note: Until Friday, October 12, at noon (PST), you can win a copy of Hungry Planet. See Our Table for details.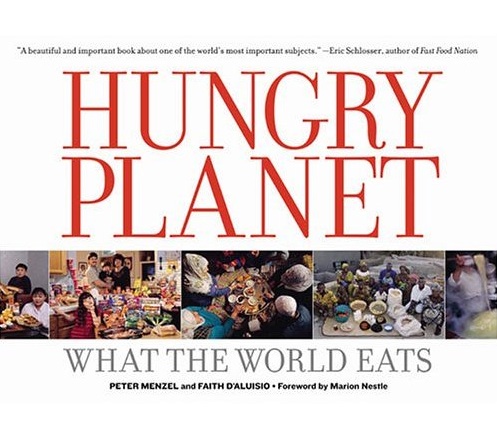 cover, l

reference-image, l

promo-image, l

menzel, l