Top | RSPCA Think Pig Christmas Recipes
Sage and Onion Sausage Rolls - 65p per serving!
(recipe, RSPCA United Kingdom)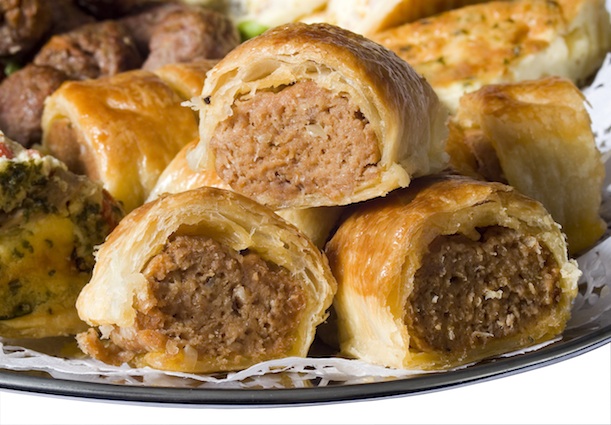 primary-image, l
Introduction
Sausage rolls are such a favourite any time of the year, but a must around Christmas. Published as part of the RSPCA's Think Pig Christmas Recipes. The RSPCA are are encouraging everyone to 'Think Pig' by buying higher welfare pork. You can see more recipes and join the campaign on the RSPCA Think Pig Facebook Page in the Notes section at http://bit.ly/gE65tZ. Other ideas: Replace the sage and onion with apple and rosemary Brush the pastry with a little wholegrain mustard to give plain sausagemeat an additional kick Add lightly cooked leeks to plain sausage meat Add a spoonful of leftover cranberry sauce to sausage meat
Ingredients
450 g higher welfare sausagemeat, this could either be sausagemeat or sausages without the casing, and which is labelled Freedom Food, outdoor reared, outdoor bred, free-range or organic
1 onions, very finely chopped or grated
2 tsp. sage, finely chopped
250 g ready-made puff pastry
1 higher welfare egg, beaten, labelled Freedom Food, barn or free-range
1 tsp. poppy seeds
Steps
Preheat the oven to 200°C, fan oven 180ºC/400ºF/gas 6.
Put the sausagemeat into a large bowl. Add the onion and sage and mix well.
Roll the pastry on a floured surface into a big rectangle as thick as a pound coin and cut it lengthways into two long, even rectangles. Roll the sausage mixture into sausage shape with your hands and lay along the centre of each rectangle.
Brush the long edge of the pastry with water then fold one side of the pastry over, wrapping the filling inside. Press down with your fingers or a fork to seal the join.
Brush with the beaten egg and sprinkle with the poppy seeds
Cut the long rolls into bite sizes and space them out on a baking tray. Bake in the oven for 25 minutes or until puffed, golden and cooked through.
Don't forget to Think Pig: http://bit.ly/rspcathinkpig and find out more about the labels you should be looking for to help improve pig welfare.