Happy Birthday, Mr. Beard
(article, Kim Carlson)
[%pageBreakSettings nobreak=true] [%adInjectionSettings noInject=true]

On May 5, 1903, raindrops may well have pounded on the windows as they're doing today in Portland, Oregon. That's the date when a 42-year-old Portlander named Mary Beard gave birth to her only child, a boy she named James. 

According to Robert Clark, in his James Beard biography The Solace of Food, Mary's was an unusually robust baby, weighing, "by various accounts," 13 or 14 pounds. Of course, James Beard later would grow beyond his wide, six-foot-plus frame to become larger than life, especially among the fooderati. (Just last evening, at a gala event in New York, the winners of the James Beard Awards — the food world's Oscars — were announced at Lincoln Center's Avery Fisher Hall.)

Not a native Oregonian, I didn't grow up hearing Beard's name. Then one day I picked up Beard on Pasta (it had been published in 1983, two years before Beard's death), and I was hooked. Now, many years later, it's one of the cookbooks I go to most — not necessarily for its recipes, but to glean inspiration for those times when I have to put dinner on the table in a hurry. 

[%image beardsalad float=right width=300 caption='His friend Julia Child would say simply, "In the beginning, was Beard."'] 

That's right: I'm consulting one of the 20th-century paragons of American cooking for 20-minute-meal ideas. But I think Beard would have wanted it that way. At the back of his book, he outlines 18 pasta possibilities, all of which were written to be improvised:

bq. Here, then, is a collection of ideas that I hardly think of as recipes, but rather as last-minute inspirations for using pasta. Each one began with a quick review of what I had on hand that day in the cupboard or in the refrigerator. Each one made a gratifying meal. But then, of course, I love pasta.

There is much that appeals to me there, not the least of which is the notion that when you're caught unprepared at meal time, you can do better than ordering take-out. (Of course, it helps that we love pasta.) My daughters often request spaghetti with Beard's Quick Tuna Sauce:

bq. Warm 1/2 cup olive oil with a clove of garlic. Dump in a 7-ounce can of tuna, and break it up with a fork. Then add a lot of chopped parsley, heat through, and pour over the pasta. Add a few chopped Greek olives, if you have them.

It's Beard's voice — exuberant but reassuring, with authority (although hardly authoritative), spirited in his love for food — that has fed my affection for him. I like thinking about him teaching cooking classes in Seaside, Oregon, reassuring everyone within earshot that they had, close by, the very ingredients that could make a fabulous lunch: seafood, berries, cream from Tillamook cows.  

After all, isn't that what we need to hear more of, still?

h3. Inspired by Beard

In honor of James Beard's birthday, I asked a few Portlanders, some of whom actually knew Beard, about how he influenced them.

Peter de Garmo, who founded Pastaworks — the fresh pasta company and specialty food shop that's still beloved in Portland after 26 years — came to Beard as many others have done: by reading him. 

bq. Just before we moved to Portland, I read Beard's Delights and Prejudices. This was in 1977 (the book was published in 1964), and together with the New York Times' frequent "discovery" of the great cities of the Pacific Northwest (Portland, Seattle and Vancouver, B.C.) and the Blazers' championship, my mind was eased about our cross-country trip back to the West. What I didn't understand at the time was that much of what Beard wrote about had disappeared (restaurants and stores), mimicking what was transpiring in the country as a whole. Together with Angelo Pellegrini's The Unprejudiced Palate, Delights and Prejudices informed my food awareness of the region.

My colleague at Culinate, Carrie Floyd, also was delighted by Beard's food memoir:

bq. When I think of James Beard I remember how much I loved reading Delights and Prejudices the year I moved to Portland. I can still conjure anecdotes and places he wrote about, especially the meals prepared at his mother's home (a stone's throw away from my own residence), train travel from Portland to the beach, and the "continuous picnic" of summer. Butter, cream, and brandy seemed to seep through the pages, and it was an impossible book to read without stopping to eat. That book, as well as Beard on Bread, remain two of my all-time favorite cookbooks.

Susan Sokol Blosser, of Sokol Blossor Winery, remembers "Jim":

bq. Lucky Portland to be able to claim James Beard as a native son. Times have changed considerably since his heyday, but if he were alive, he would champion the "fresh, local, sustainable" mantra that is simply a slight reworking of his approach. James Beard and then Julia Child set the thinking about cooking and eating for my generation. I read books by them when they were alive and about them since they passed — two fascinating personalities, outsized both physically and mentally. 
 
Former restaurateur Ron Paul, who's worked for years to establish the James Beard Public Market in Portland, was the first Oregon chef to cook at the Beard House, 18 years ago:

bq. I have a few reflections about Beard even though I never met him. When I cooked at the Beard House in 1991, I had my misgivings about the man and his stature in the food world. Those doubts disappeared — or at least were modified considerably — by feeling his "presence" from the moment I stepped foot in his brownstone. In those years it had yet to be remodeled and still had his round (I think) bed upstairs and the wallpaper in the kitchen with maps of the world that (Portland interior decorator) Jerry Lamb designed for him. 

bq. Even though \[Paul and his two staff members\] had shipped the main ingredients for our five-course dinner, we had yet to decide on the accompaniments. As we walked over to Balducci's to shop for the remaining items, Beard's voice guided our decisions: stuffed Walla Walla onions, among other Northwest seasonal delights that we, of course, found there.
 
bq. A quote attributed to Beard that I've always found prescient was his answer to the invariable question of what was his favorite restaurant. His simple reply was, "Where they know me." That says so much on so many levels, but most of all it comes back to who said it.
 
Cory Schreiber, these days a farm-to-school administrator for the state of Oregon but also the chef who created Wildwood, appreciates Beard because "he drew on his Pacific Northwest childhood as a key foundation that developed American cuisine through his writings and teachings":

bq. Whether it was his stories of razor-clamming, crabbing, huckleberry gathering, or watching his mother cook, Beard's sense of place was directly tied to an Oregon that still exists and continues to be the envy of the country for quality ingredients. 

bq. I think he is fading from current culinary status, and young students are not aware of his writings, but hopefully in time they will be re-recognized for their importance. 

Janie Hibler, a Beard Award-winning cookbook author, also appreciates Beard for his sense of food and place:

bq. James Beard was the first American chef to acknowledge the wealth of indigenous foods in America, all because he had grown up in Portland, Oregon, and he knew firsthand about our local bounty. He taught us about being locavores before it was a trendy thing to do. His books are an inspiration to use local products in simple preparations that let the ingredients speak for themselves.  

Bi-coastal culinary communicator Lisa Donoughe, whose place in Manhattan is a three-minute walk from the Beard House, admires Beard for being "an accidental influencer":  

bq. So few people fail at their dream — in his case, to be an opera singer — and then wind up having a legacy that transforms a culture. It's so incredible to me that he never set out to have the career he had, it just happened as a default and then he ran with it. What an inspiration!"

Eric Cain, who has produced the upcoming television special on Beard for Oregon Public Broadcasting, has his own take on Beard:

bq. I got to bus his table once, in 1978 or 1979, when he dined at the Woodstove, where I worked. He came with a small entourage, and his presence had the place buzzing. Every person on the staff stayed abreast of each thing Mr. Beard ordered and every comment he made. I remember that at one point he was served our house dinner salad. He took a small bite and astutely noted: "This is my dressing."  

bq. I wish now that I had been bold enough to chat with him a bit. I've become a very big fan these past few months.

[[block(widebar). 

h1. James Beard on OPB

As part of its Oregon Experience series, Oregon Public Broadcasting will air "A Cuisine of Our Own," a 30-minute profile of James Beard in the context of the Pacific Northwest food environment. Watch it on Thursday, May 21, at 9 p.m.; the show also will be available on OPB's website after it airs.

]]

h3.Cooking for Beard

Longtime Portland culinary advocate and PR maven Bette Sinclair remembers being at the Oregon coast with friends who were taking Beard's last cooking class there:

bq. He told us he loved being a guest for dinner, but friends were timid about cooking for him. He said, "I will eat scrambled eggs on toast — anyone can make those. I even like them burnt. Just an invitation is a treat."

And with that, I'll leave it to Portland chef and cooking teacher Robert Reynolds to imagine a birthday feast for Beard:

[[bq(green).
we could go back to his books
they give us a picture of the simple, straight-forward cooking
that once belonged to all portlanders.

ingredients of impeccable freshness
prepared well . . . what my french mentors
would have called gourmet cooking
good ingredients, well prepared.

so for beard's birthday, on may 5th,
what are we finding that comes from here
a mixture of greens — could make a nice vegetable "cake"
blanched and puréed with cooked potato
wrapped in a spinach leaf that i found at last
saturday's market at psu
bound with a little egg
and baked
served with tillamook butter
used to make a beurre blanc.

a lamb stew the way the french make it
tomato sauce we all know how to make
onions, garlic, sautéed soft tomatoes
cooked dry
seared pieces of good local lamb
along with local wine and local water
then braise very slowly
separately
you take all the lovely things we see at the market
the turnips, carrots, favas, 
the pink, pale orange, yellow, green veggies
and blanch them separately
put them in with the lamb after an hour and a half's worth of cooking
and suddenly your lamb stew will look like an easter basket
spring time on your plate

serve a lovely — now we can say it —
northern or southern oregon wine
and it's fit for a . . . james beard.

he didn't know our local cheeses
but would have loved them.

a piece of fruit for dessert
oranges are lovely
we're on the very very very verge of
the first strawberries
but they won't be very sweet
and he would have understood
they'd be better treated
as the italians do
like a vegetable, a tomato, say
and make a risotto.

so stick with fruit
a lemon curd
and sponge cake
if you need,
but a good orange will do the trick

stick a candle in it if you wish
and sing happy birthday
monsieur beard.
]]

What about you? Do you have a Beard memory or cooking experience? Has he inspired you? Please share, in the comments below.

beardsalad, l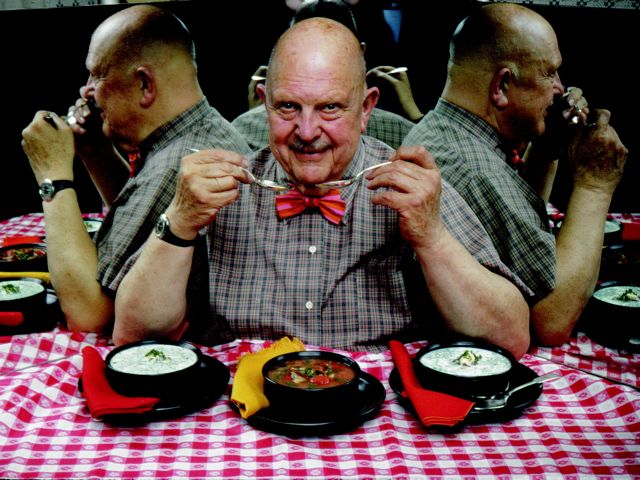 reference-image, l

featurette-image, l