Braised Lamb Shoulder Chops with Radicchio, Cipollini Onions, and Green Olives
(recipe, Sophia Markoulakis)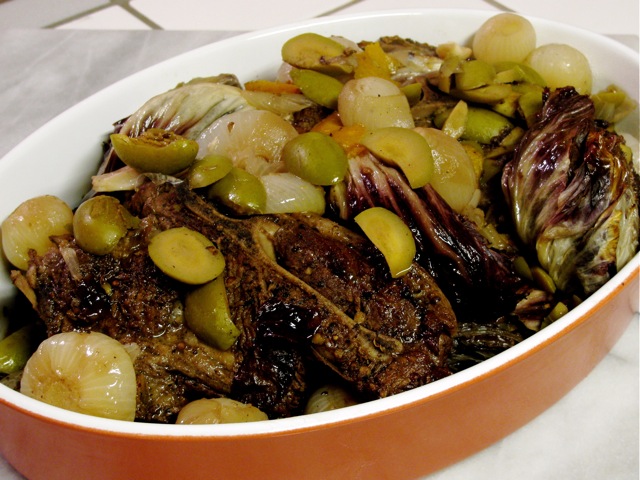 primary-image, l
Introduction
This North African-inspired dish greatly benefits from toasting the spices. Once your kitchen fills with their fragrance, you might not ever use preground coriander, fennel, or pepper again.
Ingredients
1½ tsp. whole coriander seed
1½ tsp. whole fennel seed
1½ tsp. whole black peppercorns
4 lamb-shoulder chops (about 2½ lbs.)
2 Tbsp. olive oil
6 oz. large green olives
1 tangerine
12 oz. cipollini onions or white boiling onions
2 cloves garlic, peeled
½ tsp. salt
1 cup red wine
1 cup beef broth
1½ radicchio heads, rinsed and quartered but not cored (about 10 to 12 oz. total)
Polenta, rice, pasta, or bread for serving
Steps
Place the coriander, fennel, and peppercorns in a large dry skillet and toast over medium-high heat, shaking the pan, until fragrant, about 3 minutes. Remove from the pan and grind or crush in a spice grinder or with a mortar and pestle; set aside.
Rinse and dry the lamb and place it in a shallow dish; coat with the olive oil and ground spices. Cover and refrigerate for at least one hour or up to one day.
While the lamb is marinating, slice the flesh away from the olive pits; place the olive halves in a bowl. With a vegetable peeler, remove the peel from the tangerine, being careful not to remove the white pith; place with the prepped olives.
Trim the ends off the onions and remove their outer skins; set aside with the peeled garlic cloves.
Preheat the oven to 350 degrees.
Remove the lamb chops from the refrigerator, season both sides with salt, and place in a Dutch oven or a large skillet with 2-inch sides (either dish needs an ovenproof handle and lid) over high heat. Sear the lamb on both sides, about 4 minutes per side, and remove, placing back in the marinating dish.
Keeping the heat on high, add the wine and deglaze the skillet, scraping the bottom to pick up any browned bits. Reduce the wine by half and then add the broth; when the liquid simmers, add back the lamb, tangerine peel, olives, onions, and garlic. When the liquid simmers again, cover the pot and place it in the oven for 30 minutes.
Remove the skillet or Dutch oven and wedge the radicchio quarters in between the lamb and the onions. Cover again and return to the oven for another 30 to 40 minutes.
Remove the dish from the oven and scoop the lamb and other ingredients into a warm serving dish. Place the skillet or pot back on the stovetop and reduce the cooking liquid to the desired thickness. Pour the sauce over the lamb and serve with whichever starch you like: polenta, rice, pasta, or bread.