Vegan Soul Kitchen
(book, Bryant Terry)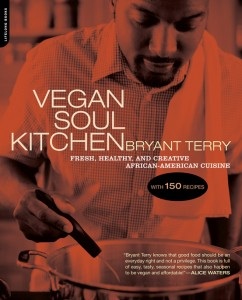 primary-image, l
h4. From the publisher

The mere mention of soul food often brings thoughts of greasy fare and clogged arteries. In Vegan Soul Kitchen, Bryant Terry offers recipes that leave out heavy salt and refined sugar, "bad" fats, and unhealthy cooking techniques, and leave in the down-home flavor. 

Terry's recipes use fresh, whole, high-quality, healthy ingredients and cooking methods with a focus on local, seasonal, and sustainably raised food. The recipes have been conceived through the prism of the African diaspora — cutting, pasting, reworking, and remixing African, Caribbean, African-American, Native American, and European staples, cooking techniques, and distinctive dishes to create something familiar, comforting, and deliciously unique. 

Reinterpreting popular dishes from African and Caribbean countries as well as his favorite childhood dishes, Terry reinvents African-American and Southern cuisine, capitalizing on the complex flavors of the tradition without the animal products. 
Baked Sweet Potato Fries with Ginger-Peanut Dipping Sauce