Chicken Liver Bruschetta with Capers and Sage
(recipe, Kelly Myers)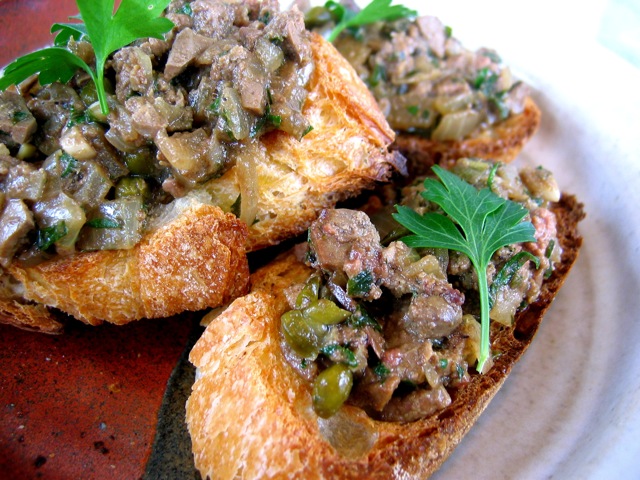 primary-image, l
Introduction
Serve chicken-liver bruschetta on its own as an appetizer, or have it for dinner with a salad of greens and pears.
Ingredients
Topping
½ lb. chicken livers (see Note)
2 Tbsp. butter
½ cup onion, finely chopped
Salt and freshly ground black pepper
2 anchovy fillets, finely chopped
2 Tbsp. capers in salt, rinsed and drained
1½ tsp. chopped fresh sage
¾ cup dry Marsala wine
2 Tbsp. chopped Italian parsley
Bruschetta
4 slices rustic bread
1 clove garlic, halved
1 to 2 Tbsp. extra-virgin olive oil
Steps
Cut any connective tissue away from the chicken livers.
Melt butter in a skillet over medium heat. Add onions and sauté until they start to soften. Add chicken livers in a single layer and sprinkle with salt and pepper. Sauté 2 minutes on one side, then turn. Sauté about 2 more minutes, until the livers are slightly undercooked and still rosy in the center.
Remove livers to a cutting board, but leave onion in the skillet. Chop livers into small pieces.
Meanwhile, add anchovies, capers, and sage to the onion, then sauté over medium heat for 2 minutes, or until the anchovies dissolve. Pour in Marsala and reduce until ¼ cup remains. Add livers and cook, stirring, until Marsala reduces and livers cook through. Stir in parsley and take off heat.
Toast bread to golden brown. Rub each slice with the cut sides of the garlic, then brush with olive oil. Top with chicken livers and serve warm.
Note
For the best quality, use livers from organic or free-range chickens.