Boise: Wait...There's More!
(post, Kathleen Bauer)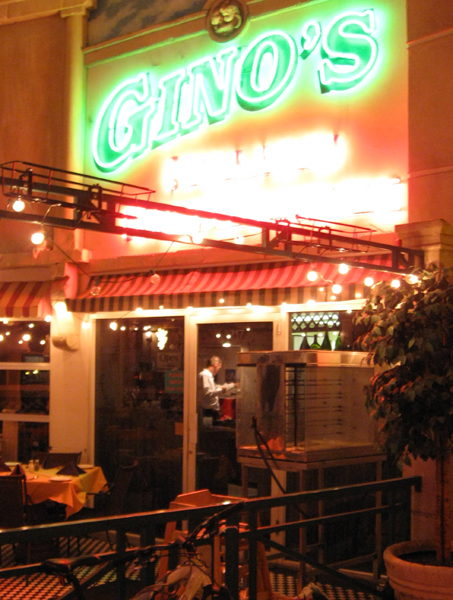 primary-image, l
If all this Basque culture gets to be a little much, there are plenty of opportunities to shop and eat your way through other cultures in the compact downtown area around the capitol (above; note the snow dusting the hills...in early October!).

One night we ventured to an Italian place called Gino's Italian Ristorante on the recommendation of Chris from Epi's. Located on the second floor of a shopping mall, red flags went up when I saw the kitschy walls painted to look like an Italian villa and garlic braids strung around the room. But we forged ahead, knowing Chris wouldn't steer us wrong, and were delighted to find Italian comfort in this far-flung outpost.

With a starter of calamari and a couple of bottles from their decently priced wine list, we got the evening off on a mellow footing. I chose the lamb shank with gnocchi (above left) for my entree, with the falling-apart shank smothered in a fabulously rich tomato sauce and the gnocchi in a slightly lighter sauce. While not a pillowy version, they complimented the lamb with their hefty (but not clunky) texture.

The Dungeness crab ravioli ordered by my dinner companion was a fabulous find, fresh and full of crabby flavor drizzled (but not drowned) in a light cream sauce. The table of five ordered several desserts and all were lovely, including a boysenberry chocolate torte that required an espresso (decaf, of course) to make it perfect. Gino himself came out and gave us a hug as we were leaving. No wonder Chris likes this place!

Another day we needed a quick lunch and, as we were discussing whether to be sucked into the drive-up window of the fast-food joint near our hotel, a taco truck appeared before us, shimmering like a vision from the Old Testament. The El Rey #2 (Is there a #1?) offered tacos for just a buck, each one a pearl of deliciousness on homemade corn tortillas. We sampled their barbacoa, carnitas and asada tacos and were not disappointed on the two pilgrimages we made. All I could say was, "Hallelujah!"