The Story of Corn
(article, Betty Fussell)
[%pageBreakSettings nobreak=true]

[%adInjectionSettings noInject=true]

h3. From Chapter One: "A Babel of Corn"

The corn culture of the Western world circled the globe a good four centuries ago, wherever the Spanish, Italians, and Portuguese were foolhardy enough to go next. Today one can see — at a Polenta Festival in Gubbio, Italy, or in villages by the Great Wall of China outside Beijing — on both sides of the eastern hemisphere, rooftops, houses, and walls that are compact with ears of drying corn.

So quickly did the American corn revolution of this century spread that not only the Great American Desert was transformed, but also barren lands in Egypt and South Africa, India and China; today China, after the United States, is the world's largest producer of corn.

[[block(sidebar).
h1. About the book and author

Originally published in 1992, The Story of Corn is a late entry in Fussell's catalog of explorations into food. But where many of her books (Home Bistro, Eating In) are cookbooks, and others (Masters of American Cookery, I Hear America Cooking) explore American traditions, The Story of Corn is a popcorn-bowlful of the significance of a single plant, be it historical, cultural, economic, religious, or just plain corny.

The Story of Corn combines many of Fussell's lifelong interests: food, travel, culture, and academia. A housewife and amateur actress for many years, Fussell did not begin writing in earnest until the 1980s, after she finally earned her Ph.D. In her steadfast devotion to an enormous subject, Fussell anticipated the recent nonfiction trend of seeing the world through a single prism: Cod, Salt, The Botany of Desire. Corn, at least in Fussell's eyes, is everywhere.

Excerpt reprinted with permission of the University of New Mexico Press (2004).
]]

Geographic spread was only the beginning. Every item in Cousin Eleanor's cornhusker bread came from corn — not just the corn kernels but the eggs, cream, and butter; even the baking powder, sugar, and salt were touched indirectly by corn. My very flesh was compacted of corn and, at Eleanor's table, was beginning its own geographic spread.

Everything that went into my mouth — including the fresh fruit and vegetables if they had been sprayed with insecticide — had been touched in one way or another by corn. To enter a supermarket was to step into cornland — all the items but the fresh fish having made contact with some product or by-product of processed corn, be it syrup, oil, or starch in one of its multifoliate, mostly inedible forms.

Edible corn for humans, whether fresh, canned, frozen, or in the form of cornmeal, makes up less than 1 percent of the American corn market, a tiny amount that nonetheless adds up to about three pounds of corn per person per day, a pound per meal in foodstuffs derived from converted corn. We are but one product of the Great Corn Conversion Chain that converts sun and water into animal, vegetable, mineral, and synthetic. 

From the more than 200 million metric tons of corn that the United States produces each year, 85 percent is converted into cows, hogs, and chickens in the proportion of 60 million cows, 100 million hogs, and 4 billion chickens. As an index of corn's super conversion powers (double those of wheat), one bushel of corn in a mixed feed bag translates into 15 pounds of retail beef, 26 pounds of pork, and 37 pounds of poultry. And this is still corn in a form we can recognize: fodder, silage, shelled grain, or fibrous by-products.

Far more pervasive is the world of hidden corn, in which corn's living flesh is converted alchemically into industrial gold. Before my Grandfather Kennedy was born, the local gristmills of the East were already being replaced by Colgate's roller mills in Jersey City, which by 1844 extracted starch from corn in the process now called wet-milling. Twenty years later, starch was converted into syrup and sugar and, soon after that, into dextrose and the roasted starch called dextrin that turns corn into glue. After a century and a half of playing with the chemical constituents of corn, America has created an invisible and awesome corn network.

We expect to find corn oil in mayonnaise and even soap, but aren't apt to think of it in paint and insecticides. While corn syrup or sugar is not unthinkable in a jar of peanut butter, it is downright worrisome in baby foods, chewing gums, soft drinks, canned and frozen vegetables, beer and wine, crackers and breads, frozen fish and processed meats like hot dogs and corned-beef hash. It is mind-boggling in cough drops, toothpaste, lipstick, shaving cream, shoe polish, detergents, tobacco, rayon, tanned leather, rubber tires, urethane foam, explosives, and embalming fluid.

[%image feature-image float=right width=350 caption="Indian corn on the stalk." credit="Photo: iStockphoto/andykazie"]

When we get to invisible cornstarch, it's cause for national alarm. Just how much so, Howard Walden told us in Native Inheritance (1966), when he pointed to corn's indispensability in World War II or indeed in any war. Starch or dextrin touches all dehydrated foods, powdered and granulated foods, aspirin tablets, antiseptics, the surgeon's gloves and sponges, shotgun shells, dynamite, cloth fabrics, adhesives, cigarettes, books and magazines, every paper product but newsprint, penicillin and sulfa, molded plastics, oil-well drills, battery dry cells, aluminum in every form from wire to airplanes, and metal molds of every type from gun carriages to tanks.

The list goes on. Think of the distilling industries, from whiskey to ethanol, and you must think corn. Think of all the metal and oil industries, and you must think corn. Think not only of what's in the supermarket but of the materials of which the store is built and the machinery that moves both you and the food in and out of the supermarket, and you must think corn. Think of the greenhouse effect at the end of the green revolution, and you must think how green was the corn. For the revolution in chemical farming that turned green plants into industrial plants hinged on corn.

America is full of corn madness. The townsfolk of Mitchell, South Dakota, have built the world's only corn palace of kernel mosaics and minarets, like a prairie Xanadu. A field artist in Kansas has planted corn, sunflowers, and sorghum to replicate, from the air, Van Gogh's "Sunflowers." A noted geneticist in Massachusetts pats the leaves of his baby corn plants and asks them to talk to him nicely. A Nobel Prize winner in Long Island has said that the best thing about studying corn is that you become part of the subject. 

Corn breeds its own poets, lunatics, and lovers. I can't think of anything sexier than corn. Or more dangerous.

Also on Culinate: An article about using corn to fuel our cars.

reference-image, l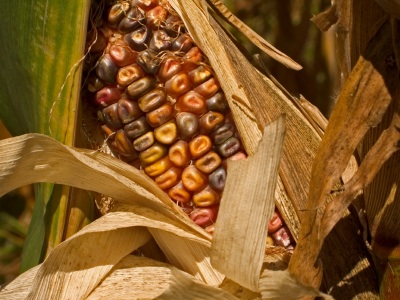 feature-image, l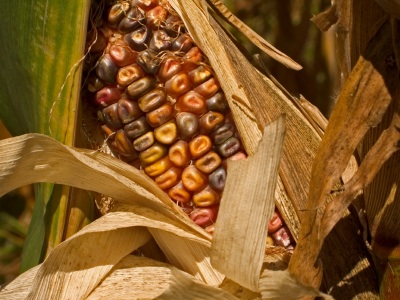 promo-image, l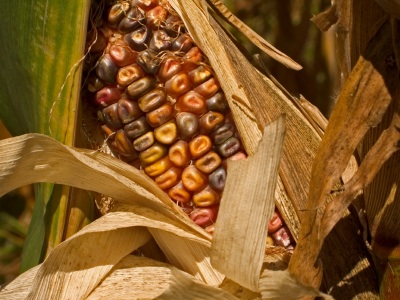 featurette-image, l