Land of plenty
(article, Liz Crain)
[%pageBreakSettings nobreak=true]

One of the joys of being a food blogger in New York City is the sheer volume of available fodder, be it street vendors, restaurants, or ethnic and specialty food markets. This week's two NYC blogs keep the maw open wide for flavorful, far-reaching foods.

p(blue). Blog: A Chicken In Every Granny Cart
Average posts per month: 10
Blogger: Ann
Age: 31
Blog place of origin: Lower East Side

[[block(sidebar).

h1. Liz's faves

[[block(smalltext).

1. New York City Real-Estate Soup
2. Pickle People Say Yeah!
3. Eldress Hall's 1907 Tomato Bisque

]]
]]

This avid collector of out-of-print cookbooks isn't scared of tackling ambitious recipes in her tiny apartment kitchen. Ann (she keeps her last name a secret) regularly cooks up such dishes as roasted boar with French-fried carrots and squash borscht garnished with kasha and kielbasa. 

Ann's inspiration often comes from long weekend walks in the city, where she procures all kinds of unusual ingredients. A recent post featured New York Real-Estate Soup: "A typical New York soup, made of ingredients gathered from the groceries of various ethnicities . . . like the city, a melting-pot soup."

How have you made your tiny kitchen food-friendly?
The biggest challenge has always been maintaining an even keel. Patience is the most important thing to have in a small kitchen, that and keeping all your most-often-used seasonings and tools at arm's reach. My salt and olive oil are right behind where I chop, herbs are in front of me, knives on the wall next to the stove and a very large cutting board (that just about doubles my work surface) lives directly above the stove. 

How much time a week do you devote to your blog?
I think about writing and creating recipes all day. It takes the place of daydreaming while I'm at work. My recipes are often created on the fly, however, and I write in the same way. Each posting probably takes me less than an hour to actually sit down and pound out. I'd say in total I spend about 10 hours a week writing, thinking about, and cooking for the Granny Cart. 

What's your funniest food-blog experience to date?
Well, I had seen all these bloggers trying the now-famous No-Knead Bread that Mark Bittman wrote about in the New York Times, and even though I had a deep fear of baking, I tried it. Lo and behold, it actually was as easy and insanely delicious as all the other bloggers claimed.  

[%image bread float=left width=400 caption="Ann's version of Mark Bittman's No-Knead Bread." credit="Photo courtesy A Chicken in Every Granny Cart"]

My boyfriend was visiting his family out West at the time, due to arrive home the next day, so I decided to start another loaf for him to try once he got home. The next morning, when I went to get the dough off the cutting board on top of my oven, I smelled gas. I freaked. I went out for a walk, came back, gas. 

I finally called my mom and she told me to stop being a ninny and call the FDNY, so I did and they came and confirmed the leak. I had four huge firefighters packed into the two square feet of our kitchen. They pulled the stove out, turned off the gas, and told me I was going to need a new stove and wouldn't be cooking for a while.  

All depressed, I threw away my second batch of dough. About an hour later, ConEd came and hooked the stove back up. But all was already lost, the dough was gone, no fresh bread for the boyfriend. D'oh!

What changes are afoot for the Granny Cart? 
Well, we're about to move to Bay Ridge, Brooklyn. It's going to be a rather dramatic change for me, my boyfriend, and for the Granny Cart, as I'll have an actual, huge kitchen.

p(blue). Blog: Feisty Foodie
Average posts per month: 10
Blogger: Yvo
Age: 26
Blog place of origin: Manhattan

[[block(sidebar).

h1. Liz's faves

[[block(smalltext).

Sai Yeung Choi Tong
The Amazing Sandwich & Homemade Pickles
Turkey Noodle Soup and Yet Another Amazing Sandwich

]]
]]

This is a warm, inviting blog that you'll want to curl up in bed with; after reading a few posts, you'll feel like family. Yvo (who also wishes to keep her last name confidential) mixes resto reviews with home-kitchen insights and cooking chronicles that are never overly ambitious.

[%image yvo float=right caption="Yvo the Feisty Foodie digs in." credit="Photo courtesy the Feisty Foodie"]

Any bloggy New Year's resolutions?
Mostly, just to expand my repertoire and keep learning. Don't always go back to the usual, and don't be afraid to make some things from scratch. I'm extremely dough-averse, I don't bake, I don't make things involving dough, but I'd like to change that. We've got another whole eleven-and-a-half months ahead of us; though my kitchen is going to remain the same size, I really hope to get over my fear of dough and just go for it. Make the no-knead bread everyone's talking about, maybe.  We'll see. I can't promise anything.

How has the NYC food-blog scene evolved?
Honestly, though I've been food blogging for quite a while, I haven't really been reading food blogs that long. The one thing that stands out in my mind is that the first few food blogs I stumbled across were all very focused on cooking of one ethnicity (in general, the ethnicity of the blog owner), but now I find so many people of many backgrounds making and eating anything of every kind, which I think is awesome.  

Food truly brings people together, and who cares about any perceived boundaries from way back? It's not about that, because everyone has to eat, and you might as well enjoy it while you're at it.

What do you most like to write about?
[%image turkeysoup float=left caption="Yvo's Turkey Noodle Soup." credit="Photo courtesy the Feisty Foodie"]

I guess I like most to write about cooking; the failures and what I've learned from them, but also the memories that cooking either reminds me of or gives me for later. I enjoy the creativity that writing about cooking affords me, and I love showing people that some things only sound scary and hard to cook, but really aren't.  

I love sharing that my boyfriend, an extremely picky eater, will try most anything I make, and sometimes actually likes something new. I just want to expand people's horizons and expectations, both of what they can make and what they will eat/enjoy.

Please finish this sentence: If I didn't have my blog, I'd probably be . . .
Hmm . . . just some crazy girl who photographs all of her food? I don't know, honestly. I've been food blogging for maybe a year and a half or two years now, but really only in the past six months have I been doing it in earnest, taking it as a serious hobby. I'd probably get a lot more work done, though I shouldn't admit that . . .

p(bio). Liz Crain is a writer in Portland, Oregon.

bread, l

yvo, l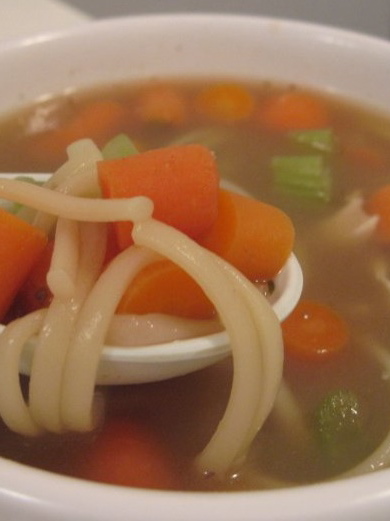 turkeysoup, l

reference-image, l