Cute cupcakes
(article, Melanie Mesaros)
It's no secret that cupcakes are cool. Trendy shops specializing in the sweet treats have been popping up from Portland (Saint Cupcake) to Boston (Kickass Cupcakes). MSN.com even recently published a list of the country's best cupcake shops.

[%image feed-image float=left width=300 caption="Silicone cupcake liners."]

But if you want to make your own prettified cupcakes at home, what do you do about lining your muffin tin? As Yumsugar.com points out, "We've been using the boring pale pink, light yellow, and baby blue muffin liners our entire lives."

Country Kitchen sells cupcake liners in bright swirls, dots, and daisies. Fancy Flours offers laser-cut designs. There are even eco-friendly alternatives to paper cups, including reusable silicone cups. 

Still hankering after the tried and true? King Arthur Flour sells paper liners made from nonstick, unbleached parchment paper. Not as stylish but easier to recycle, these cups require no greasing and are both non-toxic and landfill-safe. So bake up, already.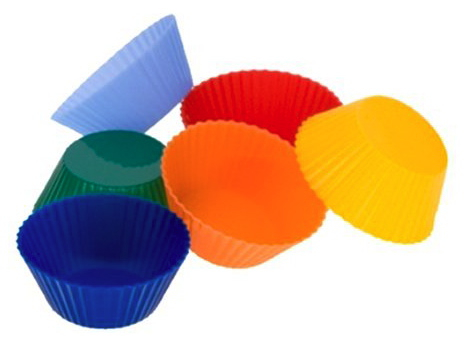 feed-image, l