Marty and Carlo's Canine Special
(recipe, Jim Dixon)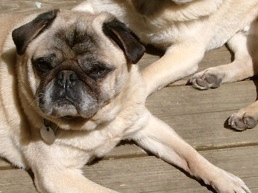 primary-image, l
Introduction
Most dogs' daily need for food is about one cup for every 20 pounds of weight. This recipe is adequate for my two pugs for about a week.
Ingredients
2 one-pound chubs of frozen ground turkey (or any other ground meat)
2 lb. carrots
2½ cups uncooked rice
Steps
Heat a few tablespoons of olive oil in a heavy skillet, then add the thawed turkey and cook until completely browned.
Bring 4 to 6 cups of water to a rolling boil, add the rice, stir, cover, and remove from heat. Check after 15 minutes, and if the rice is tender, drain in a colander.
Grate the carrots in a food processor. (You could grate these by hand, but if you don't have a food processor, it may be easier to boil or stem the carrots in large pieces, then coarsely chop them.)
Combine everything in a large bowl, adding a healthy pinch of salt. Transfer to covered containers and store in the refrigerator.
Note
Chubs are packages in soft cylindrical tubes; ground meat and premade polenta are often sold this way. As for carrots, nearly every supermarket offers 2-pound bags of them. And I buy 10-pound bags of Calrose rice for less than $7; an Asian market would probably offer even better deals. Be sure to read Jim Dixon's musings on the benefits of homemade dog food.