Baking
(book, Dorie Greenspan)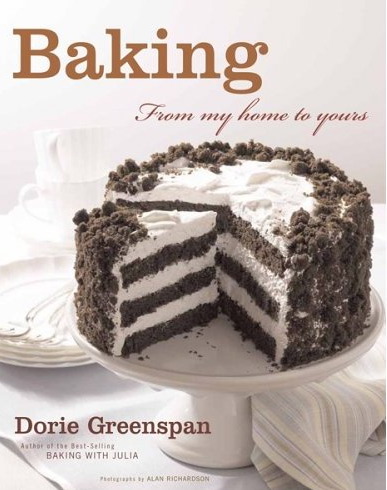 primary-image, l
h4. From the publisher

Dorie Greenspan has written recipes for the most eminent chefs in the world: Pierre Hermé, Daniel Boulud, and arguably the greatest of them all, Julia Child, who once told Greenspan, "You write recipes just the way I do." Her recipe writing has won widespread praise for its literate curiosity and "patient but exuberant style." (One hard-boiled critic called it "a joy forever.") 

In Baking: From My Home to Yours, Greenspan applies the lessons from three decades of experience to her first and real love: home baking. The 300 recipes will seduce a new generation of bakers, whether their favorite kitchen tools are a bowl and a whisk or a stand mixer and a baker's torch.

Even the most homey of the recipes are very special: Greenspan's favorite raisin swirl bread. Big spicy muffins from her stint as a baker in a famous New York City restaurant. French chocolate brownies (a Parisian pastry chef begged for the recipe). Or a dramatic black-and-white cake for a "wow" occasion. 

The generous helpings of background information, abundant stories, and hundreds of professional hints set Baking apart as a one-of-a-kind cookbook. Baking also includes a glossary with more than 100 entries, from why using one's fingers is often best, to how to buy the finest butter, to how the Bundt pan got its name.
Grandma's All-Occasion Sugar Cookies
Blueberry-Brown Sugar Plain Cake
Far Breton