Flintstones-Style BBQ Beef Ribs with Hot, Sweet, and Sour Bone Sauce
(recipe, Christopher Schlesinger & John Willoughby)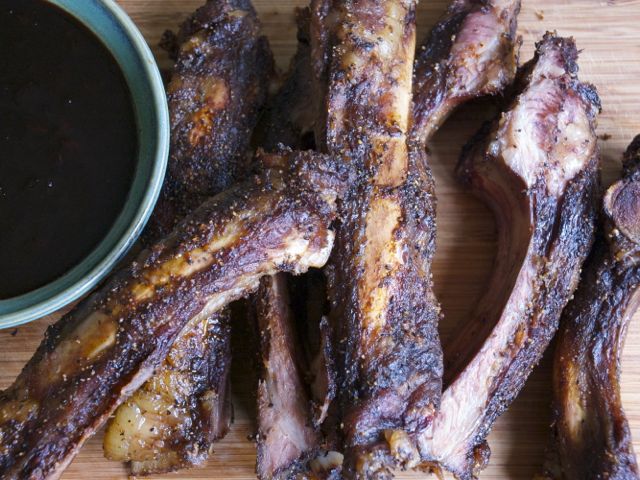 primary-image, l
Ingredients
5 lb. beef back ribs (about 2 racks)
The rub
¼ cup freshly cracked black pepper
2 Tbsp. brown sugar
2 Tbsp. paprika
2 Tbsp. ground cumin
2 Tbsp. kosher salt
The sauce
⅓ cup molasses
1 cup ketchup
¼ cup balsamic vinegar
¼ cup fresh lime juice (about 2 limes)
½ cup orange juice
¼ cup soy sauce
2 Tbsp. lightly packed brown sugar
3 Tbsp. minced fresh ginger
3 Tbsp. minced fresh chile peppers of your choice
½ cup thinly sliced scallions (white and green parts)
Kosher salt and freshly cracked black pepper to taste
Steps
Preheat the oven to 200 degrees.
In a small bowl, combine the rub ingredients and mix well. Rub the ribs all over with this mixture, pressing lightly to make sure it adheres, and lay them on a foil-lined baking sheet. Place in the oven and cook for five hours.
About 40 minutes before the bones are done, light a fire in your grill.
While the ribs are roasting, combine the sauce ingredients in a medium saucepan and simmer over low heat for 15 minutes, or until the sauce is slightly thickened. Remove it from the heat and cover to keep warm.
When the fire has died down and the coals are covered with white ash, cut the ribs into individual ribs and place on the grill. Grill for 5 to 7 minutes per side, or until the rub develops a crusty appearance. Brush the ribs with sauce and cook for 1 minute more, until the sauce forms a glaze. Remove the ribs from the fire and serve with the remaining sauce.