Curds and whey
(article, Liz Crain)
[%pageBreakSettings nobreak=true]

This week rounds up my cheese-please Blog Feed series. I'll look at the tried-and-true cheese state of Wisconsin and at an emerging cheese region: the Pacific Northwest. 

p(blue). Blog: Cheese Underground
Average posts per month: 4
Blogger: Jeanne Carpenter, aka Cheese Underground Lady
Age: 35
Blog place of origin: Madison, Wisconsin

The subtitle of this blog — "Discovering Wisconsin dairy artisans, one cheese at a time" — sums up this virtual library of craft (not Kraft) cheesemaker profiles. Cheese Underground is well-written and not overly technical; Carpenter takes the time to explain terms like affinage (the art of aging cheese).

[[block(sidebar).

h1. Liz's faves

[[block(smalltext).

1. Wisconsin Cheese Still Rules
2. The Wisconsin Cheddar Tour
3. More Women Cheesemakers

]]
]]
 
What is your favorite type of post for Cheese Underground?
My best posts are when I get the chance to meet and write about a new artisan or farmstead cheesemaker. This seems to be happening more and more, as Wisconsin is becoming a mecca for artisan cheesemakers. 

[%image cows float=right credit="Photo courtesy Jeanne Carpenter" caption="Cows in Wisconsin."]

Whether it's a dairy farmer building a cheesery right on his or her farm, or a couple who have left their professional careers behind to buy a Wisconsin dairy farm and make a new sheep or goat's-milk cheese, I've found nearly everyone has an amazing story to tell. I love learning and telling their stories. 

Do cows run from you in fear? Do cheesemakers throw cheese at you like confetti?
Mostly, I try to stay on the other side of the fence when walking a pasture (although the majority of Wisconsin bovines are truly happy cows) and either stay out of the way or find a useful job when visiting Wisconsin cheesemakers. However, I would not be opposed to being showered in cheese-curd confetti. That would be pretty spectacular. 

[%image cheese float=left credit="Photo courtesy Jeanne Carpenter" caption="Wisconsin-made cheese."]

Where would you most like to travel, simply for the cheese of it?
Fifteen years ago, the answer would of course have been Europe. But I think we're entering a time when American originals are standing on their own. And I think we're on the cusp of an era when a place like Wisconsin will soon be better known for its cave-aged cheddar then its foam cheddar heads. And that's a good thing. 

If you were stranded on a dessert island (made only of sweets) and had a perpetual after-dinner hunger, what cheese would you take with you?
That's easy: I'd take a wheel of Cocoa Cardona, made by Sid Cook at Carr Valley Cheese in LaValle, Wisconsin. A goat's-milk cheese aged and rubbed with cocoa powder, the final product is a creamy white cheese with a flavor profile that's sweet with a mild tang on the finish. 

I'd also lobby to take along a jar of chocolate sauce to dip it in; who needs ice cream when we've got Cocoa Cardona?

p(blue). Blog: Pacific Northwest Cheese Project
Average posts per month: 4
Blogger: Tami Parr
Age: 42
Blog place of origin: Portland, Oregon

The three-year-old Pacific Northwest Cheese Project is one of the most comprehensive cheese sites out there. Parr's blog focuses on cheesemaking in Oregon, Washington, Idaho, British Columbia, and Alaska, covering everything from court hearings and cheese caves to stinky tasting notes. In general, raw and aged information takes precedence over heavy blogger personality. 

[[block(sidebar).

h1. Liz's faves

[[block(smalltext).

1. So You Think You Want To Make Cheese?
2. Whey: What is it Good For?
3. Five Questions For Janet Fletcher

]]
]]

What kind of people regularly read the Pacific Northwest Cheese Project?
There seems to be a few categories of readers. There are the hardcore cheese people (including cheesemakers from all over the country, which is pretty cool), then there are people interested in food and/or cheese, and then there are people I know (who don't necessarily fall into any of those categories) who read because they want to see what I'm up to.

I'm really excited that people are interested in reading what I have to say. Mostly I'm glad that people are becoming more and more interested in cheese (particularly Northwest cheese) generally. I hope that they're inspired to explore and taste all of the great artisan cheese that's out there.

[%image poster float=right credit="Photo courtesy Tami Parr" caption="Creative cheese advertising."]

Do you make your own cheese?
I occasionally make paneer and fresh mozzarella at home, and I've been wanting to try making some fresh chevre out of goat's milk. In fact, I've been thinking that I want to experiment more with cheesemaking at home this year. Making some basic fresh cheeses is really not too difficult, and there's nothing like a really, really fresh cheese made from great milk. 

Making cheeses like cheddar is more complicated, because you have to be able to store and age the cheeses in a controlled environment. Few home cheesemakers are set up for that.

Otherwise, I have observed and "assisted" (such as it is) local cheesemakers as they've gone about making cheese. Making really, really good cheese is such an amazingly complex process. Everyone should have a chance to observe cheese being made sometime in order to appreciate the amount of work, timing, and talent that goes into it. 

One great way to experience the cheesemaking process is to go to Beecher's Handmade Cheese in Seattle's Pike Place Market, where they make cheese every day. They've got a big glassed-in cheesemaking area and you can watch them working to your heart's content.

What was your most interesting cheese discovery in 2006?
Cougar Gold Cheddar; it's made at Washington State University in Pullman, Washington, and comes in a tin can. I'd heard a lot about it but never actually had a chance to try it until recently. It's a really good cheddar.

[%image farm float=left credit="Photo courtesy Tami Parr" caption="This way for cheese."]

Perrydale from the Willamette Valley Cheese Company. Rod and Melissa Volbeda just started to experiment with making cheese with sheep's milk in 2006, and the Perrydale is one of their new creations, a combination cow's-and-sheep's-milk cheese. It's a really nice cheese with faint citrusy notes and a mellow sharpness. 

I also discovered a new Spanish sheep's-milk cheese called Blue de Basque that was just incredible. Steve Jones from Steve's Cheese (in Portland, Oregon) recommended this and it was amazing. As Steve said, "It's like eating blue-cheese ice cream."

Okay, the dessert-island question: What cheese would you take with you?
I don't have a huge sweet tooth, so I'd be happy as long as there were a few dark chocolate bars on the island, really. In fact, I have friends who make fun of me for always getting the cheese plate at restaurants instead of an "actual" dessert. 

If it could only be one cheese, I'd probably have to go with a hearty, complex cheese, something like a Montgomery Cheddar or Keen's Cheddar, one of those great British cheeses that are so interesting and complex and hearty. 

On the domestic side, a Juniper Grove Tumalo Tomme, or just about anything from Estrella Family Creamery (the Black Creek Buttery is absolutely incredible) would fit the bill as well. 

p(bio). Liz Crain is a freelance writer based in Portland, Oregon.

cows, l

cheese, l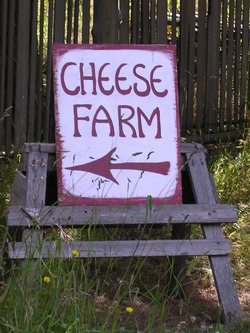 farm, l

poster, l

reference-image, l