Elizabeth Henderson
(article, Liz Crain)
[%pageBreakSettings nobreak=true]

p(blue). Elizabeth Henderson's classic book about community-supported agriculture, Sharing the Harvest, is now available in a revised and expanded edition. Henderson gave up a career in Russian literature to be an organic farmer and has been farming now for more than 25 years. The New York CSA she helped found — Genesee Valley Organic CSA — is now 300 members strong.
 
Please tell us a little bit about the history of your CSA.
The Genesee Valley Organic CSA started in the winter of 1988-89 with a very small core group, as an experiment in getting all of the members to participate in doing some of the work at the farm, helping with distribution, and helping make the CSA run. All of the members enjoyed the farm work as much as the food. So this past year, they were all still participating in helping with the farm work and distribution.

[%image henderson float=left width=250 caption="Elizabeth Henderson"]

The CSA is now about to celebrate its 20th anniversary. Most of the members live in and around the city of Rochester, and we have a branch out at the farm, which is in Wayne County, New York, about 35 miles east of Rochester.
 
When did you discover community-supported agriculture?
I actually had an experience of something like it when I was in France in 1977. I sublet an apartment, and one morning there was a box of food — a wonderful box of vegetables — at the door. 

The people I had sublet the apartment from had neglected to mention that they belonged to this group that got a box of food every week from this local farm. It turned out that the people I was subletting from were part of a French Maoist cell, and two of their comrades grew and distributed food among the members of the Maoist cell.  

I also knew Robyn Van En, who started the first CSA in the U.S. in 1986 at her farm, Indian Line Farm. Inspired by people who had started a CSA in Switzerland, Robyn started talking at organic-farming and biodynamic-farming workshops all over the place, spreading the news of what she had discovered. So Robyn was really the Johnny Appleseed of CSA. 
 
Please talk about your process for putting together the first edition of Sharing the Harvest, published in 1999 with Robyn.
Well, Robyn started writing the book, but she was not really a writer, and it was very, very hard for her to get writing done for a number of reasons. So sometime around 1992, Robyn told me that she wanted to write a book, and I offered to help her. 
 
So we made an outline and we met in six months. I had written the chapter that I had volunteered to write and she hadn't done anything. And this went on for several years, and each time I had written a chapter or two and Robyn really hadn't managed to do anything. 
 
At that time I was on the Sustainable Agricultural Research and Education Program, which is a federally funded program. So I was able to convince the administrative council to put up $10,000 to pay Robyn so that she could quit her part-time jobs and concentrate on writing. Then a whole year went by and she still didn't put pen to paper. Finally, in the fall of 1997 she started a first draft. And then she died of asthma. It was really tragic. 
 
\[A while later\] I thought, "I'll finish the book." But it turned out she had really done very little and had not taken any notes at all. So I had to pretty much start from scratch. I kept in the book as much as I could that Robyn had started, which is mainly the introduction and other passages. 
 
Most of it I wrote myself during the winter of 1997-98 based on interviews that I did. I went to as many farming conferences as I could that year and did interviews with people, visited farms, had long conversations over the telephone. I was able to talk with members of over 300 CSAs.
 
In what other ways has the new edition evolved from the first?
There are new developments in land tenure and ways of involving low-income members in CSAs that hadn't existed at the time of the first edition. And then I added a chapter on CSA around the world — which is certainly not definitive because I keep hearing about other countries that have something like CSA going on — but I pulled together as much information as I could.
 
And there's a chapter written by Hiroko Kubota about the Teikei movement in Japan, which is really the first CSA movement in the world.

How do you see community-supported agriculture evolving in upcoming years?
One of the things that has changed is that there are more and more CSA support networks. The Madison Area Community Supported Agriculture Network in Wisconsin has been going for a decade or so. In New York City there's Just Food, in the province of Quebec there's Équiterre. And there are networks popping up in a lot of other places.

[%image bookcover float=left width=250]
 
And they help one another determine pricing, and organizational meetings and marketing?
Yes, they do technical assistance. \[The Madison Area Community Supported Agriculture Network\] have a CSA fair every year where they get 800 to 900 people to shop among the different CSAs and hear about the whole concept. 
 
Équiterre in Quebec offers the farm members the service of doing all the promotion. So Équiterre drums up the members for the farms. The farmers don't have to do it themselves. Équiterre has grown from one CSA 10 years ago to 82 last year. And they're adding another 25 this year, so that's been a very successful network. 
 
The Northeast Organic Farming Association of New York has got a CSA network project started. The Maine Organic Farmers and Gardeners Organization is working with church groups to set up CSAs in conjunction with the parishes of different churches. In Portland \[Maine\] there's PACSAC, the Portland-area CSA network. 
 
So there are networks popping up all over, and those can really help farmers and members connect with one another and get organized. There's been so much attention to buying local. The locavores, the 100-mile diet folks, and Slow Food all point to CSAs as such a great way to get local food.
 
p(bio). Liz Crain is a writer in Portland, Oregon.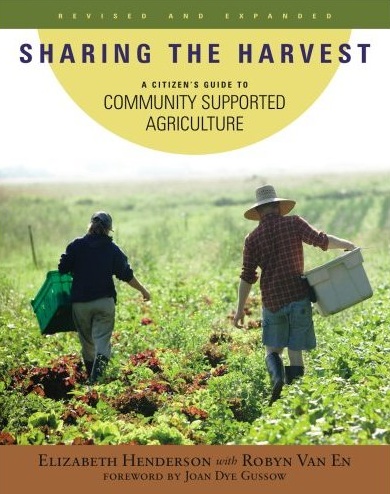 bookcover, l

henderson, l

reference-image, l

SFN_Banner, l