Fudgy Brownies
(recipe, John Scharffenberger & Robert Steinberg)

primary-image, l
Introduction
In order to achieve the crackled top and fudgy texture of classic brownies, this batter must be beaten by hand until it pulls from the sides of the bowl. This sounds like a task, but it's not; there's something homey and satisfying about stirring this thick, glossy batter yourself.
Ingredients
6 Tbsp. (3 ounces) unsalted butter, cut into cubes, plus more for the pan
8 oz. 70-percent bittersweet chocolate
¾ cup plus 2 tablespoons granulated sugar
¼ tsp. salt
2 large eggs
⅓ cup all-purpose flour
½ cup toasted walnut halves (optional)
Steps
Position a rack in the lower third of the oven and preheat the oven to 325 degrees.
Cut an 8-by-16-inch piece of parchment paper. Lightly butter an 8-by-8-by-2-inch pan and line it with the parchment, allowing it to extend evenly over the opposite sides. Butter the parchment, including the paper on the sides of the pan.
Place the chocolate and butter in a large heatproof bowl set over a pot of gently simmering water and stir occasionally until melted and smooth. Remove from the heat.
With a large rubber spatula or wooden spoon, beat the sugar and salt into the chocolate mixture. Beat in the eggs one at a time. Add the flour and mix vigorously until the batter is very glossy and pulls away from the sides of the bowl.
Break the nuts, if using, into large pieces over the batter and fold them in.
Pour the batter into the prepared pan and tap the pan bottom on the countertop to level the batter. Bake for 30 to 35 minutes, or until a skewer inserted in the center comes out moist but clean.
Let cool in the pan on a cooling rack for 10 minutes. Remove the brownies from the pan using the parchment "handles," and cool completely on the rack before cutting into 2-inch squares.

brownies with walnuts, l

brownies2, l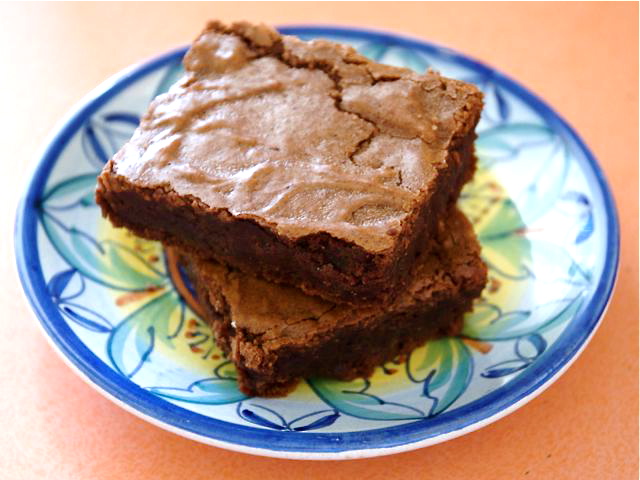 brownies3, l