The new vegan bible?
(article, Nadine Fiedler)
p(blue). Editor's note: This is the first installment in a three-part review of the new book Veganomicon. Part two is available here; part three here.

[%adInjectionSettings noInject=true] An omnivore reviewing a vegan cookbook may seem like an odd choice, but I come to this assignment as an enthusiastic home cook and baker (and eater). I eat relatively well and understand the importance of diet; I know that eating lower on the food chain and local is better all around; and I'd like to expand my vegan repertoire for both our daily meals and for those times I cook for my vegan friends.

And I love cooking within restrictions, to see how delicious food can be with a limited set of ingredients. (My built-in limitation: I cook and eat very low-sodium foods, and I tweak all recipes to have deeper flavors without salt or soy-saucey condiments. More on that later.)

So here are the terms of the experiment: I will eat vegan for two weeks, cooking out of the new cookbook Veganomicon, by Isa Chandra Moskowitz and Terry Hope Romero. I'll report now and again on the progress of the experiment, and on my experiences with the cookbook. Is it a good book (or a Good Book)? How will I feel in two weeks? Can I resist temptation?

First, I read Veganomicon cover to cover. I appreciate the variety of recipes, which must be great news to vegans who thought they didn't have a lot of choices. As I read, I get excited; I think, "Hey, this might actually be fun."

But when I hit the chapter called "Sammiches" — much too cute for me — I'm suddenly unsure about the whole project, not to mention the abundance of post-punk attitude in the book. I understand the need for the food to seem approachable, though. 

So I ask my husband, Brad, if he thinks he can do this, too, and he's up for it. Let the non-animal eating begin! (Tomorrow, that is, after a trip to the Country Cat for fried chicken with that killer flaky biscuit.)

[%image "reference-image" float=left width=400 caption="Potatoes and yams on the boil."] Saturday: Excursions to New Seasons and Trader Joe's for supplies for the first few recipes. We need a lot of stuff: wheat gluten, flaxseeds, vegan margarine and shortening, soy yogurt, tempeh, seitan, nuts, chickpea flour, and on and on. Expensive. 

Back home, I bake Pistachio-Rosewater Cookies for a party. It's a little odd to be baking with oil and cornstarch, and no eggs or butter, but the cookies are good, with a crispy-but-chewy texture and a fetching taste of cardamom (ground fresh) and rosewater. Everyone loves them. One teenage girl really eats a lot of them. 

Sunday: A big day for eating from Veganomicon! Out doing errands, I hear ads for meat on the radio. It sounds especially delicious in light of the fact that I intend to eat none for a fortnight. That's the perversity of it all.

Back home, I bake Applesauce-Oat Bran Muffins (again with fresh cardamom). Straightforward recipe. Sturdy and good muffins. 

Getting ready to cook Almost All-American Seitan Pot Pie, I look up seitan in the index, and it sends me to a page with no mention of seitan. I'd read in user reviews on Amazon that there are a lot of mistakes and typos in this book, and I'm beginning to see them. The pot pie recipe calls for "old water," for instance. 

[%image salad width=400 float=right caption="Autumn Root Salad with Warm Maple-Fig Dressing is a mixed bag."] I make Autumn Root Salad with Warm Maple-Fig Dressing and find it fussy and a little odd. (Why not roast the potatoes and yams with the beets, instead of boiling them? The flavor would be richer.) The dressing is gloppy and sweet. I like the concept, though, of dressed greens served on top of root-vegetable slices and will use it later.

The pot pie recipe is more time-consuming than the authors let on. I use the whole-wheat option for the crust and wonder why they want you to roll it out right after it's been mixed, instead of after it's been chilled. I use fresh sage and thyme (building deeper flavor without salt), and 1/3 tempeh because I didn't buy enough seitan. The results? Delicious. Brad loves it and has big seconds. We'll have leftovers for a day or so. 

That night I wake up at 2:30 a.m. feeling a bit odd in the belly. Too much soy in one day? Who knows.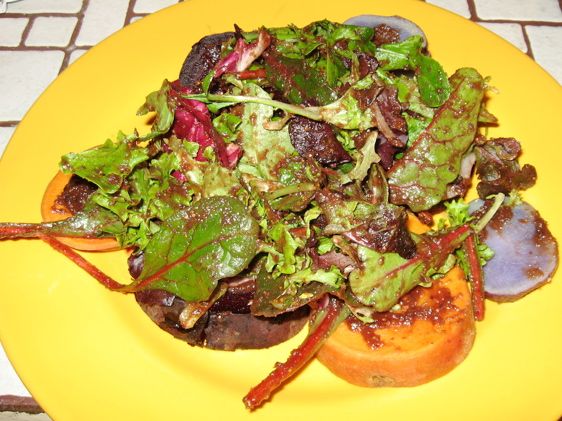 salad, l

reference-image, l