Cheesy discussions
(article, Liz Crain)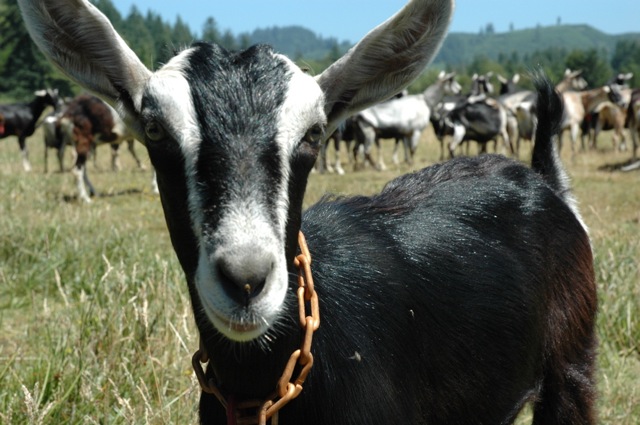 primary-image, l
[%pageBreakSettings nobreak=true] If you're the kind of person who'd consult a cheese dictionary in the cheese section of your grocery store, then cheese blogs are for you. Starting this week, I'll talk with bloggy cheeseheads (only one is from Wisconsin) who dedicate ample time and space to the stinky, salty, delicious stuff. 

p(blue).Blog: Cheese By Hand 
Average posts per month: 5
Bloggers: Sasha Davies and Michael Claypool 
Ages: 33 and 35
Blog place of origin: New York City

[[block(sidebar).

h1. Liz's faves

[[block(smalltext).

1. Haystack Mountain Dairy
2. Monteillet Fromagerie
3. Animated cheese

]]
]]

In spring of 2006, Davies and Claypool set off across the country for a four-month tour, visiting cheesemakers, cheese retailers, and local farmers' markets along the way. Cheese By Hand is as much a cross-country travel blog as it is a cheese blog. 

Their lively, on-the-road, photo-rich posts chronicle America's artisanal cheesemakers with colorful detail and playful humor. The CBH tour came to a close last fall, but there are still regular updates with various cheese goings-on and addendums to previous posts.

Sasha, where are you now and where and when did you start your cheese route?
The official Cheese By Hand tour kicked off in May of 2006, taking us on a sort of circular route around the country. We wrapped up in September 2006, pulling back into NYC just in time for Labor Day weekend.

Why cheese?
So many reasons for the fascination with cheese. Intellectually, cheese has appeal because it is one of those fascinating things that began in our culture as a product of necessity and has ironically become somewhat of a luxury good. Viscerally, we just love to eat it and find the landscape, animals, and people who produce it thoroughly pleasing.

What have you loathed and what have you loved?
Driving around the country for four months, we had ample opportunities to explore towns of all sizes and to develop strong opinions about many things beyond cheesemaking. 

[%image SashaMichael float=left caption="Sasha Davies and Michael Claypool on the road." credit="Photo courtesy Cheese By Hand"]

Bad news first: We loathe the rise of industrial, large-scale agriculture and the move away from small businesses to corporate chains and depleted downtowns in medium and large cities.

Although it might seem too obvious in contrast to our dislikes, we loved discovering things that were clearly of a particular place: foods, traditions, architecture, and lifestyles. The places, both individual farms and entire cities, that had the strongest appeal to us were those that felt incredibly specific to and grounded in the place where they existed.

Surely you rolled up your sleeves a few times. Which cheese was the most fun to help make?
The most fun make to observe was Grayson at Meadow Creek Dairy, because it was a feat of choreography that four people moved together so seamlessly in a tight space. There was also a palpable vibe of enthusiasm in the room.

The most enjoyable and educational day I spent making cheese on the trip was at Fiscalini Farm working with Mariano Gonzalez. He is incredibly knowledgeable about the cheddar-making process — a master of what he does — and his personality has just the right mix of avuncular patience and big-brother hazing for my taste.

[%image cheese float=right caption="Some of the cheeses Davies and Claypool saw while visiting the nation's artisanal cheesemakers." credit="Photo courtesy Cheese By Hand"]

And the place where I've probably laughed the most with my hands in the vat by far is Jasper Hill Farm. There is nothing amusing about their make process; it's just that the combination of personalities tends to lower the collective consciousness, so that we can freely engage in fifth-grade humor while cranking out delicious cheese.

What lies ahead for Cheese By Hand?
Since completing the tour, Michael has returned to his job at a small marketing firm during the day while he sifts through the 100-plus hours of audio we recorded with cheesemakers. The goal is to craft some audio pieces that we hope to get onto public radio.

I've been working on a book proposal about cheesemaking in America. A couple of great cheese opportunities came up for me since we returned. I was able to revisit and work with a couple of cheesemakers, Meadow Creek Dairy in Virginia and the Mozzarella Company in Texas, and to attend the Terra Madre conference organized by Slow Food in Turin, Italy.

No route has been drafted for another cheese tour yet, so we too are wondering what's next. The simple answer at this point is that I wouldn't put any project involving food and wine past us.

[[block(sidebar).

h1. Like cheese?

Come back and visit. Two more cheese blogs will be featured in this space over the next couple of weeks.

]]

Cheesy question for all: If you were stranded on a dessert island (yes, an island of desserts, not sand) with only sweets and a perpetual after-dinner hunger, what cheese would you take with you?
After our tour through the U.S., I think I would lobby to bring a couple of goats with me and try to recreate Vermont's Twig Farm  on the island. 

Michael Lee, the owner and cheesemaker at Twig Farm, makes beautiful aged cheeses — my favorite kind of goat's-milk cheese and the best kind to make, assuming you don't have refrigeration. This could provide us with food, a project, and entertainment.

p(bio). Liz Crain is a writer based in Portland, Oregon.

SashaMichael, l

cheese, l

reference-image, l