Good eating
(article, Liz Crain)

primary-image, l
[%pageBreakSettings nobreak=true] 

Although sites like Technorati glean stats on blog traffic, highlighting the most-visited and linked sites, I don't think traffic is synonymous with merit and substance. The high-principled food blogs I'll profile over the next few weeks run the gamut, but what they all have in common is a dedication to transforming the power of the pen into the power of the post. 

I'm not the only one to notice. Nominations for the Well Fed Network's annual Food Blog Awards for 2006 went to two blogs I'm looking at this week and next: The Ethicurean, for best group food blog, and I Heart Farms, for best rural food blog. In addition, Vegan Lunchbox, mentioned in my last column, took first place for best family/kids food blog. 

Another notable food-blog event, the third annual Menu for Hope, recently came to a close with prizewinners announced. Organized by Bay Area food blogger Chez Pim and volunteer food and wine bloggers worldwide, the event raised a whopping $61,000 ($60,925.12, to be precise) for the United Nations World Food Programme. Past recipients of this charitable food-bloggy event were UNICEF in 2005 for tsunami relief in Southeast Asia and UNICEF again in 2006 for victims of the earthquake in northern India and Pakistan.

And now for a food blog whose charity is not of the monetary sort, but rather its dedication to another kind of do-good.

p(blue). Blog: The Ethicurean 
Average posts per month: 70
Bloggers, with ages and places of origin: 
Man of La Muncha: 38, Seattle
Butter Bitch: 37, Seattle
Dairy Queen: 35, Oakland, California
Corn Maven: 44, Oakland, California
Omniwhore: 32, Austin, Texas
Miss Steak: 33, San Francisco 

Considering The Ethicurean's six-person-strong lineup of writers spanning three states — California, Washington, and Texas — it's impressive how consistently informative and streamlined this site has been since its inception in May 2006. 

[%image "brussels" float=left size=medium caption="Edible goods."]

In the daily Digest, you can catch up on bite-sized food news from around the globe. Other posts are more personal narratives peppered with reputable sources and eye-catching photography. Along the way, you can read about everything from Austin farmers'-market forays and CSA cooking experiments to thoughts on soil erosion and sustainable agriculture. 

How do these bloggers define "ethicurean"? As "someone who seeks out tasty things that are also sustainable, organic, local, and/or ethical — SOLE food, for short."

Although several of Ethicurean's members are happy to holler their full names loud and proud, the majority would rather blog anonymously for personal and professional reasons. Hence, the funky names.

How did The Ethicurean come to be?
Dairy Queen: I interviewed Michael Pollan for the second time, shortly before The Omnivore's Dilemma came out, for my job at UC Berkeley, where he teaches. He inspired me to start playing food detective myself. When my friends Miss Steak, the Man of La Muncha, and Omniwhore immediately volunteered to join me, I was thrilled — the more cooks the better this broth, I thought. 

We then recruited MoLM's wife, Butter Bitch, and my co-worker, Corn Maven. The six of us brainstormed the name, tagline, and guiding philosophy together; I convinced an illustrator and a graphic-designer friend to donate their skills for the pig and the look, then figured out how to modify Wordpress templates and PHP scripts to build it. 

Do you feel like The Ethicurean makes a difference?
Butter Bitch: There's a lot of concern around the food we eat, and anything that makes it easier for people to inform themselves and make educated choices is helpful. The Ethicurean has spawned this great community, with people all over the world chiming in on what it means to cook and eat locally and sustainably. 

So much of what used to be common cultural knowledge has been lost when it comes to preparing whole foods — people are starting to wake up to that loss, and sites like the Ethicurean give them a great place to start.

Man of La Muncha: I'm pleased with the progress of "Ask The Ethicurean" (ATE for short), which is our chance to research tricky questions for our readers. Some of the questions — like whether or not to eat fish — don't have simple answers, but at the least, we can help people begin to understand complex issues. I think that the ATE feature has the potential to have a big impact.

Omniwhore: The Ethicurean is dynamic in that it offers great information for newbies, who haven't thought much about the source of their food, and yet it also manages to attract diehard foodies who have been devoted to eating SOLE food before it was even cool. I think this creates a more compassionate, community-oriented philosophy. The beauty of it is that you have to be a little bit curious about food to even find us.   

[%image "turkey" float=right size=large caption="Talking more than just turkey."]

What's nice about having a group blog? What's the downside?
Dairy Queen: The upsides are numerous. I love reading the others' posts because I always learn something, as we each have different strengths and interests. The Bitch and the Man are sophisticated wine tasters and cooks; Omniho is doing some hands-on farming and has an amazing ability to crack people up as well as make you teary; Corn Maven grew up on a working farm and pays the most attention to GMOs; Miss Steak comes from a food-politics-immersed family; and I have an ex-vegetarian's zeal for the ethics of meat-eating. 

To me, the only downsides are that, as the Bitch said, some of us have less time than others, and we're a little lopsided geographically — we could use some writers on the East Coast and in the South.

Miss Steak: When I do post, I love the awareness I bring to my food choices the week before, how the wheels start turning, how I look at everything through a certain lens. And then, to have an audience for what you produce, so you're not just writing into a black hole, that's a pretty powerful model. 

Downside? My time-management skills are poor and I have a hard time incorporating posting into my routine on a regular basis. If it were just me, no one would know about my slackitude, but when there are others ... they know! 

Corn Maven: I love the diversity in the ideas we share and in what we care most deeply about, both on the page and off. Our particular model of collaboration works well for us; we are constantly emailing each other and using the wiki to brainstorm and keep track of things. 

The downside for me is my work schedule and the time it takes for me to write. Because of my Iowa farm background, I struggle with a bit with my emotions regarding food and farming, and the sometimes devastating impact of politics and corporations on them.

p(bio). Liz Crain is a writer based in Portland, Oregon.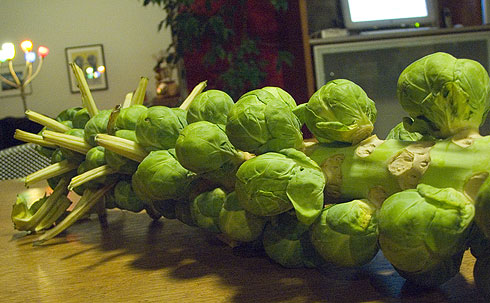 brussels, l

turkey, l

reference-image, l