Top | Williamsburg Farmers Market — Blog
Williamsburg Farmers Market Holiday Market December 14
(post, Williamsburg Farmers Market)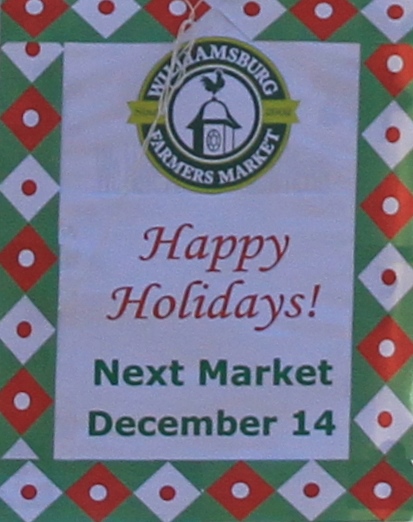 primary-image, l
Williamsburg Farmers Market 
402 W Duke of Gloucester St. in Merchants Square
Saturday, December 14, 2013 
8:30 a.m. – 12:30 p.m.

 
Over 40 vendors will sell seasonal produce, peanuts, cheese, baked goods, meat, cut flowers, Christmas Trees, wreaths, and beautiful gifts at the Williamsburg Farmers Market.  The US Army Band will perform from 8:30 a.m. until 10:30 a.m., the W&M Accidentals and Gentlemen of the College will perform from 10:30 a.m. until 12:30 p.m. and Geoffrey Sauer will play the bagpipes to end the Market season at 12:30 p.m.   The market accepts SNAP/EBT, credit cards, and W&M Express. Check www.williamsburgfarmersmarket.com for available products and produce.