The trip to bountiful
(article, Anne Laufe)

primary-image, l
[%pageBreakSettings maxWords=700] On the site of the former Columbia Villa public-housing project in Portland, Oregon, sits a new neighborhood named New Columbia. An experiment in mixed-income housing, with government-subsidized apartments constructed alongside market-rate and luxury homes, New Columbia also has a new elementary school, a soon-to-be-refurbished community center, and 36 plots of food, herbs, and flowers called the Seeds of Harmony Garden.

Tera Couchman, 30, the associate director of the garden program, refers to herself as an "invited staff member." Couchman grew up in poverty in northern Idaho, but she never went hungry because her mother raised goats, rabbits, and produce on the three acres they owned. Her childhood, she says, taught her the power inherent in being able to grow her own food.

Drawing on that experience, Couchman believes her main job at New Columbia is to empower low-income residents, using the Seeds of Harmony Garden to help them build on skills they already have and develop new ones as they work toward self-sufficiency. 

"My commitment to the project is that this is theirs. It's their community, their neighborhood," Couchman says. "It's clear to me that we could have a great-looking garden with volunteers from all over the city, but that wouldn't belong to the community." 

Seeds of Harmony is a garden with a mission. It's also a garden with roots and tendrils: All across the country, similar gardens are being planted and their produce distributed in an effort to change the way that food gets from soil to table. 

Over the last 20 years, Americans — especially low-income and minority populations — have grown fatter; two-thirds of American adults are now considered overweight or obese. Nationwide, the cheapest and most accessible foods are also the most highly processed and least nutritious. And because many low-income American neighborhoods lack grocery stores, residents rely on corner markets, where produce is often scarce and of poor quality.

[%image "harmony" float="right" credit="Photo: Chad Sprangel" caption="Turning the soil at Seeds of Harmony. Standing on the right are garden volunteers Chrysanthius Lathan and Pascal Ananouko."]

In the face of these challenges, individuals and organizations have begun to take back the fields. From installing backyard vegetable gardens to establishing full-scale urban farms, these people are recognizing that fresh, healthful foods should be readily available to those at all income levels, not just the well-to-do.   

h3. Building community and self-sufficiency

In addition to providing a measure of food security for its gardeners, Seeds of Harmony builds relationships, bringing together residents of diverse backgrounds and ethnicities, including many recent immigrants from around the globe. The program also provides economic opportunities and job training, by employing New Columbia residents as garden advocates and by hiring teenagers through the related Food Works program to grow and sell salad greens in the summer months. 

Garden advocate Chrysanthius Lathan, 27, lived in the old Columbia Villa for four years before it was razed and was one of the first to move back to New Columbia. A mother of three and a student at Portland State University, Lathan learned how to grow vegetables from her own mom. "She had gardens since I was a kid, but I didn't know much about harvesting, because my mom never let me pick anything," she jokes. 

Lathan began working at Seeds of Harmony in the spring of 2006, the garden's first growing season. Although she was hired to work 20 hours a month, she put in nearly twice that many hours during the spring and summer months. Her duties included going door-to-door in the neighborhood to recruit people to sign up for the free plots; she also helped gardeners plan, plant, and celebrate at the end of the season. Her work let up after the fall harvest, but Lathan plans to learn more about winter gardening so that, in the future, she and others can garden year-round.

By summertime, some of the Seeds of Harmony plots had become weedy and neglected. So Lathan worked with residents to develop rules for the garden. The rules are few and simple: Gardeners sign a contract agreeing to take care of their plot to the best of their abilities; to ask for help if they need it; to weed and water; and to keep their kids from running in other people's plots. 

Last summer Lathan's own kids — aged four, five, and eight — were always in the garden with her, not only helping her but volunteering to help others. "They were really watching and paying attention," she says.  

She and the kids grew a wide variety of vegetables on their 20-by-20-foot plot, including lettuce, collard greens, tomatoes, radishes, and cucumbers. "My pride statement is that I didn't really have to buy produce from July to October," Lathan says. "I was up to my neck in greens."

Gardeners swapped a lot of information last summer, in the garden, during meetings, and at parties, and Couchman hopes to help organize more formal workshops in the coming year. She imagines sessions on cooking, canning, and seed-saving, but she wants the impetus to come from the residents.

"I want to affirm the worth and the knowledge that the community already has," she says. "My main method of developing the program is in partnership with the community."

h3. Urban farming

On the other side of the country, on a formerly abandoned lot in West Philadelphia, Jade Walker and Johanna Rosen, both 27, are growing produce and selling it to local residents at dirt-cheap prices. 

Both Walker and Rosen are former employees of the Urban Nutrition Initiative (UNI), a project of the University of Pennsylvania that teaches children in the public schools about nutrition and wellness. When the two women decided they wanted to reach more community members and grow more crops than they could in the school gardens, they applied for a grant from the Pennsylvania Department of Environmental Protection to start Mill Creek Farm. 

[%image "market" float="left" credit="Photo: Johanna Rosen" caption="Market day at Mill Creek Farm, with Jade Walker manning the table."]

The farm's mission is twofold: to improve access to nutritious foods, and to promote sustainable resource use by growing and distributing produce and by demonstrating ecological methods of living.

Located in a low-income, predominantly African-American neighborhood, the farm shares an acre and a half with an established community garden. The land that wasn't being used by the garden was filled with garbage, weeds, and drug activity, but the soil wasn't contaminated. "We didn't have to do any remediation," says Rosen. "We just put in mushroom compost."

In the summer of 2006, the farm's first growing season, Walker, Rosen, and the few hundred volunteers who stopped by to lend a hand grew 50 varieties of fruit, vegetables, and herbs, giving some of it away and selling some from their on-site market. "Okra was our best seller," says Rosen enthusiastically. "The farm is right on the corner; it's a very visible site, and we would sell out of it even before our market opened." 

To keep the price of its produce down — heirloom tomatoes sold for just a dollar a pound at the farm stand — Mill Creek also sold some of its crops wholesale to local markets and a restaurant. In addition, the farm received grants and donations for its educational program, which last year included hands-on workshops building a composting toilet, a graywater collection system, and a toolshed with an ecoroof, as well as installation of a drip-irrigation system and a broken-tile mosaic. 

"Part of what we want to do is encourage people to grow their own food," says Rosen, who has a bachelor's degree in the political economy of the environment. "And we definitely want to increase access to healthy, fresh food. In higher-income neighborhoods, there's more access to better-tasting, more-nutritious food. In these low-income neighborhoods, there aren't a lot of supermarkets. People do a lot of their shopping at corner stores, where the produce isn't good quality." 

Rosen readily admits that she and Walker, who are both white and come from middle-class backgrounds, are outsiders in the Mill Creek neighborhood. But because of their years working with UNI in the schools, they know a lot of the young people and don't feel like total strangers. 

The kids who stop by the garden, Rosen says, enthusiastically join in the planting and tending of crops. And many of the older folks who live in the area came from the South and love growing things. It's been a bigger challenge, she says, to engage the people "in the middle" in garden activities.

Now that the infrastructure of the farm is in place, Rosen hopes to spend more time on outreach and involving a larger segment of the surrounding community. The farm will work with schools and community centers, and send out more fliers and newsletters to reach residents. 

Rosen also hopes to have a kitchen base some day, so the farm can offer cooking programs. "In my experience in the schools," she says, "I found that having people prepare the food is the best way to get them to eat it."

h3. Shares for the people

Holcomb Farm, located about 25 miles northwest of Hartford, Connecticut, is another successful model for providing fresh, high-quality food to low-income urban residents. While many community-supported agriculture (CSA) farms provide scholarships and free shares to low-income individuals, Holcomb Farm may be the only one in the nation founded with a mission to serve the area's poor alongside the more economically able. 

[[block(sidebar).

h1. Food for all

The USDA posts national CSA databases. Find one in your area and call to see if it offers scholarships or low-income shares.

[[block(smalltext).

Seeds of Harmony Garden
707 NE Couch St
Portland, OR 97232
503-286-2099

Mill Creek Farm
3451 Walnut St, Franklin Bldg. Annex, Suite P-117
Philadelphia, PA 19104
267-242-5539

Holcomb Farm
111 Simsbury Rd
West Granby, CT 06090
860-653-5554

]]
]]

Started in 1993 by the Hartford Food System, the 28-acre farm sells 30 to 40 percent of its annual yield to social-service agencies, with the rest going to typical CSA members, farmers' markets, and restaurants. Agencies pay $1,200, roughly one-third of the wholesale price, for a 20-week share of fruits and vegetables. The projected amount of food over that period is 3,000 pounds, but farm manager Sam Hammer says that clients usually receive quite a bit more.

Participating agencies include an emergency food network, a hospice for those with HIV and AIDS, and several senior residences. Hammer estimates that the produce reaches about 1,200 people each year; some receive it weekly, others just once during the season. 

[%image "sunflower" float="right" credit="Photo: Sam Hammer" caption="Flowers and melons at Holcomb Farm."]

Having 500 members who pay the full subscription amount covers the cost of raising their shares and maintaining the farm, but does not help pay for the reduced-rate shares. The difference between what the agencies pay and what it actually costs to grow the food is patched together through grants, donations, and USDA funding for seniors. 

According to Hammer, the subsidized subscriptions have worked so well for so long because the program is easy on the farm staff. "The organizations take care of getting (the produce) to the people so we can concentrate on growing food," he says. The farmers just box up what they've harvested — standards like tomatoes, lettuce, and squash — and the 11 organizations come pick it up weekly. Community Partners in Action, a community-service program run by the Hartford court system, delivers to those agencies that don't have their own vans.  

Hammer encourages the various organizations to come out to the farm at least once during the growing season, and to bring their people with them. They wander through the fields, picking raspberries, strawberries, and flowers. 

"Some of them just love it, they come every week," Hammer says. "They know where their food is coming from. That's where you really feel like you're making a difference."

p(bio). [laufe5268@comcast.net "Anne Laufe"] is a writer in Portland, Oregon. Her family likes to grow carrots, snap peas, and tomatoes in their small garden plot.

harmony, l

sunflower, l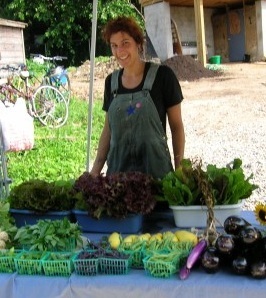 market, l

reference-image, l