Real Food
(book, Nina Planck)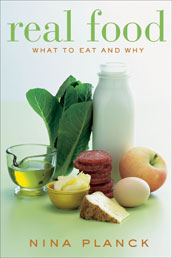 primary-image, l
h4. From the publisher

Everyone loves real food, but they're afraid butter and eggs will give them heart attacks. Real Food reveals why traditional foods are actually healthy: not only egg yolks, but also cream, butter, grass-fed beef, wild salmon, chicken skin, and more.

In lively, personal chapters on produce, dairy, meat, fish, chocolate, and other real foods, Planck explains how ancient foods like beef and butter have been falsely accused, while industrial foods like corn syrup and soybean oil have created a triple epidemic of obesity, diabetes, and heart disease. 

Real Food upends the conventional wisdom on diet and health and explains our taste for good things.