Ever try gochujang?
(article, Jackie Varriano)
[%pageBreakSettings nobreak=true] 

I first tried my new favorite condiment at a tiny Korean restaurant where I dined with a friend. Our waiter, a diminutive older Korean man, hesitated when writing down our order. I wanted the spicy fried tofu, my friend the vegetarian bibimbap.

"You sure?" he asked. We nodded our heads. 

"It's spicy," he warned.

[%image reference-image float=right width=400 caption="Gochujang is key to the popular Korean dish bibimbap."]

Dinner arrived, and with it came tiny dishes of kimchi and bowls of miso soup and rice. The tofu was coated in a thick red sauce and sat atop sautéed cabbage.

Across the table, our waiter set down a heavy stone bowl, the bibimbap. In it, each vegetable was separated into tiny piles, a wheel of colors and textures. A raw egg glistened in the center.

He then produced a red squeeze bottle and asked if we had ever eaten this before. A head shake confirmed that we had not, so he picked up a fork, squeezing a little of the sauce from the bottle onto the tines, and handed it to my friend. 

She placed it in her mouth and her eyes lit up instantly. He laughed a little and proceeded to squirt the sauce all over the bibimbap. He then lifted a large spoon and began mixing the dish together, the heat of it effectively cooking the egg and marrying all the flavors and ingredients. 

Once it was mixed to his liking, he set down the spoon, smiled once more, and left the table. We set upon the dinner like savages, oohing over textures and flavors. The red sauce coating my tofu was the same in the squeeze bottle, and I applied it liberally to my rice, finishing every morsel. 

[%image gochujang float=left width=400 caption="You can buy gochujang at most Asian markets."]

When our waiter returned to clear our plates, I asked what the red sauce was. 

"Gochujang," was his reply. 

Gochujang! I was instantly hooked. 

Despite my cluttered shelves, I'm always on the lookout for new condiments — the less well-known, the better. 

I'm not necessarily looking for lip-blistering heat. Rather, I want a sauce that enhances flavors in a well-rounded way. A condiment that hits my palate with spice, but doesn't linger with a tongue-numbing intensity.

So, the day after my Korean awakening, I set out to find myself some of that brick-red sauce. 

Made from fermented bean paste and similar to a thick ketchup, gochujang hits sweet, sour, spicy, and umami notes, and is considered an indispensable ingredient in Korean kitchens. Traditionally, the paste is made of red-pepper powder, glutinous rice powder, salt, and a sweetener of sorts. Soybean paste or powder is added, and after mixing, the gochujang is ladled into earthen jars to ferment and age in the sun.

Making the paste from scratch is a matter of tracking down ingredients that may be unfamiliar. A recipe can call for malt powder, soybean powder, glutinous rice powder, honey, salt, and red-pepper powder — most of which are available online or at well-stocked Asian grocery stores. 

Once assembled, the process takes two days. Even after bottling, the gochujang's flavor gets much better after it's been put in a dark cupboard and forgotten about for a month or two. 

If you're looking to tackle the project, a good recipe can be found over at the website Easy Korean Food. However, if creating the 11 pounds the recipe yields sounds like a bit much for a gochujang introduction, go buy a small tub of the paste at any Asian market ($5 to $7). 

What to do with that tub? Mix the paste into bibimbap, or use it to coat crispy fried tofu. Mix it with peanut butter, honey, lime juice, and sesame oil to be used as a dipping sauce for lettuce wraps. 

Stir it together with garlic, ginger, and green onion, and slather it on chicken, beef, or pork. Spoon it into ramen broth, or even chicken noodle soup. Swap it for ketchup when topping your next meatloaf. 

Whatever you do with it, take note: Gochujang may well make its sweet and spicy way into your heart — as it has mine.  

Vegetarian Bibimbap

This dish is a bit of a labor of love. I recommend making it this way at least once, if only for the beauty of its colorful presentation. In subsequent versions, feel free to swap out the vegetables for your own favorites, and to substitute meat for the tofu, if you wish.

Makes 2 hearty portions or 4 regular portions

4 cups freshly steamed and cooled rice
8 oz. firm tofu
⅓ cup toasted sesame oil, more or less
2 medium carrots, julienned
Salt
1 zucchini, julienned
½ lb. shiitake mushrooms, sliced
3 garlic cloves, minced
3 cups fresh spinach leaves
Toasted sesame seeds
Gochujang
1 egg
 
If you haven't already made the rice, get it going so it can be cooling down while you make everything else.

Rinse and drain the block of tofu. Cut it into ½-inch-thick slices and place them between clean kitchen towels or paper towels. Place a heavy object, such as a cast-iron skillet, on top to press out excess liquid; let sit for 10 to 15 minutes. 

Heat a tablespoon of the sesame oil in a skillet and fry the tofu slices, turning them once, until they are golden. Remove the tofu slices from the pan and let them cool, then cut them into strips.

Put a tablespoon of sesame oil and a pinch of salt into the same pan. Over medium heat, sauté the carrots just until softened but not browned; remove from the pan and set aside. Do the same with the zucchini, then combine the mushrooms and garlic and repeat once more.

Blanch the spinach in a pot of salted boiling water until just wilted and bright green. Drain and plunge the spinach into a bowl of ice water to stop it cooking, then drain it again and squeeze out the excess water. Set aside.

Wipe out the skillet and heat it once more over medium heat with another tablespoon of sesame oil. Once the oil is hot, swirl the pan to coat it with the oil, then add the rice in a smooth, even layer. The rice will begin to sizzle. Arrange the cooked carrots, zucchini, mushrooms, spinach, and tofu in sections atop the rice, and cook without stirring or disturbing until the ingredients are heated through, no longer than 10 minutes. 

Remove from the heat and top everything with a sprinkling of sesame seeds, a scoop of gochujang, the (raw) egg, and a drizzle of sesame oil. Bring the skillet to the table, then mix all the ingredients together with a spoon, adjusting the gochujang, sesame oil, or salt if needed. Eat immediately.

[%image lettucewrap float=right width=400 caption="Gochujang is an essential ingredient in this dipping sauce, which is delicious served with lettuce wraps."]

Gochujang Dipping Sauce

2 Tbsp. gochujang
1 Tbsp. peanut butter
1 Tbsp. honey
1 tsp. sesame oil
Juice of 2 limes

Combine all the ingredients and stir thoroughly. Serve with a crudité platter or lettuce wraps.

p(bio). Based in Eugene, Oregon, Jackie Varriano is a writer who loves tackling kitchen projects big and small. Keep up with her at SeeJackWrite.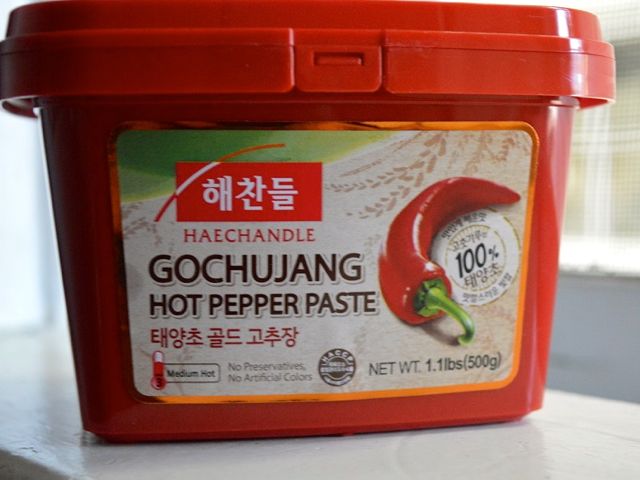 gochujang, l

reference-image, l

lettucewrap, l