Pita Chips with Hazelnuts and Parmesan
(recipe, Cynthia Nims)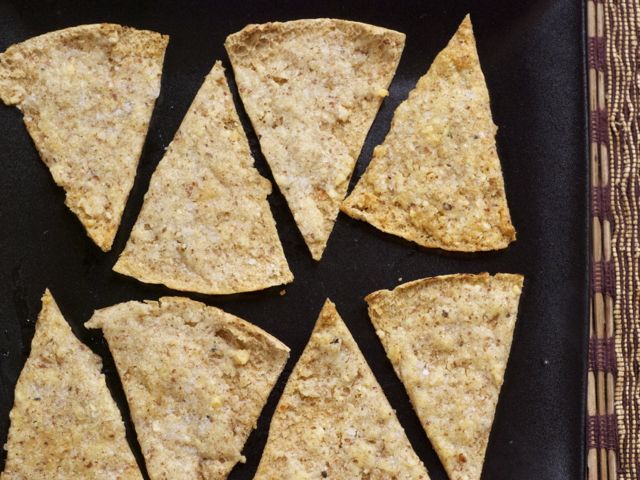 primary-image, l
Introduction
There are many possible variations on this simple theme of turning pita pocket bread into supremely snackable treats. Replace the Parmesan cheese here with blue cheese instead. Forgo the nuts and cheese altogether, and add minced parsley, chives, and rosemary to the butter/thyme combo for an herbal version. Or add a couple of tablespoons each of mashed roasted garlic and minced sun-dried tomatoes to the softened butter for a more robust twist. I love this particular combination of rich Parmesan and toasty-earthy hazelnuts; it makes a crisp snack that's eminently enjoyable.
Ingredients
¼ cup chopped hazelnuts
¼ cup freshly grated Parmesan cheese
2 tsp. chopped fresh thyme
¼ cup unsalted butter, at room temperature
¼ tsp. freshly ground black pepper
2 pocket pita breads
½ tsp. kosher salt or flaky or coarse sea salt
Steps
Preheat the oven to 350 degrees.
Combine the hazelnuts, Parmesan cheese, and thyme in a food processor, and pulse until the nuts are very finely chopped. Add the butter and pepper, and pulse for 1 minute to make a smooth paste, scraping down the sides of the bowl as needed.
Use the tip of a small knife to split the edge of each pita bread and gently pull the 2 halves apart. Set the pita rounds inside-up on the counter and spread each with one quarter of the hazelnut mixture. Sprinkle the salt evenly over the top. Cut each round into eighths, like you're cutting a pie, and arrange them on a rimmed baking sheet. They can be pretty snug; alternating the triangles helps fit them on the baking sheet compactly.
Toast the pita pieces in the oven until lightly browned and crisp, 8 to 10 minutes.
Set aside to cool, then arrange on a platter or in a bowl for serving. If you are not serving right away, store them in an airtight container for up to 3 or 4 days.