Householding CSA update
(post, Harriet Fasenfest)
There are times when a person must go for cover, when life presents obstacles the rational mind cannot digest. At those times, it is best to go all limp and wait for the clouds to clear. Fighting windmills will do no good. 

Which is my way of saying forgive my absence, and please welcome the return, for the sun has returned — and just in time for my 2013 Householding CSA order. 

But let me not get ahead of myself. First, a recap of 2012.  

As you may recall, back in January 2012, my good friends at Dancing Roots Farm and I worked out the terms for a Householding CSA. The objective was to create shares that would allow for big-vat food preservation and storage. 

We (me and a few friends who signed on) meant business. We knew who we were, and what we were up for. All through the summer, we canned and pickled our way through the order. Sometimes we went to the farm to harvest, and other times our orders were delivered. 

Though the quantities were larger than most CSAs, the variety was smaller. That's how we wanted it. Variety would be added in our kitchens as we turned jars of plain canned tomatoes into everything else worth eating in the world. 

Besides, experience had taught us that less is more and, sometimes, even, too much. Frankly, I would be amiss to suggest a Householding CSA works for everyone. 

Which is what we learned and what I wanted to share. Before you sign on, which I hope you do, you should know a few things — both about the order and yourself.

As with all CSAs, signing on at the beginning of the year makes you a partner with the farmer. What this means — besides offering your support to the good farmers who need it — is that you will benefit from great growing years along with those that are less than sublime. 

For example, the potatoes we were looking forward to storing and eating throughout the year (or at least from October to February or so) suffered from a blight. Few in our 50- to 100-pound order (quantity dependent on a full or half share) were left unscathed. 

[%image reference-image float=right width=400 caption="The harvest lasts into the winter."]

Though that was a bummer, it was balanced by a really great year for winter squash. We had so many lovely varieties to choose from that even today I am working through the bounty. The stuff is the bomb! Roasted, puréed, made into cakes, muffins, breads, pasta (gnocchi), or filling for ravioli, winter squash is given to a million shape shiftings. 

Honestly, these days I can make a squash pie in my sleep, with some varieties requiring absolutely no sweetener at all. On a hurried day I can halve a Delicata, seed it, steam it in an oven at 350 degrees for a half hour (more or less), and have lunch in a thrice. 

And almost nothing keeps as well in your basement — if, that is, you don't heat it above 55 degrees, with a near-equal humidity level. Even if you don't have those conditions, a small metal or plastic trash can on your porch or garden shed will offer shelter for the lovelies. What more can I say? 

Other things, like the cucumbers, could have benefited from an earlier picking. Many of us wanted cucumbers suited for tiny gherkins, but received the big fatties of Jewish-deli fame. No problem; we will know better next year. Our farmer is most adaptable. 

Of course, we did have the option of going to the fields and picking exactly what we wanted ourselves. I spent many days down on the farm harvesting beans and corn at the peak of the season and running home to put them up. 

But then, I had the time. Many people do not, which is a problem for both harvesting and putting food by. If you are not willing or able to mark off your calendar for last-minute calls for produce or canning sessions, you may think twice about signing up.  

As I have written in my book, A Householder's Guide to the Universe, you cannot pencil in the harvest. This life takes commitment, and though it lasts a mere two months (with September and October being prime food-preservation time), it does take time. 

Frankly, I consider it a small inconvenience when I think of all the lovely, remarkable, delicious, sustainable, organic, and freaking fabulous stuff I will be eating throughout the year. Really, I should have my tongue cut out for complaining at all, but there it is. 

Though I have landed softly, times have been hard. Suffice it to say my household went through some alterations. Today I can kinda-sorta laugh it off by saying Jewish mothers never die, they just look for someone else to feed.

With a stocked pantry, this unyielding desire to feed the world has served me well. And I did manage to go through most of my supplies. Some things were given to neighbors, and some were given as gifts. Some things suffered from inattention (like my onions, which sprouted), while other things still wait on shelves, the way stuff in jars and freezers will do. 

Though not optimal, I would not be the first person to ignore the "eat within the year" suggestion. No; within reason, stuff will wait. It will wait until the clouds pass and the sun returns. It will wait until suddenly, miraculously, amazingly, you begin to think about your 2013 Householding CSA share and the friends you hope will welcome you back. 

Goodness knows, you will be glad, most glad, to be back.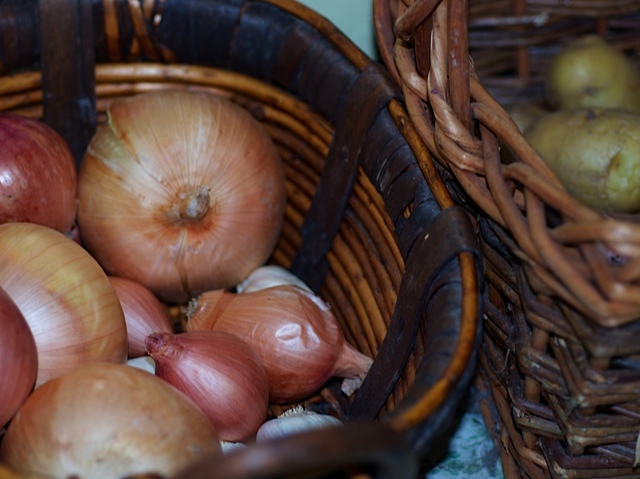 reference-image, l