Top | Barefoot Contessa How Easy is That?
Herb-Roasted Turkey Breast
(recipe, Ina Garten)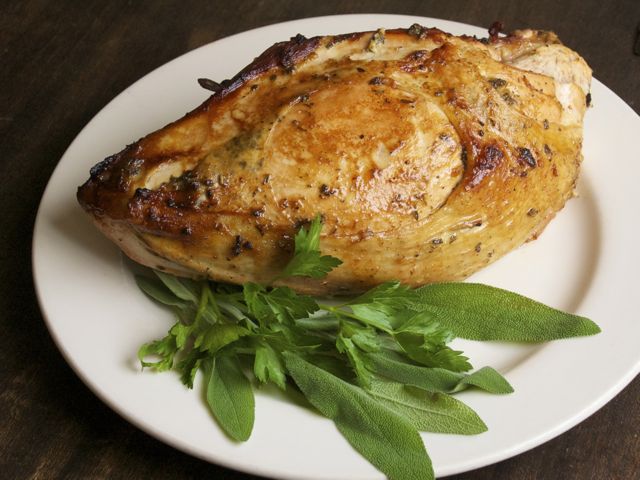 primary-image, l
Introduction
Why do we only serve turkey on Thanksgiving? A whole turkey breast roasted with fresh rosemary, sage, and thyme is a great weekend night dinner, and the leftovers make delicious sandwiches the next day. Roasting the turkey at 325 degrees and allowing it to rest for fifteen minutes ensures that it will be very moist.
Ingredients
1 whole bone-in turkey breast (6½ to 7 pounds)
2 Tbsp. good olive oil
1 Tbsp. minced garlic (3 cloves)
2 tsp. freshly squeezed lemon juice
2 tsp. dry mustard
1 Tbsp. chopped fresh rosemary leaves
1 Tbsp. chopped fresh sage leaves
1 tsp. chopped fresh thyme leaves
1½ tsp. kosher salt
½ tsp. freshly ground black pepper
¾ cup dry white wine
Steps
Preheat the oven to 325 degrees. Place the turkey breast on a rack in a roasting pan, skin side up.
In a small bowl, combine the olive oil, garlic, lemon juice, mustard, rosemary, sage, thyme, salt, and pepper. Rub the mixture evenly all over the skin of the turkey breast. (You can also loosen the skin and smear half of the paste underneath, directly on the meat.) Pour the wine into the bottom of the roasting pan.
Roast the turkey for 1½ to 1¾ hours, until the skin is golden brown and an instant-read meat thermometer registers 165 degrees when inserted into the thickest and meatiest area of the breast. Check the breast after an hour or so; if the skin is over-browning, cover it loosely with aluminum foil.
When the turkey is done, remove from the oven, cover the pan with aluminum foil, and allow the turkey to rest at room temperature for 15 minutes. Slice and serve warm with the pan juices.