Chinook Salmon with Caramelized Fennel and Smoky Saffron Aïoli
(recipe, Margarett Waterbury)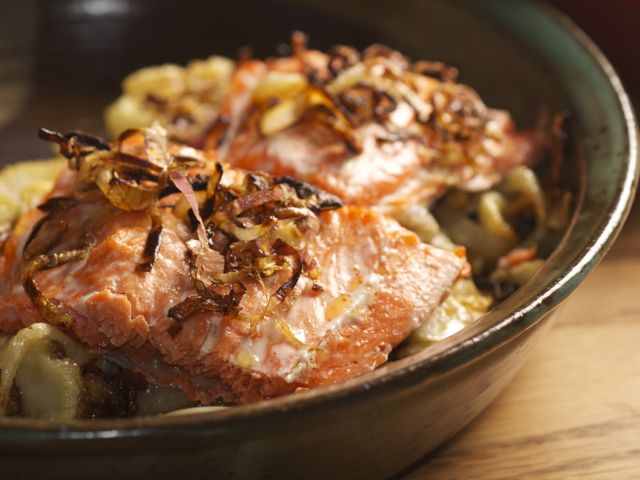 primary-image, l
Introduction
Famously oily Chinook salmon is a perfect match for fennel. In this rich dish, the fennel is caramelized, softening both its crunchy texture and biting flavor. Inspired by the flavors of bouillabaisse, this dish is much faster, much easier, and — if not as grand — just as satisfying.
Ingredients
Aïoli
Pinch of saffron
1 Tbsp. white wine, vermouth, or water
2 garlic cloves
Salt
½ cup mayonnaise
1 tsp. smoked paprika
Salmon
2 medium fennel bulbs
8 oz. Chinook salmon, fillets or steaks
2 Tbsp. olive oil, plus some for brushing
1 Tbsp. butter
2 shallots, sliced
1 orange
Steps
Make the aïoli: Put a pinch of saffron in a bowl with a tablespoon of white wine or vermouth. (If you don't have any wine open, water is just fine.) Let it steep for 5 minutes. Grind or pound the garlic cloves with a pinch of coarse salt in a mortar. Mix together the wine and saffron, garlic, mayo, and smoked paprika. Set aside.
Prep the fennel: Remove any flabby or brown-looking outer leaves from the fennel bulbs, stand them up on their root ends, and slice them thinly. Don't worry about the rings that fall apart — that's fine — but try to keep at least some attached to the core (for aesthetics). Taste the core to see if it's tough. If it is, cut most of it out of each slice in a V-shape, leaving only a thin layer to hold the layers of the fennel together.
Prep the salmon: Cut the salmon into two portions and place them on a foil-lined baking pan, skin side down if using fillets. Preheat the broiler to high. Brush a little olive oil over the tops and sides of the salmon. Set aside.
Cook the fennel and shallots: Heat the 2 tablespoons olive oil and the butter in a large frying pan over medium-high heat. Once the oil and butter in the pan get quite hot, add the fennel. It's important not to steam it; it needs to really brown and caramelize, and in order to do that, it can't be crowded. Do this in batches if necessary, turning periodically so the fennel doesn't burn, until the fennel is a rich brown color and smells irresistibly tasty. Try not to eat it all as you fry the shallots in any remaining oil (add more if necessary) until crisp. Set aside in separate piles.
Broil the salmon: The time this takes will vary widely depending on the thickness of your fillets; don't overcook them. This dish would be truly decadent with Chinook belly, which cooks in just 4 or 5 minutes under the broiler. The meaty part of the fillet can sometimes be nearly 2 inches thick from a large fish; these portions can take 15 minutes, and require flipping so each side doesn't burn. A 1-inch-thick fillet usually takes about 8 to 10 minutes to be cooked just to the closest side of done.
Assemble the dish: Put a mound of caramelized fennel in a shallow bowl. Place the salmon on top, then zest a bit of orange peel over the salmon. Cut the orange in half and squeeze the juice of one half into the aïoli to thin it. Serve with the aïoli on the side, or on top, along with the crispy fried shallots.