Musing on terroir
(article, Susan Hauser)
[%pageBreakSettings nobreak=true] 

p(blue). Culinate editor's note: Today we welcome Susan Hauser as a guest contributor to the Vine to Table column. A freelance writer, Hauser joined a group of wine writers on a trip to Chile and Argentina in March. Here is her report. (And Kerry Newberry fans: Don't go away. She'll be back on these pages soon.)

While preparing for a trip to South America last spring, I read a [ http://www.powells.com/biblio/7-9780805080094-5 "biography of Benjamin Franklin" newpage=true]. The trip and the book weren't even remotely related — or so I thought. 

A statement made by the author about Paris, where Franklin lived for years as a diplomat, lay fallow in my mind until the first moment I stood in Santiago, Chile, and took in my monumental surroundings. Living in Oregon, I'm used to seeing snowy peaks on the horizon, but the Andes can in no way be described as a series of peaks. It is a formidable mountain range, a vast ribbon of stone and snow that forms a dramatic backdrop to the city. My reaction to seeing it was visceral. Just looking at the Andes was, well, uplifting. 

It was then that I recalled the passage from the book. The author stated that the proud and confident nature of the Parisians stemmed partly from the fact that most of their boulevards were named after French victories. A typical day in Paris would involve repeated exposure to street signs that reminded Parisians of their exalted history and, according to the author, those reminders played a big part in forming their character. 

If subliminal messages from mere street signs can boost the esteem of a city's population, I mused, what is the effect of an ever-present view of the magnificent Andes? 

[%image reference-image float=right width=400 caption="Chile's Vina Ventisquero."]

I was traveling with a group of wine journalists, and our itinerary was brimming with vineyard visits. Looking back, I realize that during our four days in Chile — a narrow coastal country that is as long as the United States is wide — I never once saw the ocean. But the winemakers we visited credited the cool ocean air with intensifying their grapes' fruity flavor and acidity. I could smell the ocean; at Leyda Vineyards in the Maipo Valley southwest of Santiago, we were just three miles away. But fog obscured the ocean view. 

What seemed paramount to our hosts, however, was not giving us a glimpse of the waves but of reaching higher and higher vantage points from which to behold the glorious Andes and their foothills. To better enjoy the view at Vina Ventisquero, for example, the winemaker packed us into a heavy-duty open-air truck for a bumpy, almost vertical climb up the sides of the steep Apalta Valley. At nearly 2,000 feet, we alighted for a rustic, hilltop tasting of Carmenère, a jewel-red Bordeaux varietal that has grown well in Chile since the 1800s. 

From my own travels, the closest comparison to the breathtaking landscape was Nepal or northern India, where the snowy Himalayas reach high above steep and verdant hills. If a sherpa had suddenly emerged from the Chilean vineyard, I wouldn't have blinked an eye. 

Flying east to Mendoza, Argentina, from Santiago was an easy proposition — just a 30-minute flight. That was a big surprise to me, having watched '"Alive,"' the film about the 1972 Andes plane crash which resulted in the survivors' cannibalism. I swear the other journalists were sizing me up, but we were across the Andes in no time.

Perhaps because I had just been looking down on their summits, some of which reach almost 23,000 feet, the mountains seemed even closer and bigger than they had in neighboring Chile. But to visit vineyards of the Malbec grape, for which Argentina is famous, we did drive higher into the foothills, closer to the actual mountain range. At one point we were at an elevation of about 5,000 feet.

The winemakers of Argentina made the relatively recent discovery that growing their grapes higher and higher on the arid landscape vastly improved the flavor. Although Malbec is a Bordeaux varietal and is also grown in California and elsewhere, the grape really didn't attain superstar status until the Argentineans took full advantage of those mountains. 

[%image catenas float=right width=400 caption="Argentinian winemakers Nicolas and Laura Catena."]

Winemaker Nicolas Catena was one who kept climbing higher, planting Malbec at such lofty heights that intense sunlight would make the skins thicken and the tannins rise. In turn, the cool nights allowed the flavor and color to mellow into an inky and rich elixir. 

We visited Catena's extraordinary winery, a gleaming vision in golden stone fashioned after a Mayan pyramid. And later we visited the winery operated by his son, the eclectic and somewhat eccentric Ernesto Catena. At Ernesto's Alma Negra (Black Soul) winery, the quote about Paris returned to mind. 

I was happily experiencing sensory overload in beautiful surroundings, where the Andes seemed close enough to touch. The vines, heavy with fruit and framed with patches of pampas grass and roses, stretched toward them. I even saw a condor, though Ernesto with a shrug dismissed it as what "must be a baby condor." Obviously, he was used to even grander creatures. 

Ernesto was reluctant to reveal the composition of his wines, because that would remove "the mystery." Whatever it was, the mystery inspired a member of our party to punctuate our wine tasting with a dramatic recitation of a Lorca poem, in Spanish. But this experience was interrupted by the sudden and noisy arrival of a large group of Ernesto's friends, who were touring Argentina on vintage Harleys. 

[%image ernesto float=left width=400 caption="Ernesto Catena (in tan jacket) and friends."]

As his friends chanted his name below, Ernesto went to the balcony to greet them. He waved, looking a lot like the Pope, I thought, or even Evita Perón. In any case, the scene from start to finish was surreal, unexpected, and larger than life. 

With that realization, the connection with the Paris street signs came into full focus. Openness to all the mysteries and joys of life, including food and wine, was a reflection of the mountains' grandeur. 

The subliminal message of the Paris street signs was to value a proud history — never mind the Waterloos. And what was the message of the Andes? It's one I hope I never forget: to live large.

p(bio). Susan G. Hauser is a Portland, Oregon-based writer and former president of the Portland Culinary Alliance.

reference-image, l

ernesto, l

catenas, l

catenas, l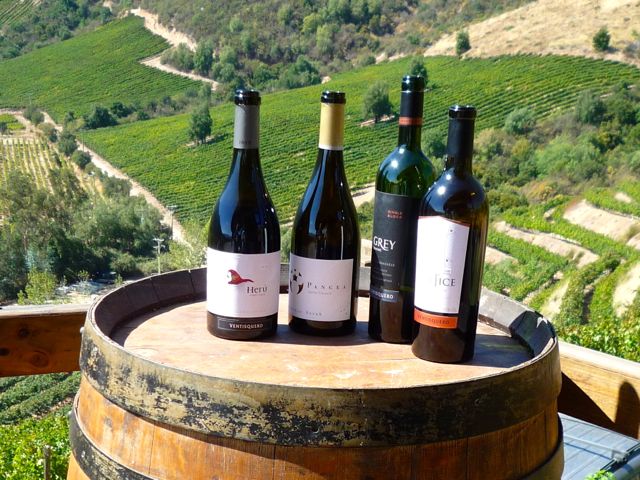 featurette-image, l