Sausage on Wheels Sausage and Pepper Sandwich
(recipe, Ann Hood)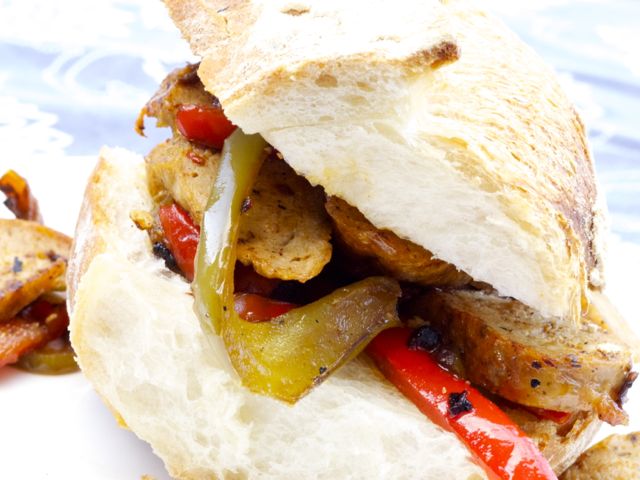 primary-image, l
Ingredients
1 lb. sweet Italian sausage in casings
1 lb. hot Italian sausage in casings
Olive oil
4 to 6 red and green bell peppers, sliced into strips
Salt and pepper, to taste
6 good, hard Italian rolls (the long ones, not the round ones)
Steps
Preheat the oven to 375 degrees.
Pierce the sausages all over with a fork. Drizzle olive oil on a rimmed cookie sheet until it covers the surface. Roll the sausages in the oil and place on the sheet. Roast until well browned, about 30 minutes, turning at 15 minutes. Remove from the pan to cool.
Pour the oil from the cookie sheet into a frying pan and add more as needed to coat the pan. Add the sliced peppers and the salt and pepper, and cook over the stove on medium-low heat until soft and lightly browned, at least 20 minutes.
Cut the sausage into bite-sized pieces and add it to the peppers. Reheat in a low oven if necessary. Split the rolls and add the sausage and peppers to them. Serve immediately.