History in the baking
(article, Liz Crain)
[%pageBreakSettings nobreak=true]

Although a health professional by trade, Brisbane-based Janet Clarkson, the blogger behind The Old Foodie, spends her nights and weekends poring over historic cookbooks, biographies, and yellowed newspaper articles in search of telling food tales. 
 
Her blog, which launched a little more than two years ago, has 600-plus posts ranging from a recent one about the Canadian-born inventor of American cheese to one that addresses why English tea rations were doubled in 1942. 

Clarkson regularly posts historic menus, food quotes, and recipes. She recently included a tasty recipe for bacon marmalade sandwiches from an old regional fox-hunting cookbook.

[%image janet float=right width=150 credit="Photo courtesy Janet Clarkson" caption="Janet Clarkson"]
 
p(blue). Blogs: The Old Foodie and The Companion to the Old Foodie
Average posts per month: 25
Blogger: Janet Clarkson
Age: 60 on December 28
Blog place of origin: Brisbane, Australia
 
In addition to posting at least 400 words every Monday through Friday, Clarkson is putting together her very own food-history almanac, which she hopes to publish one day soon. 
 
Any bites for your food-history almanac?
No, not so far. I hope to do something with it one day — there is a vast amount of material there, and it just keeps on growing. I use it regularly to inspire blog posts. 
 
At present I am very busy with my book of historic menus. The working title is Menus From History: Historic Meals with Recipes and Commentary for Every Day of the Year. As the title suggests, I have chosen 365 menus — one for each day of the year for an event that actually took place on that day. The menus cover over seven centuries, and every event from a day in the poorhouse to royal coronations. 

[%image card float=left width=250 credit="Photo courtesy Janet Clarkson" caption="A vintage Christmas card featuring a classic English steamed pudding."]

What historical recipe has struck your fancy lately?
Most recently it has been an English Chocolate Tea Cake recipe from a mere 70 years ago that contains ground almonds, lemon rind, cinnamon, nutmeg, and orange-flower water. One of my all-time favorite historic recipes is a 14th-century recipe for fennel braised with ginger and saffron.
 
How big is your home food library? 
I probably have about 400 "real" books, but an awful lot of my resources are online. It is not feasible for an individual to have daily access to actual historic manuscripts and books — they are held in museums and libraries all over the world. But a huge (and rapidly increasing) number are being scanned and made available online. 
 
Some databases require special access, but there are many old cookbooks and food books that are freely available. I have a list of about 500 of them that anyone can download from a link in the sidebar of my blog. If I got around to updating it, there would be a lot more on the list!
 
What culinary era interests you the most?
I am fascinated by it all. I have a scatterbrained approach and skip about from era to era as the whim takes me. It is one of the advantages of not being an academic in the field — I don't have to focus on a particular area or topic. 
 
If I had to choose, it would probably be British food from the mid-17th to the end of the 18th centuries. There were so many influences on the cuisine at that time, so much development of the art and science of cookery. And some of the excellent cookbooks from then are still classics. 
 
What is your kitchen like?
I have a beautiful modern kitchen, with a fabulous view of the Brisbane River. People often assume I have a quaint old-fashioned kitchen full of old gadgets, but the truth is, however interesting that concept might be, I have a very busy modern life and a demanding job, so I need to be efficient. 
 
I am full of admiration for those folks who faithfully recreate old dishes by old methods, but it is not possible for me at this point in my life. I must stick to theory. Having said that, however, I think we can use the past for inspiration. An awful lot of recipes from "the olden days" are worthy of rediscovery — some of them would sound amazingly innovative if you saw them on a menu today.

[[block(sidebar).
 
h1. Liz's favorite posts
 
[[block(smalltext).
 
1. Through the Ages with Gingerbread
2. Vintage Christmas Recipes
3. Soup as a Weapon
4. To the Officers of the Mouth
5. A Patient Diet
 
]]
]]
 
What types of food were you raised on?
My mother, bless her, was a terrible cook, although not a bad baker. I grew up on post-war English food of the most uninspiring kind. I am never sure whether my food interest grew up because of this background, or in spite of it. Luckily, just as I was becoming interested in it, I married a man who loves to eat, so the interest was encouraged.
 
What aspects of historical cookery pique your interest the most?
Another difficult question, as I find it all very interesting. I am interested in how people adapt their cultural and family favorite dishes when circumstances change — during wartime rationing, or when they migrate to another country, for example. I am fascinated by how food and cooking give other messages too — of power, propaganda, patriotism, love, etc. 
 
Any unbelievable historic food facts you've come across recently?
I seem to have been researching some astonishingly extravagant meals recently. One meal for two people in a Paris restaurant in 1975 consisted of 31 dishes and 9 wines costing $4,000 \[in American dollars\] — which is equivalent in purchasing power to about $15,000 today. Another was a dinner held in New York in 1899 for 40 guests that cost $10,000, or more than $250,000 today. Conspicuous consumption on that scale is as hard to justify as it is fascinating to consider. 

p(bio). Liz Crain is a writer in Portland, Oregon.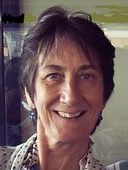 janet, l

reference-image, l

promo-image, l

card, l