Ruby
(recipe, Lucy Brennan)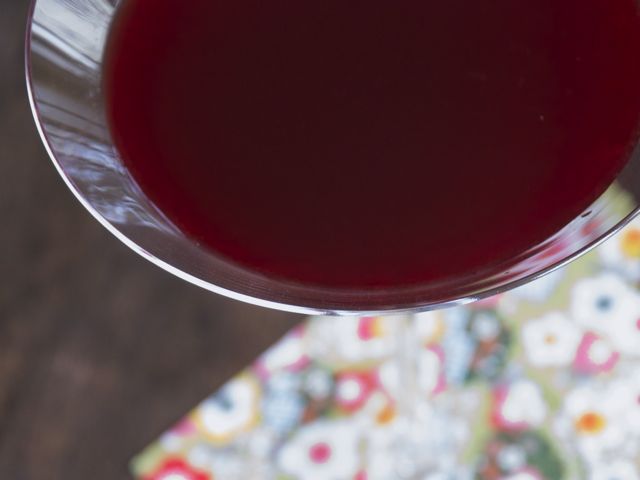 primary-image, l
Introduction
The Ruby just might be the best combination of chilled vodka and beets to hit the streets since perestroika. Earthy undertones of handmade beet-infused vodka ground this dirty-martini alternative. Serve it straight up with a mixed green salad or crostini and aged cheeses.
Ingredients
Beet-infused vodka
3 red beets (1½ pounds), trimmed, peeled, and quartered
1 bottle (1 liter) Monopolowa vodka
Ruby cocktail
Cocktail ice cubes for chilling and shaking
3 oz. beet-infused vodka
½ oz. fresh lemon-lime juice (see Note)
½ oz. simple syrup (see Note)
Steps
Make the beet-infused vodka: Put the beets in a wide-mouthed glass jar with a lid, such as a 2-gallon storage jar. Add the vodka and seal the container. (Reserve the vodka bottle for refilling.) The mixture will immediately turn a bright ruby color. Store in a cool, dark place for 3 days, stirring each day. The infused vodka will be a deep purple color with a strong, earthy beet taste. Using a slotted spoon, remove and discard the beets. Place a funnel in the reserved bottle and pour the infused vodka into the bottle. Cap and store in the refrigerator for up to 6 months.
Make the Ruby cocktail: Fill a 5-ounce martini glass with ice and set it aside to chill. Fill a tempered pint glass (or cocktail shaker) with ice and add the vodka, lemon-lime juice, and simple syrup. Cap the glass with a stainless-steel cocktail shaker and shake vigorously for 10 seconds. Empty the ice from the martini glass. Strain the drink into the chilled glass and serve immediately.
Note
Use an equal amount of lemons and limes, freshly squeezed, to make fresh lemon-lime juice. To make simple syrup, combine equal parts sugar and water (1 cup each) in a small saucepan. Stir over medium heat until the sugar dissolves. Remove from the heat and let it cool to room temperature. Store in the refrigerator in a glass bottle and use as needed.